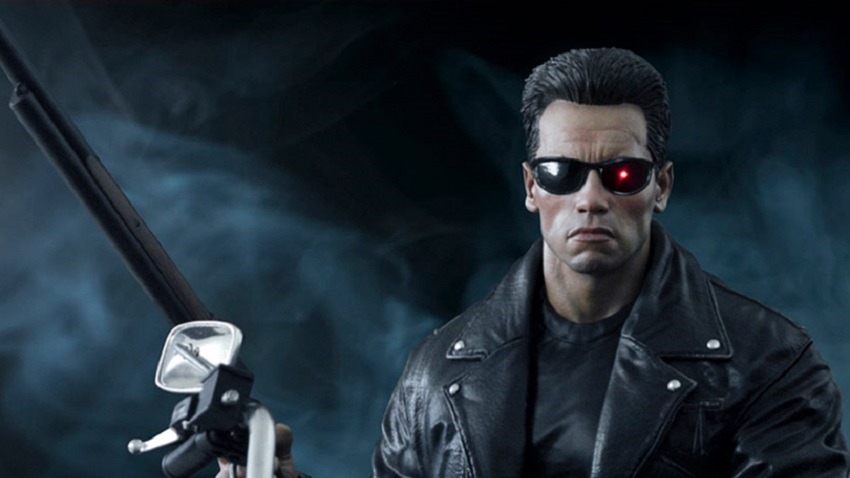 The Cyberdyne Systems Series 800 Terminator AKA the T-800. A hyperalloy endoskeleton wrapped in living tissue and capable of not only infiltrating human resistance camps but being able to survive the hazardous journey through time itself. For many of us, the most iconic incarnation of Arnold Schwarzenegger's iconic murder machine is the one found in Terminator 2: Judgement Day.
Considered to be a perfect sequel, this was the film where the T-800 went from unstoppable killing machine to a noble protector tasked with ensuring the survival of John Connor. You probably remember exactly how this T-800 even got his threads: Naked as the day he was constructed, ripping a biker bar apart and riding off into the night on the sweetest of hogs.
There's no shortage of Terminator 2 collectibles (If I had $500 I'd happily spend it on on the Hot Toys sixth-scale collectible), but this latest stab at the franchise might just be the biggest slice of merchandise ever. Behold, an actual 1/4 scale statue of the Terminator on his Harley Davidson!
"I Need Your Clothes, Your Boots, And Your Motorcycle"

The year is 1991, the incredible mind of James Cameron reveals an apocalyptic scenario for the fate of mankind in a war versus a machine network called Skynet. After the failure to kill the mother of the leader of human resistance Sarah Connor, played by Linda Hamilton, Skynet sends back in time an advance machine the Terminator T-1000 to kill the leader of the human resistance John Connor. The Terminator T-800 played by Arnold Schwarzenegger is sent back in time to rescue John Connor and the battle for the fate of mankind begins.

With 2 years under development in association with Studio Canal and Oak Productions Darkside Collectibles StudioTM brings to life The Terminator T-800 on motorcycle statue! Featuring the likeness of the actor Arnold Schwarzenegger the statue captures the exact bad to the bone scene where the Terminator exits the bar, grabs the shotgun and sunglasses and rides the motorcycle.

The Limited Signature Exclusive Edition features four interchangeable portraits of the T-800 with light-up features, one pair of sunglasses, a black metallic base with light-up functions, and comes with the Certificate of Authenticity signed by the Terminator himself -Arnold Schwarzenegger. Made in top quality polystone, this statue is fully sculpted and captures the likeness and feeling of the original Terminator T-800 model in an astonishing 1:4 scale.
You can say Hasta La Vista to your bank account if you do decide to grab this, as it'll set you back $2399 for the Collector Edition and $2499 for the Sideshow Exclusive Edition. If I do buy it, just know this: I'll be bankrupt.
Last Updated: November 7, 2019