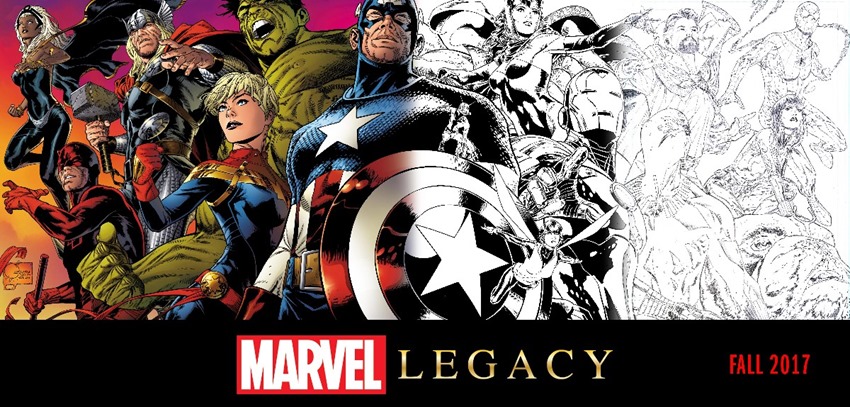 A couple of weeks ago Ms. Marvel co-creator and writer G. Willow Wilson summed up the problem with the House of Ideas and their recent drive to have more diverse heroes assume familiar roles, a move which has earned considerable backlash from fans lately:
Launching a legacy character by killing off or humiliating the original character sets the legacy character up for failure. Who wants a legacy if the legacy is shitty?
That's the name of the game with Marvel as they look to the future: Legacy. Fans want a return of characters who inspired them and made them love the comic book medium in the first place. Patriots who fought not for a government but a dream, gods who could crack the heavens and a healthy keg of beer open with mortals and men of Iron who always looked forward towards the potential of humanity.
Recently, Marvel's core trinity has been anything but that. Thor lost his hammer and charm, Captain America has staged a coup de grace on the United States and Tony Stark is currently enjoying a nice coma nap thanks to the events of Civil War II. Marvel Legacy looks set to rectify all of that, with a "bold new direction" this that will "embrace our roots and move enthusiastically forward". So said Chief Creative Officer Joe Quesada at C2E2 via Newsarama this weekend:
The Marvel Legacy initiative is a celebration of everything that makes Marvel the best in fiction and it's a signifier of a new era for Marvel Comics. It's a loving look at the heart of Marvel as we embrace our roots and move enthusiastically forward with all the Marvel characters you know and love starring in the biggest, boldest, best Marvel stories. All of which kicks off with the giant Marvel Legacy special.
It's also a funny way of spelling DC Rebirth, but I'll take it. The core aim of Marvel Legacy isn't just a return to form, but rather ""a renewed sense of hope, wonder, enjoyment and fun" according to Quesada. Marvel will begin numbering their issues properly again (like that won't be confusing), as well as new creative teams on books. All of this, with Captain America's Secret Empire event heralding a rest period for such crossovers and the Generations mini-series attempts to shed more light on the heritage of spandex between heroes.
It's about damn time.
Last Updated: April 24, 2017