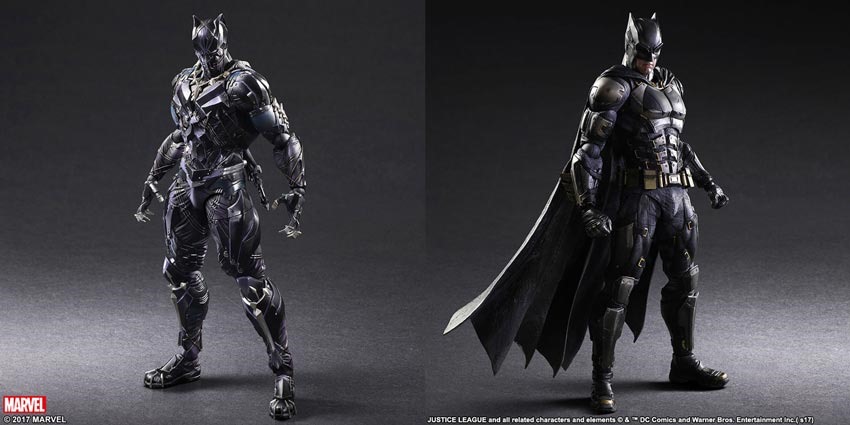 There are two kinds of people in this world when it comes to action figures: Those who like Hot Toys and those who like Play Arts Kai figures. The two passions often overlap, but it's not exactly uncommon to see a collection devoted solely to one brand. Action figure collecting is kind of weird that way. Point is, is that if you like your Hot Toys (Which usually results in Geoff setting my collection ablaze while I sob in a corner), then you like your figures with an uncanny touch of realism.
Prefer Play Arts Kai? You're looking for something more stylised in the art design department probably. Style which the latest Black Panther figure from that brand has plenty of:
Like most Play Arts Kai figures, Black Panther will stand around 10.6" tall, because size does matter. 14,800 Yen/$133 gets you the figure, three sets of hands that you can swap out, two daggers and a stand for the figure. Kind of pricy actually, even though it does look like the king of Wakanda has been raiding the Arkham Knight wardrobe lately.
Speaking of the bat-universe, Play Arts Kai is ready to dip its toes into the Justice League film already with a Batman figure that's also dressed for a fight. Essentially the Justice League batsuit but with hockey pads (You can hear Christian Bale growling from over here), this fella rocks up in October at the same price point:
I still think I prefer my Hot Toys figures, looking at these guys. Make no mistake, they're rad figures in the photos but I've heard plenty of complaints from the online community lately over the quality of Play Arts Kai. The last couple of Batman figures haven't been well-received, with many a fan saying that Square Enix now charges an arm and a leg for something that isn't worth the price that it once was. Shoddy paint jobs, poor posability and all that jazz. A shame really.
I like to think of figures like this being high-end collectibles whose value will only increase in the future. Provided that you buy the right one and horde it.
Last Updated: June 26, 2017