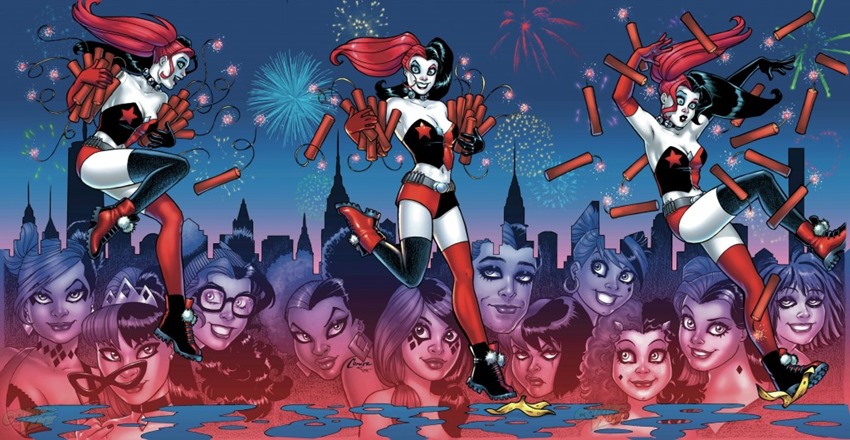 For a crimefighter who happens to be on the wrong end of 70, Batman is looking pretty spry these days. Reinvented and reborn countless times, the dark knight even gets to unwind for one day every year: The titular Batman day. Not this year though, because the caped crusader is stepping aside to allow one of the more memorable characters of his rogues gallery to steal the spotlight: Harley Quinn.
Announced at the San Diego Comic Con on the weekend. September 23 will celebrate 25 years of the fan-favourite foil to the Batman. Originally introduced in the 1992 animated series episode "Joker's Favour", Harley Quinn quickly became a hit with fans and found herself joining the DC Comics universe a few years later.
Since then, Harley Quinn has been through many a reinvention, with her current incarnation being that of the manic clown queen of crime. She's also now a household name, having popped up in the Suicide Squad film and various other animated efforts. "I'm absolutely mystified," Harley Quinn co-creator Paul Dini said at SDCC via Polygon.
There are times I think 'Hasn't this joke gone on long enough?' but, you aren't tired of her yet … me and Bruce [Timm], our weird joke.
So how is DC celebrating 25 years of Harley Quinn? For starters, Harley Quinn will be on every cover of a DC Comic that happens to be out that week in September, with a few tie-in stories to help explain the popularity of the character even further. If you haven't been reading the superb Harley Quinn comics that DC is busy pumping out, then you're missing out on some fun content.
Even better, an upcoming story arc will see Harleen Quinzell do the unthinkable: Run for mayor in New York City. "If we have a president who can get away with anything," writer Jimmy Palmiotti said. "Imagine what Harley can do."
Last Updated: July 24, 2017