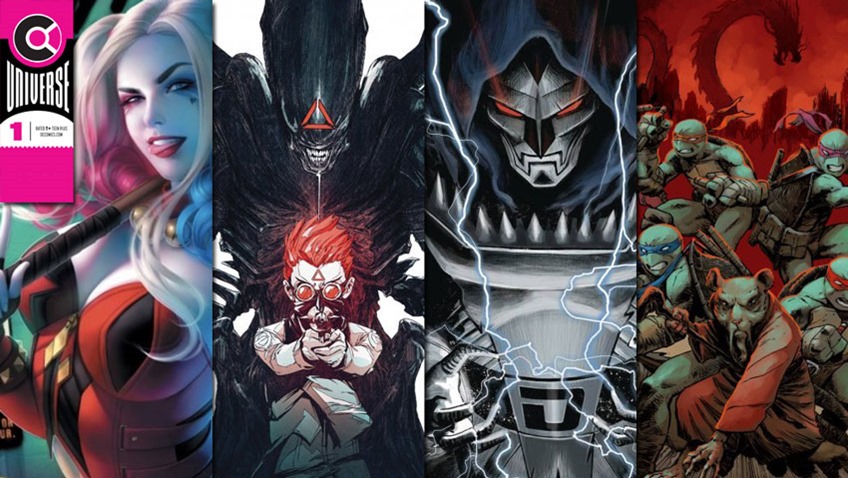 One of the absolute best comic book series of recent memory has to be Chew. Part X-Files, part Kitchen Nightmares and totally delicious, John Layman and Rob Guillory's main course masterpiece is the stuff of legend. It wrapped up not too long ago, but fans have been hungry for seconds ever since then, and it looks like Layman and Guillory are finally ready to dish out some desert.
In a three-part crossover with his other book over at Image, Layman will team the world of Chew up with his work in Outer Darkness. "In the years since finishing the final issue of Chew, the urge to return to the world and its characters has been slowly but steadily growing within me," Layman said to Newsarama.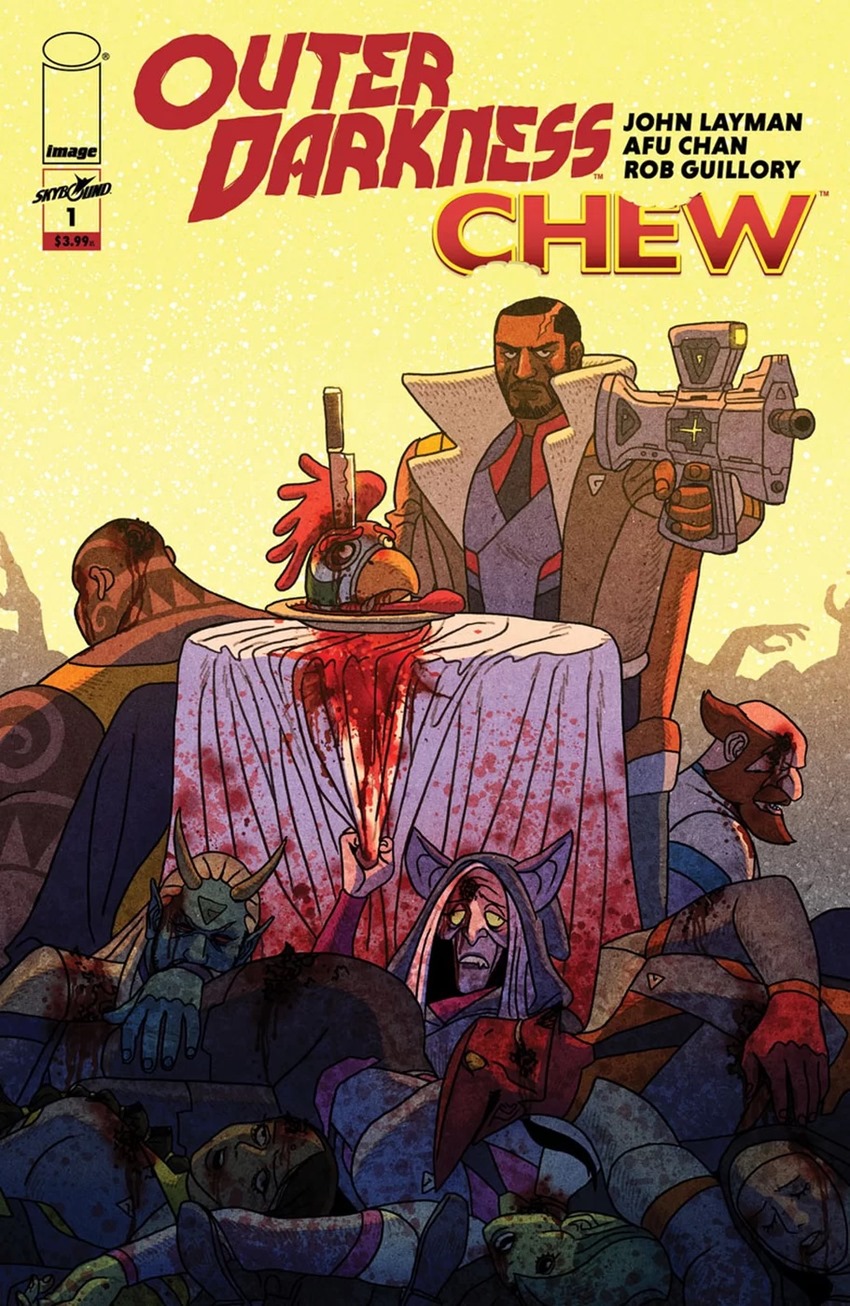 But I had no interest in returning to some generic 'Untold Case Files of Tony Chu' type of story," Layman said in the announcement. "I wanted to return with a story that goes somewhere new, and says something new about the characters. This crossover will do this. And Outer Darkness, believe it or not, is the ideal vehicle to tell this story.

Outer Darkness and Chew are two of my favorite books I've ever done, maybe the favorite books I've ever done, and probably the best too. Creatively, combining the two was a dream come true for me. This book is the peanut butter and chocolate of comic book crossovers.
"Returning to the Chew universe was always a no-brainer," added Guillory.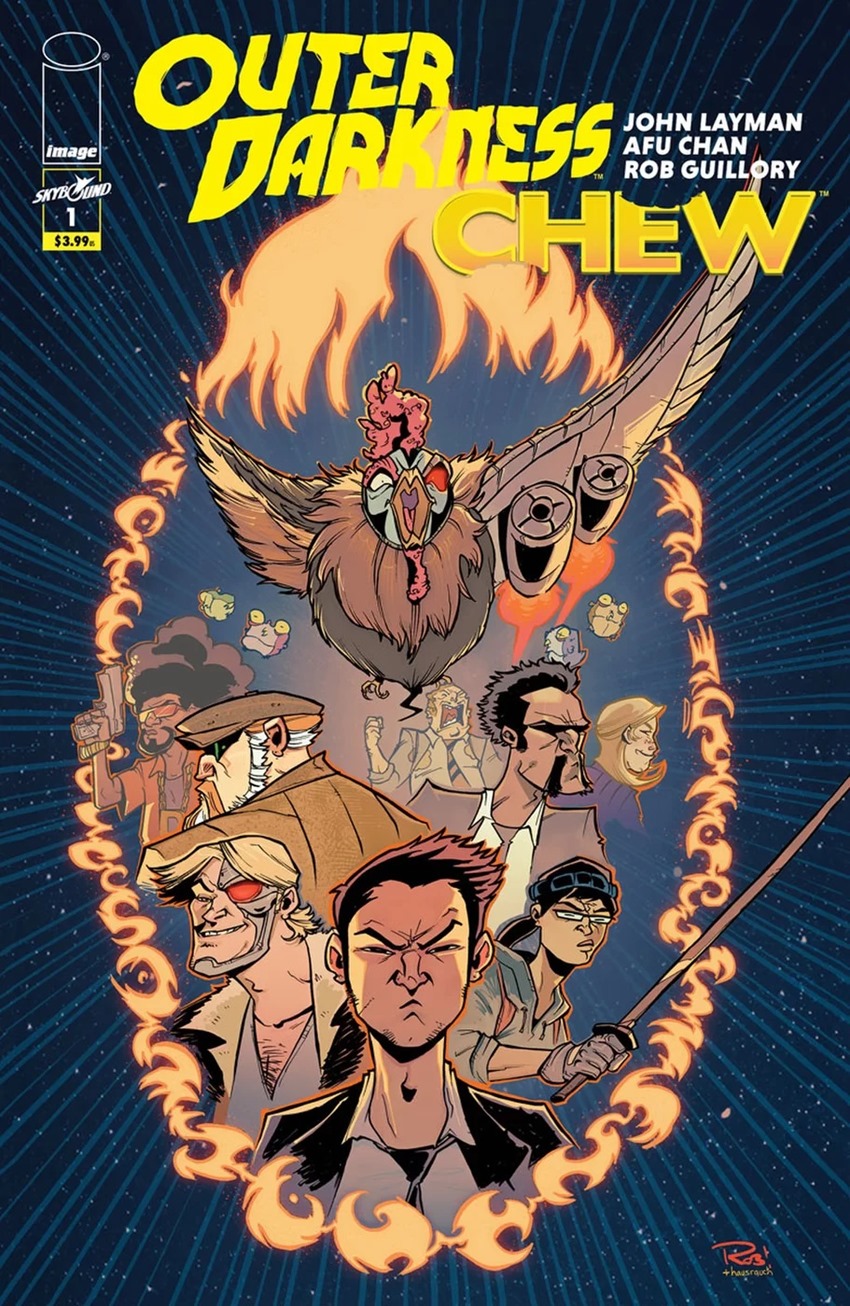 I mean, after 60+ issues of Tony Chu's adventures, how could we not? It's something longtime fans have clamored for since Chew's end, and this crossover is the perfect excuse to dive back into the insane world John and I created. It's the perfect ode to Chew, while highlighting the amazing work John and the insanely talented Afu Chan have been doing on Outer Darkness. It's two great books that just taste great together.
The crossover kicks off in March, with Guillory and Outer Darkness artist Afu Chan on art duties. Now, onto the best comic book covers of the week!
Detective Comics #1017 by Tony Daniel
The Immortal Hulk #28 by Alex Ross
Superman #18 by Skan
Batman: Curse of the White Knight #5 by Sean Gordon Murphy
New Mutants #3 by Rod Reis
Captain America #17 by Alex Ross
Gideon Falls #19 by Andrea Sorrentino
Deadly Class #42 by Matteo Scalera and Moreno DiNisio
Miles Morales: Spider-Man #13 by Rahzzah
Friendly Neighborhood Spider-Man #14 by Andrew Robinson
Teenage Mutant Ninja Turtles #100 by Dave Wachter
Undiscovered Country #2 by Francis Manapul
Hawkman #19 by Dan Panosian
Tales From The Dark Multiverse: The Judas Contract #1 by Stanley Lau
Something Is Killing The Children #4 by Michael Walsh
Harley Quinn and Poison Ivy #4 by Mikel Janin
Punisher Soviet #2 by Marcos Martin
Go Go Power Rangers #26 by Amelia Vidal
Spider-Man 2099 #1 by Jose Carlos Silva
Dark Knight Returns: The Golden Child #1 by Rafael Grampa
The Dollhouse Family #2 by Jessica Dalva
Doom 2099 #1 by Max Fiumara
Harley Quinn: Villain of the Year #1 by Warren Louw
Morbius #2 by Ryan Brown
Life Is Strange #11 by Claudia Leonardi
RWBY #3 by Sarah Stone
Doctor Mirage #5 by Caspar Wingjaard
Steven Universe #35 by Borg Sinaban
Red Mother #1 by Jeremy Haun
Vampirella / Red Sonja #4 by Julian Totino Tedesco
Aliens Vs. Predator: Thicker Than Blood #1 by Chun Lo
Bettie Page: Unbound #7 by John Royle
Shoplifters Will Be Liquidated #3 by Stefano Simeone
Black Terror #3 by Rahzzah
Kiss/Zombies #2 by Arthur Suydam
Last Updated: December 9, 2019