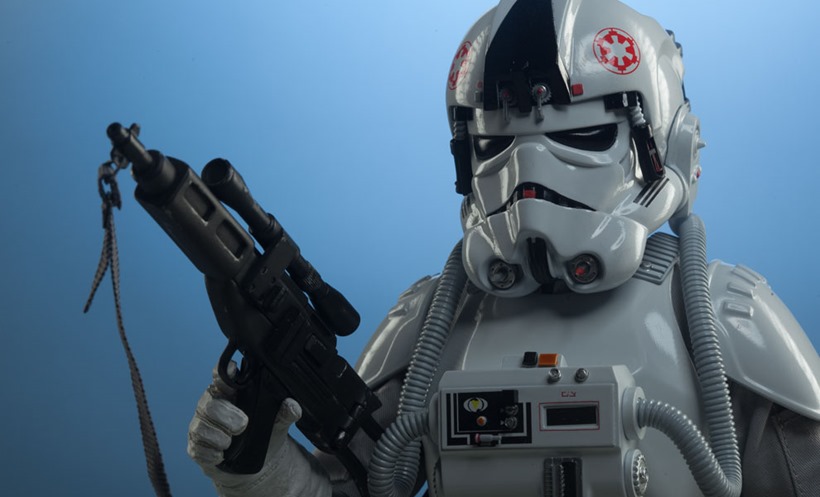 Jobs in the Star Wars universe, probably suck Wampa testicles. If you're working with the Empire, your career choices most likely hover between being a moving target in ABS armour and a choke-puppet for Darth Vader. But every now and then, a certain job opening appears.
A career that requires you to blast Rebels while piloting the most bitchin' piece of hardware since the Jedi banned Gillette brand lightshavers. I am of course, talking about the mighty All-Terrain Armoured Transport. Or AT-AT for short. Just don't let it get near any Snowspeeders.
Naturally, it took a special kind of Stormtrooper to handle an AT-AT. A Stormtrooper who wasn't burdened with DL-44 blaster fire magnets. Hey, is it getting Hoth in here?
Most famously remembered from the Battle of Hoth, specially trained AT-AT drivers took control of the Empire's massive All Terrain Armored Transport vehicles- or Imperial Walkers – in a devastating ground attack against the Rebels at Echo Base.

Suited for cold climate battle, the AT-AT driver comes fitted in a standard-issue uniform, featuring a streamlined helmet connected by pressurized hoses to a life support system, and glossy white armor over a pristine grey flight suit.

Interchangeable driving gauntlets feature a com-link and allow dexterity for handling AT-AT controls while positive gravity pressure boots keep him grounded in all situations.

Although typically found in the cockpit, Sideshow's Exclusive Imperial AT-AT driver also comes armed with a vintage inspired rifle blaster – a nostalgic feature Star Wars collectors are sure to enjoy.
WHAT'S IN THE BOX?
The Imperial AT-AT Driver Sixth Scale Figure specially features:
Fully Articulated Body
Detailed Pilot Helmet and Armor
Imperial Flightsuit with Harness
Six (6) Interchangeable Hands Including
One (1) Pair of Fists
One (1) Pair of Neutral Hands
One (1) Rifle Support Hand
One (1) Trigger Hand
BlasTech E-11 Blaster
Exclusive Blaster Rifle
You can expect to pay $209.99 for this AT-AT pilot. Gigantic lumbering death-trap mecha-camel not included.
Last Updated: October 19, 2015