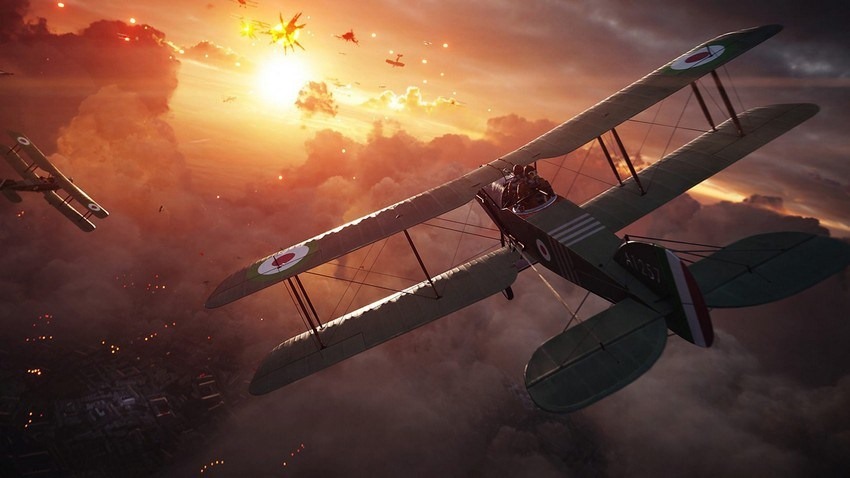 I hate to be melodramatic, but technically it's the beginning of the end for Battlefield 1. Apocalypse, the final DLC pack for EA's WW1 multiplayer shooter, will roll out later today signifying the last content update from developers DICE. While Battlefield games tend to have really long lifespans (THERE ARE STILL FULL SERVERS OF BATTLEFIELD 3 EVERY NIGHT!), I suspect Battlefield 1's already divisive player base is going to take a big knock later this year when the still-untitled mysterious new Battlefield launches in October.
That's still some 8 months away though, and for now, fans of the franchise's current game can get all apocalyptic with the new expansion which will shift the action to "the iconic, infamous battlefields of World War 1's final days." And if you're a Premium Pass or Battlefield Revolution edition owner, then you get to experience that today while regular edition owners need to wait another two weeks. In a post on the official Battlefield forums, EA announced that along with today's rollout for Apocalypse, there also comes a base game update which will reportedly be addressing several issues, which means this update is compulsory for all. Accordingly, EA will be taking servers offline for two hours per platform as they update things.
Here's the full posting:
We are pleased to announce that the Battlefield 1 Apocalypse and Base Game Update will start rolling out Tuesday, February 20. While access to Battlefield 1 Apocalypse content will be limited to Premium Pass and Battlefield 1 Revolution owners for their 2-week Early Access, the download is required for all Battlefield 1 players for online play.
The Update will be automatically deployed to your platform on Tuesday, February 20th across all platforms with the following downtimes:

PC: Multiplayer will be offline for 2h starting 08.00 UTC / 12.00 AM PST.
PS4: Multiplayer will be offline for 2h starting 10.00 UTC / 2.00 AM PST.
Xbox One: Multiplayer will be offline for 2h starting 12.00 UTC / 4.00 AM PST.

Update notes will be posted here once the Base Game Update is live. Be sure to check back once maintenance is complete.
Thank you for your patience and see you on the battlefield!
The teams at EA/DICE
For those of you heckin' bamboozled by time zones, that means that local PC gamers can expect the maintenance to kick in shortly from 10am to 12pm, PS4 players will have their downtime from 12pm to 2pm, and XBox One owners will be off from 2pm to 4pm. Once your update is completed and if you're a Premium Pass or Revolution owner, you can look forward to 6 new guns, a handful of new gadgets, new vehicles and 5 new maps – including two exclusive aerial combat only ones – to use them on.
Last Updated: February 20, 2018