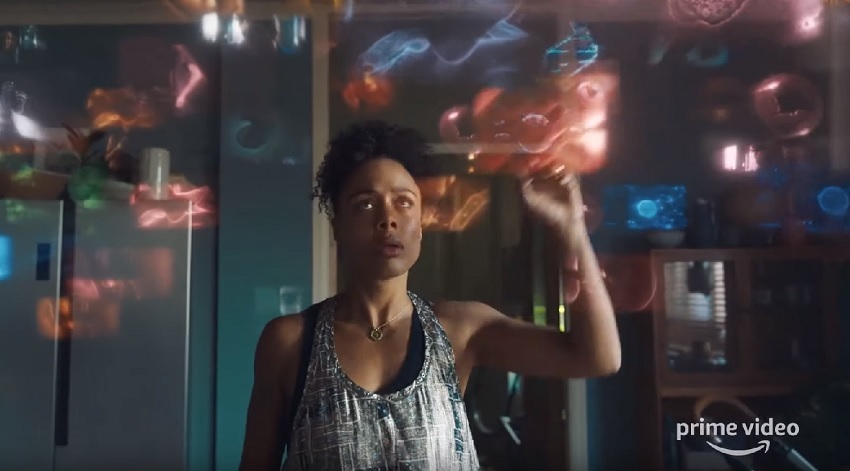 Imagine every human being was an open Facebook, with every little thing they see, say, think, or do instantly available to share online. If you think social media is bad now, that would be a living hell. And, unsurprisingly, that's what it becomes in Amazon Prime Video's upcoming British sci-fi drama/thriller series, The Feed.
The show's official plot synopsis is as follows:
In the near future, a high-tech implant connects our minds to "The Feed." Every interaction, emotion, and memory can be shared instantly. Tom (Guy Burnet) and Kate (Nina Toussaint-White) are a young couple trying to resist their addiction to tech. Tom's father, Lawrence (David Thewlis) invented "The Feed," and his mother Meredith (Michelle Fairley) is the CEO overseeing its daily operation.

When strange and violent things begin to happen to its users, Tom must do all he can to protect his wife, Kate (Nina Toussaint-White) and baby daughter from his father's twisted creation. The Feed tells a very human story about survival, family, and the lengths that you would go to protect the ones you love.
The premise reminds me a bit of Stephen King's 2006 novel Cell which, if you haven't read it, saw most of humanity infected by a mysterious signal broadcast over cellphone networks and turned them into mindless phone-zombies – so it's really non-fiction. The series was created by Channing Powell (The Walking Dead, White Collar), and based on the 2018 debut novel of the same name by British author Nick Clark Windo.
Let's take a look:
I can't say I'm wowed by this trailer because the plot seems a bit clichéd, but it still looks like a solid techno-scare thriller overall. I particularly like the constant visual trickery on display, and how it affects people when those blinkers are ripped away from them and they see the world for what it is.
What do you think?
The Feed will premiere its ten-episode-long first season on Amazon Prime Video on 22 November.
Last Updated: October 22, 2019