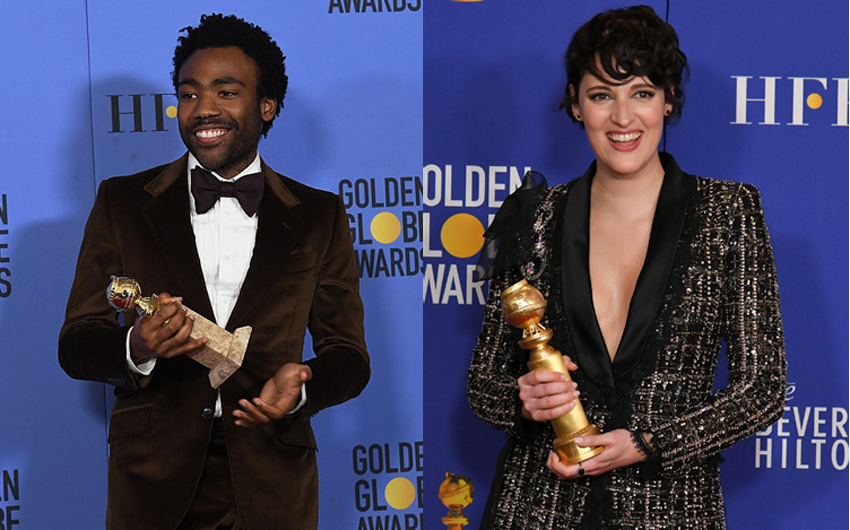 Solo: A Star Wars Story may have been a completely unnecessary movie that nobody asked for, but it did deliver some unexpected delights. And few aspects of that film were as delightful as the chemistry between Donald Glover's young Lando Calrissian and Phoebe Waller-Bridge's acerbic droid L3-37. And now those two super-talented actors are teaming up again for a brand new TV series reboot of Mr. and Mrs. Smith for Amazon Prime.
Released in 2005, the action comedy was directed by Doug Liman off a script from Simon Kinberg and starred Brad Pitt and Angelina Jolie as the titular married couple who have managed to keep from each other that they're both secretly assassins working for competing agencies. Things come to a head though when they don't just find out about their respective spouse's true profession, but get hired to take each other out. And no, I don't mean on a date. The film was a box office hit and received solid reviews for its mix of action and romance, with praise being heaped on the fireworks between Pitt and Jolie. That prompted talk of a remake back in 2010, but that production appears to have fizzled out.
This new Mr. and Mrs. Smith will be a co-production between Amazon Studios and New Regency. The show will not just see Glover and Waller-Bridge taking up the title roles, but is actually being co-created and exec-produced by the duo as well. Neither actor is uncomfortable on the other side of the camera though. Glover created/starred in the comedy/drama series Atlanta, earning two Golden Globes and two Emmys, while Waller-Bridge created/starred in the utterly brilliant comedy/drama Fleabag, which has won six Emmys and one Golden Globe. Fargo writer Francesca Sloane is co-creating the show and will act as showrunner.
In a press release announcing the production, Jennifer Salke, Head of Amazon Studios, praised the talent behind this production.
Talk about the dream team! Donald and Phoebe are two of the most talented creators and performers in the world. It's truly a dream for us, as it will be for our global audience, to have these two forces of nature collaborating as a powerhouse creative team. 'Mr. and Mrs. Smith' is an iconic property, and we can't wait to see how Donald, Phoebe, and Francesca make it their own. We're thrilled to be working with them, and with such great partners at New Regency.
There no details yet for how the movie's story will be adapted to a series format, but we probably won't have long to wait. According to the press release, this Mr. and Mrs. Smith reboot is scheduled to debut on Amazon Prime sometime next year.
Last Updated: February 15, 2021