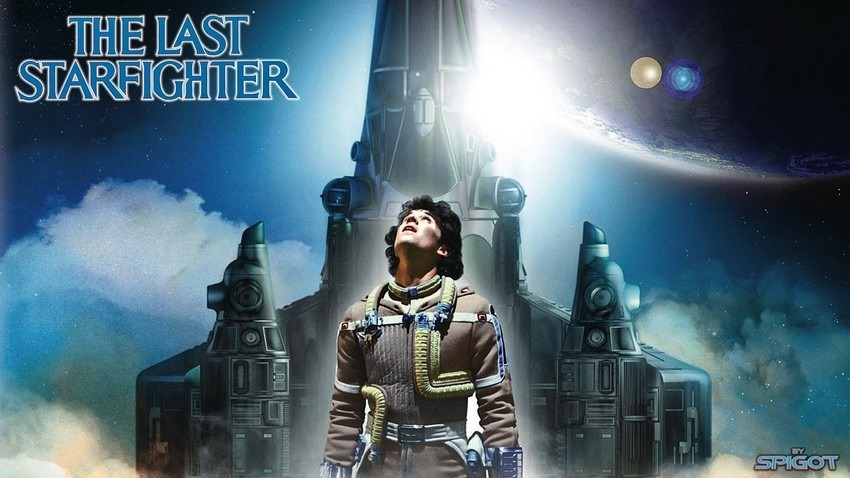 Back in 2015 we reported on a story that Jonathan R. Betuel, the original screenwriter for 80's sci-fi cult classic The Last Starfighter, was developing a reboot for his lovably cheesetastic film about a trailer park teen who gets recruited by an alien to fight in an intergalactic space war after proving himself on a video game. Except the "VR TV series" reboot sounded absolutely nothing like the original. In that story though, we mentioned that many established filmmakers had tried their own hand at doing a more faithful modernization, but repeatedly butted heads with an unhelpful Betuel whose deal for the cinematic rights meant nothing got done without his approval. One of those names was Gary Whitta, the screenwriter behind another little sci-fi movie you may have heard which released the next year: Rogue One: A Star Wars Story. And now it appears that Whitta has finally gotten through to Betuel.
The writer (who also penned Book of Eli and After Earth) took to Twitter yesterday to surprisingly reveal that he and Betuel were working together on developing a brand new feature film version of The Last Starfighter. He didn't stop there, but also revealed some really cool concept art for their pitch, created by Rogue One concept artist Matt Allsopp.
Okay, probably shouldn't show you this so early but here's a little something I've been tinkering on with my co-writer Jonathan Betuel. You might recognize the ships. Thanks to the amazing Matt Allsopp (lead concept artist on ROGUE ONE) for creating these images for us. pic.twitter.com/CIobLYYRHk

— Gary Whitta (@garywhitta) April 4, 2018
People seemed excited by the first tweet so here's a tiny bit more of Matt's concept art. Can't show anything more after this, it's all too spoilery 🙂 #GreetingsStarfighter pic.twitter.com/FydxLwEfrt

— Gary Whitta (@garywhitta) April 4, 2018
That definitely looks like the Last Starfighter I knew and loved as a kid. And that may be because this is the Last Starfighter I knew and loved as a kid. Prompted by a question from a fan about why this is being developed as a reboot and not a sequel when there are so many narrative threads from the original that could be picked up 30 years later, Whitta had this to say.
Who told you it's not a sequel?

— Gary Whitta (@garywhitta) April 5, 2018
Well, technically, the answer to Whitta's question would be io9, who were the first to break the news and reported it as a reboot. Irrespective of whether that descriptor is apt or not, Whitta went on to reveal to the publication that the original The Last Starfighter has "always been one of my all-time favorites…"
It is a deeply special movie for me. In terms of movies that stirred my imagination as a kid, it's right up there with Star Wars. Maybe because I was a video game junkie back then, but the idea that playing a game could be a magic ticket to a real space adventure, I just always thought that concept was utterly brilliant. The film is sorely underrated in my view, although it's endured as a cult classic and every time I bring it up in conversation people seem to just light up. There's a tremendous undercurrent of fondness out there for it.
As to how Whitta got Betuel to cave and finally let somebody play with his toys, it appears that it was sheer fanboy persistence that did it.
Jon still retains some piece of ownership of the original IP, so no one can make a new movie without his participation. I happened to track Jon down, and after I was done pestering him with all my fanboy questions about the original film we started to talk about what a new version might look like. Since then we've spent so many hours working on it I've long since lost count, but right now we have a fully developed story that is a combination of reboot and sequel that we both think honors the legacy of the original film while passing the torch to a new generation. We're both very excited about it creatively.
Being excited doesn't make this a reality yet though. Whitta went on to say that "It's a passion project for Jon and me both" but that they "still need to deal with some remaining biz stuff before we can really move forward". The duo have already had "a lot of talks with Universal", who partially own some of the rights, so this is at least moving further than any past attempts. One of those previous failed attempts actually came from Seth Rogen, who is also a huge fan. Whitta actually tagged the actor/producer in his Tweet, and revealed to io9 that they've chatted about it before. It doesn't sound like Rogen is involved in the potential production this time around, but according to Whitta "he'd make a fantastic Centauri".
And if you're wondering what a modern spin on The Last Starfighter could look like, Youtuber Tim Gonzales actually came up with an answer back in 2014 when he created this brilliant modern trailer for the film.
Last Updated: April 6, 2018