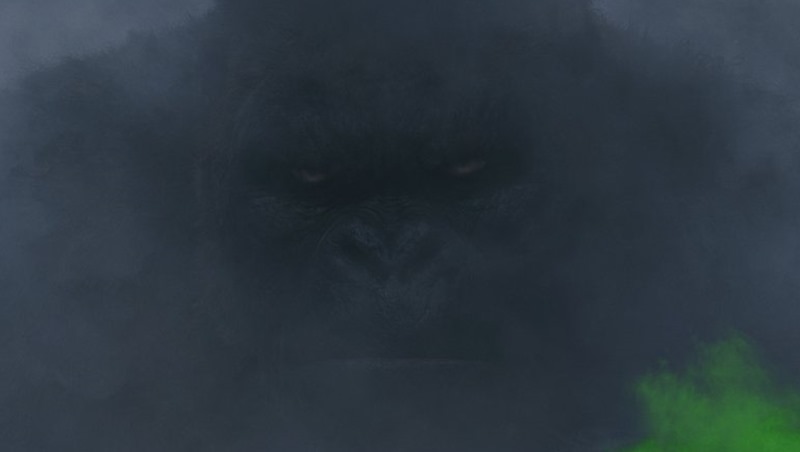 It's a good time to be a fan of kaiju. While the term may have originated with the Japanese and their Godzilla movies, it's hard to deny that the original big bad silverback himself doesn't belong in that category. King Kong is iconic to say the least, a beast who has tangled with Godzilla himself in the past and come out on top.
The last time we saw Kong however? It was in a drawn-out movie that featured a massive great ape going mental on Broadway in the third act. I still very much like Peter Jackson's vision of Kong however, a survivor of a species that would end with him and carrying the scars of decades of survival from a life lived on the most dangerous island on the planet.
But his reign might have been a bit easier to secure, had he been even bigger. Fortunately, the Kong of Kong: Skull Island isn't lacking in the size department as Legendary Pictures and Warner Bros. released via EW a new photo of their hairy kaiju: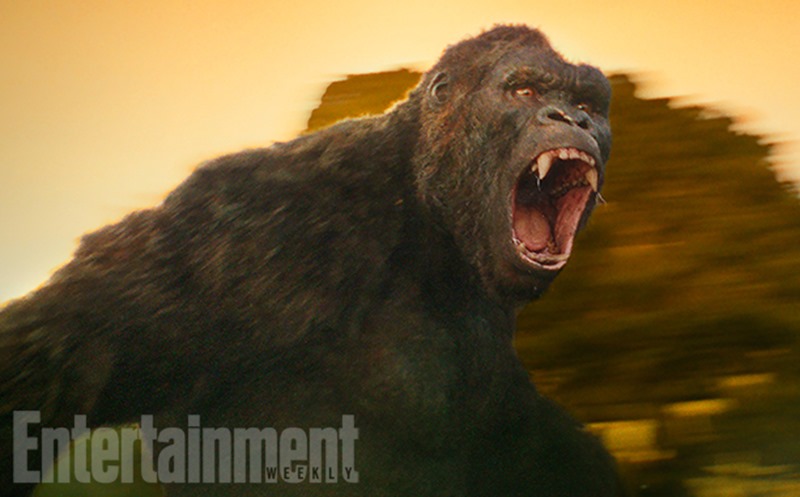 That's a very classic look then for Kong. Peter Jackson's version of the silver screen monster had a more tragic face and build influenced greatly by the silverback gorillas of the Congo, but this version is leaning more towards a less chubby legend. A design that director Jordan Vogt-Roberts told EW that their Kong was designed to be a "lonely god":
With Kong, there's been obviously so many different versions of him in the past and ours needed to feel unique to our film. I had a mandate that I wanted a kid to be able to doodle him on the back of a piece of homework and for his shapes to be simple and hopefully iconic enough that, like, a third grader could draw that shape and you would know what it is.

A big part of our Kong was I wanted to make something that gave the impression that he was a lonely God, he was a morose figure, lumbering around this island.
One other thing that Kong won't be doing? Playing a game of hide and seek, as Vogt-Roberts explained how his presence would be felt and seen, unlike 2014's Godzilla that used a few ideas from Jaws to slowly reveal that Japanese monster: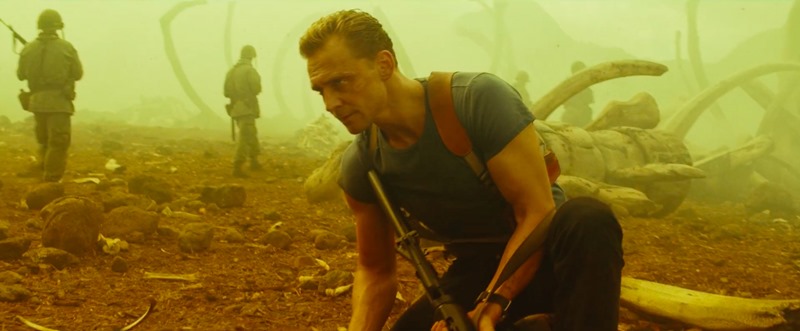 We're also fundamentally not playing the same game that Gareth Edwards' Godzilla did and most monster movies do, which I'm sort of sick of the notion that a monster movie needs to wait an hour or 40 minutes until the creature shows up.

Kong traditionally does not show up in these movies until very, very late, and the monster traditionally does not show up until very, very late in a monster movie, so a lot of these movies tend to have this structure that's a bit of a slow burn. Something about this movie made me want to reject that and play a very, very different game.
Sounds good! Now to see how the rest of the cast reacts to seeing a 100-foot tall ape lurking around then. A cast which includes Tom Hiddleston, Samuel L. Jackson, Brie Larson, Jing Tian, Corey Hawkins, Jason Mitchell, John Ortiz, Shea Whigham and Toby Kebbell when it releases next year March.
Last Updated: November 11, 2016