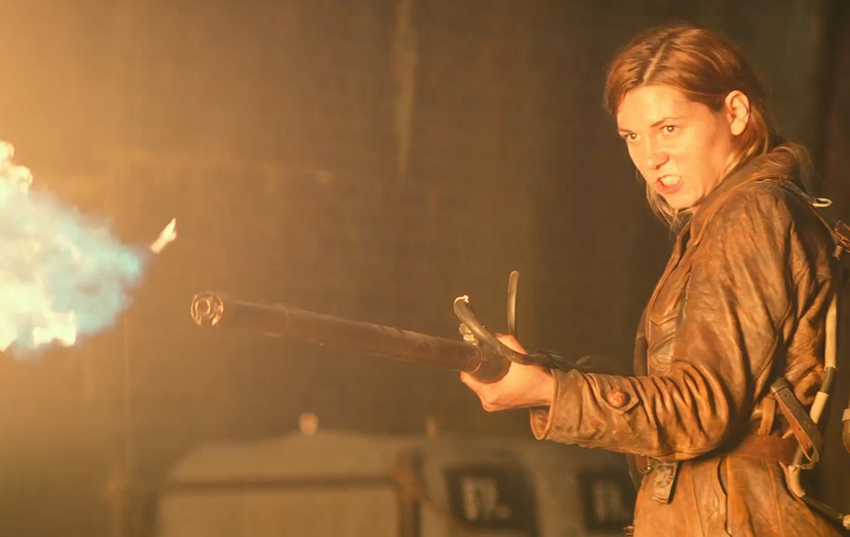 To be or not to be a Cloverfield sequel, that is the question. At least that was one of the many points to ponder when it came to Overlord, an upcoming WWII-set supernatural thriller produced by JJ Abrams and his Bad Robot production company. Cloverfield films all tend to follow the same lifecycle, starting as a spec script with a relatively green director attached which Bad Robot then tweak to add connective tissue to the rest of the Cloverfield universe (connections that actually made no sense until last year's multiversal horror The Cloverfield Paradox revealed how these seemingly unrelated movies are linked). Except, while early clues led us to believe that this is exactly what had happened with Overlord as well, Abrams took the stage at Cinemacon earlier in the year to deny the film being a secret Cloverfield sequel like The Cloverfield Paradox – which had been titled God Particle until the day of its shocking release – had turned out to be.
So what is Overlord then? F—ing awesome, is what I would say based on the first trailer which dropped online last night! Combining a gripping D-Day aerial insertion (well, aerial flailing would be more correct) from some paratroopers, with crazy Nazi scientists, zombies, and AC/DC, this first preview plays out exactly like the "batshit crazy" film Abrams promised it would be. And I can't wait to see it in full!
On the eve of D-Day, paratroopers drop behind enemy lines to carry out a crucial mission for the invasion. As they approach their target, they soon begin to realize there's more going on in the Nazi-occupied village than a simple military operation.
Wait, Ian de Caestecker is in this? How did I not know this about the Agents of SHIELD standout that's been breaking my heart for the last few years? He'll be supporting lead Jovan Adepo who is following on from impressing in The Leftovers and Fences, while the rest of the cast is rounded out by a mix of newcomers and recognizable character actors like Jacob Anderson, Pilou Asbæk, John Magaro, Wyatt Russell and Bokeem Woodbine.
Speaking of newcomers, Overlord – like all other Cloverfield films even though it's not one (apparently) – sees a relatively unknown director at the helm, which in this case is Julius Avery. Seeing as how it was the original film that launched the career of Matt Reeves and is seemingly doing the same for the filmmakers that followed, being taken under the Bad Robot wing certainly sounds like a great career move. Avery will be working off the script from a couple of veterans though in Billy Ray and Mark L. Smith.
Overlord is currently scheduled for release on 9 November. That's if, y'know, it doesn't just suddenly show up on Netflix one night before then with a new Cloverfield-esque name.
Last Updated: July 19, 2018