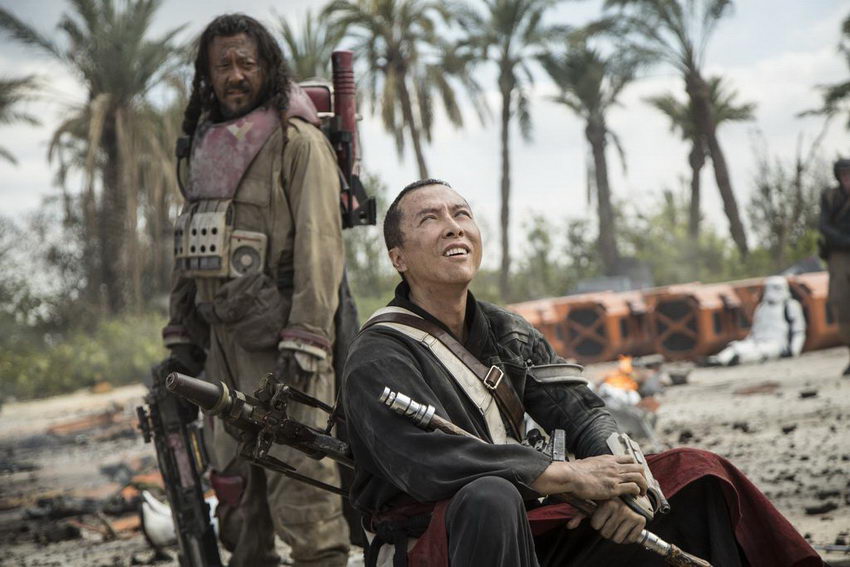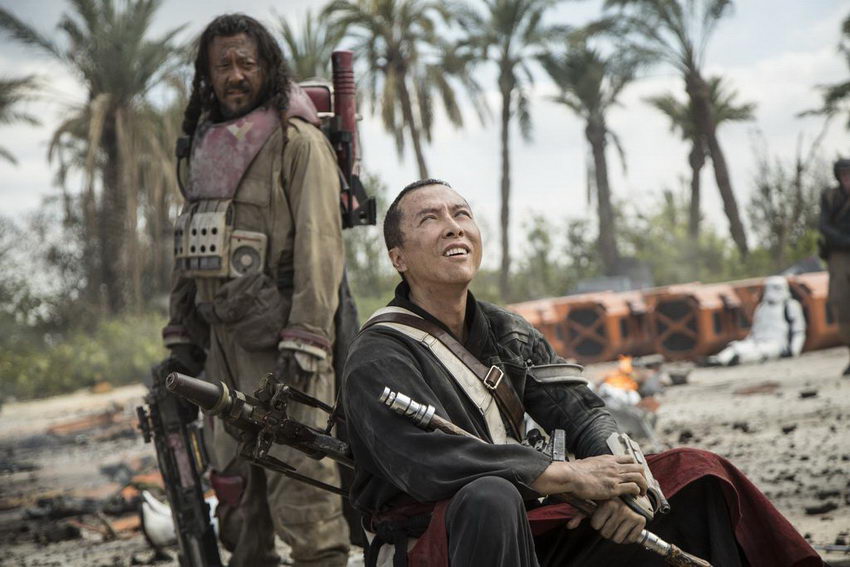 Rogue One: A Star Wars Story is an incredible film – easily one of the best entries the Star Wars franchise has ever had since George Lucas first introduced us to a galaxy far, far away a long time ago. And just like the rest of the standouts over the decades, Rogue One introduced us to characters, moments and lines of dialogue that we will never forget (I am one with the Force. The Force is with me!).
Everybody has their favourites, but the moment I saw Donnie Yen and Jiang Wen's respective Chirrut Imwe and Baze Malbus first show up in the holy city of Jedha, I just knew that I wanted to spend whole lot more time getting to know them.
Spoiler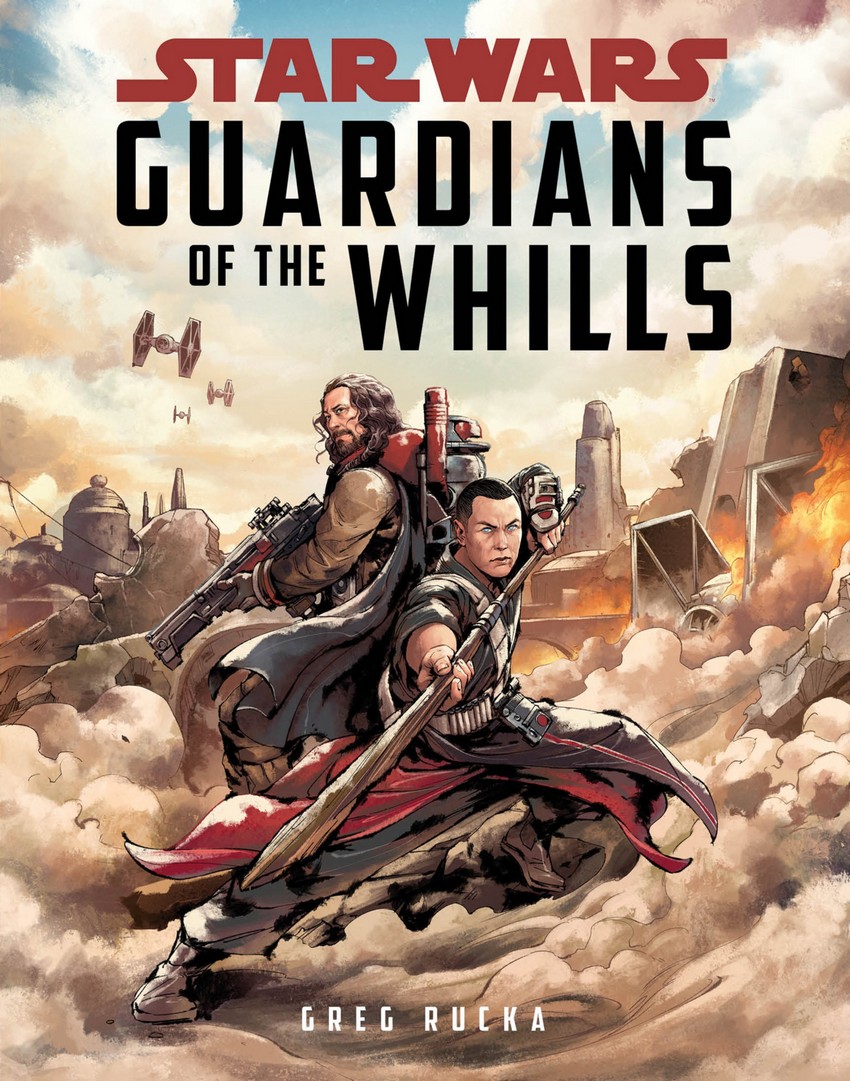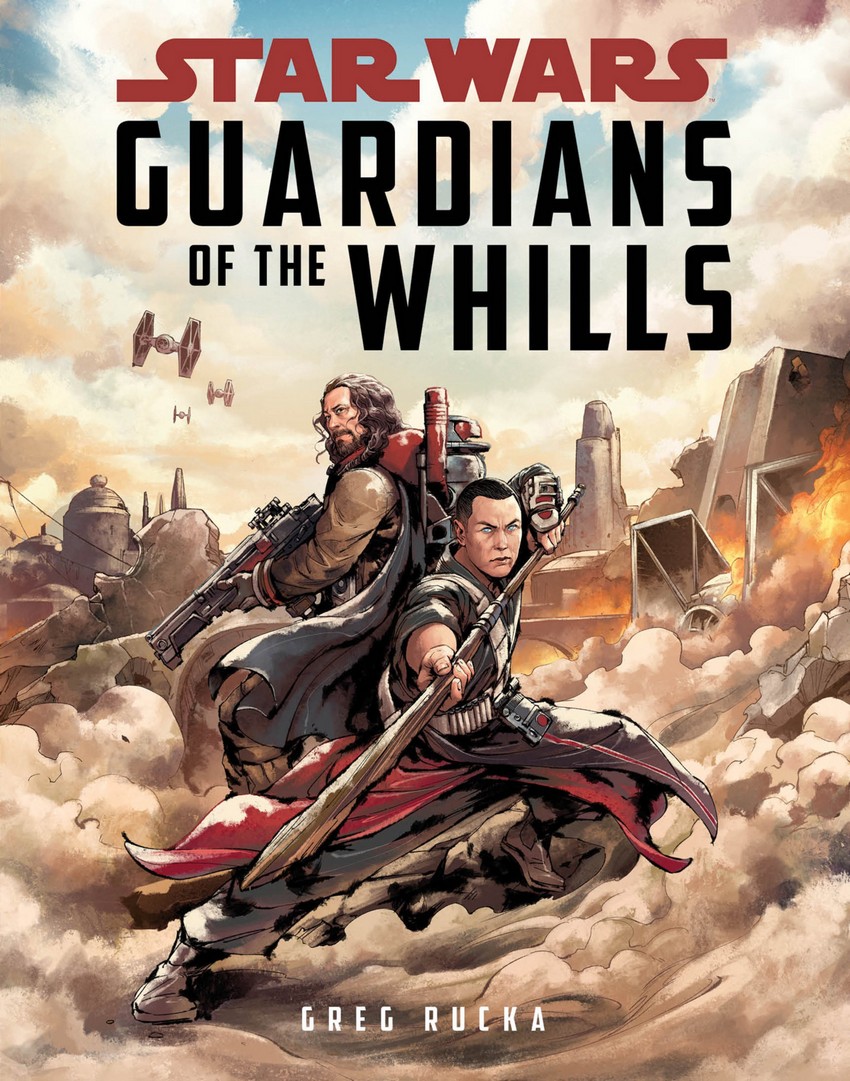 MAJOR SPOILER
MAJOR SPOILER
Unfortunately, the ending to Rogue One made that a tad bit difficult what with everybody dying and all. However, we're still going to be able revisit with the blind, ass-kicking Force worshiper and world-weary human tank… but just in the past. That's thanks to a new standalone prequel novel titled Guardians of the Whills.
The novel will be penned by fan-favourite award-winning author and comic book writer Greg Rucka who also wrote Star Wars: Shattered Empire (The Marvel comic telling of Poe Dameron's Rebel parents) and Star Wars: Before the Awakening (an anthology novel focusing on Rey, Finn and Poe just before the events of The Force Awakens). The title "Guardians of the Whills" refers to Chirrut and Baze themselves, as that was their role as defenders of the Jedi's holy Khyber Temple (khyber crystals are used to make lightsabers). The novel will also deal with Saw Gerrera (played by Forest Whitaker in the movie) and his arrival on Jedha.
Here's the official synopsis:
Baze and Chirrut used to be Guardians of the Whills, who looked after the Kyber Temple on Jedha and all those who worshipped there. Then the Empire came and took over the planet. The temple was destroyed and the people scattered. Now Baze and Chirrut do what they can to resist the Empire and protect the people of Jedha, but it never seems to be enough. When a man named Saw Gerrera arrives with grand plans to take down the Empire, it seems like the perfect way for Baze and Chirrut to make a real difference and help the people of Jedha. But will it come at too great a cost?
Here's some Star Wars trivia: the "Whills" is actually not a new term, as it was used by George Lucas in his first two drafts of the story that would eventually become Star Wars. Here's a description from StarWars.Wikia.com:
The Journal of the Whills, Part I (1973) was a handwritten two-page partial outline for the story that would, after many further rewrites and explorations of ideas, become Star Wars (1977).

The outline begins: "This is the story of Mace Windy, a revered Jedi-bendu of Ophuchi, as related to us by C.J. Thorpe, padawaan learner to the famed Jedi." Thorpe, called either C.J. or C.2. (it switches back and forth in the document) actually stands for "Chuiee Two Thorpe of Kissel. My father is Han Dardell Thorpe, chief pilot of the renown galactic cruiser Tarnack."

When Chuiee reaches sixteen years of age, he enters the Intersystems Academy to train as a potential Jedi-Templer. There he becomes padawaan learner to Mace Windy, a Warlord to the Chairman of the Alliance of Independent Systems. Windy becomes the victim of a court conspiracy: those who fear that Windy is more powerful than the Imperial leader of the Galactic Empire, some of those being his own comrades, arrange for his replacement and expulsion from the royal forces. Though Windy has been dismissed, Chuiee begs to stay on in his service.
This leads to the even-more-fragmentary story of Journal of the Whills, Part II. After four years, Windy and Chuiee have their greatest adventure. They guard a shipment of fusion portables to Yavin, where they are summoned to the desolate planet Yoshiro by a mysterious courier sent by the Alliance Chairman himself. The narrative drops off at this point.
It's obvious to spot the similar names and concepts that would eventually become the Star Wars saga we know, but that is still a vastly different story. However, the Journal of the Whills (in whatever form it may take) has become canon thanks to it being mentioned in the novelization of both the original Star Wars film and The Force Awakens.
And if Guardians of the Whills is not enough Rogue One prequel goodness for you, Disney will also be releasing a new YA book detailing the backstory of reluctant heroine Jyn Erso. Rebel Rising is penned by popular YA science-fiction writer Beth Revis and tells of the time after Jyn escapes Orson Krennic after he kills her mother and captures her father and is rescued by extremist Rebel leader Saw Gerrera. We hear in the movie how Saw raised Jyn and how she became his best soldier, and this novel will be detailing that time.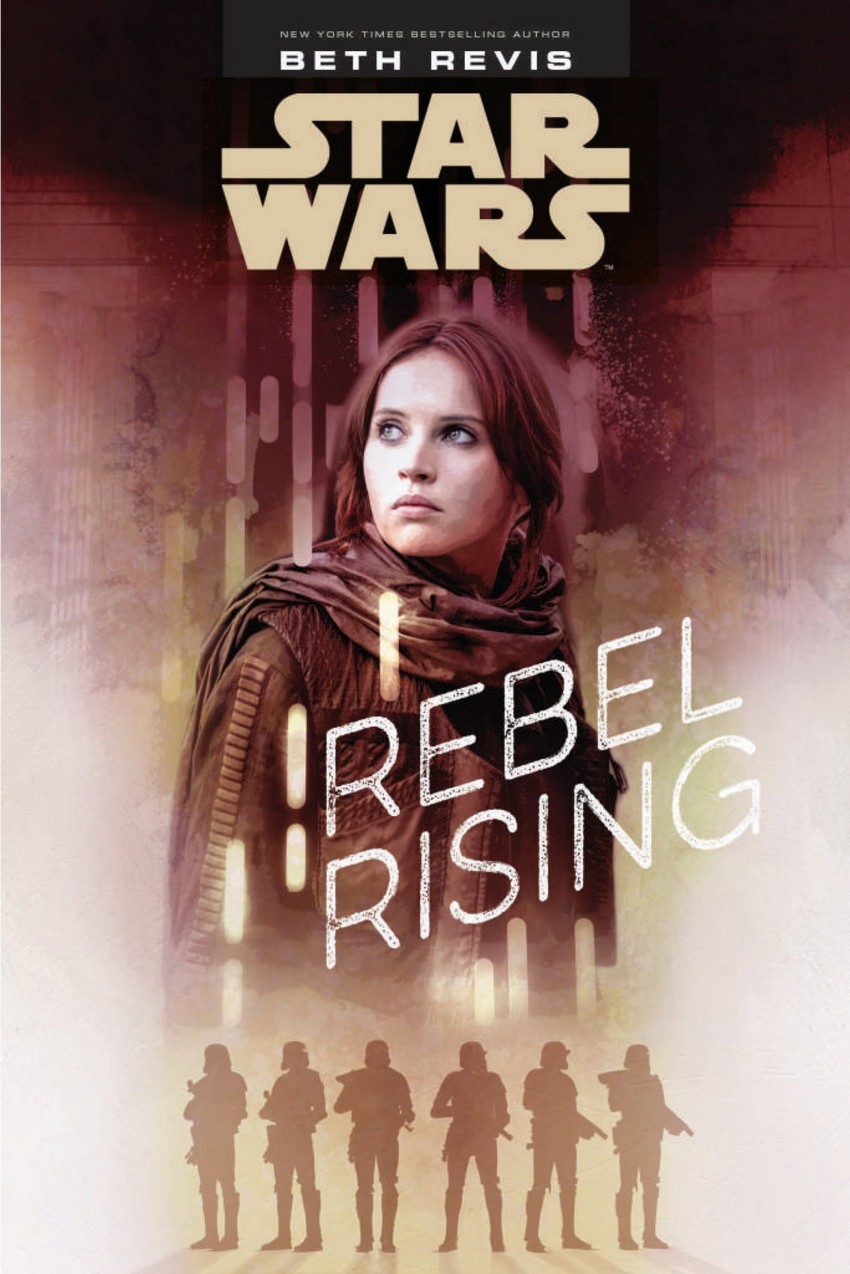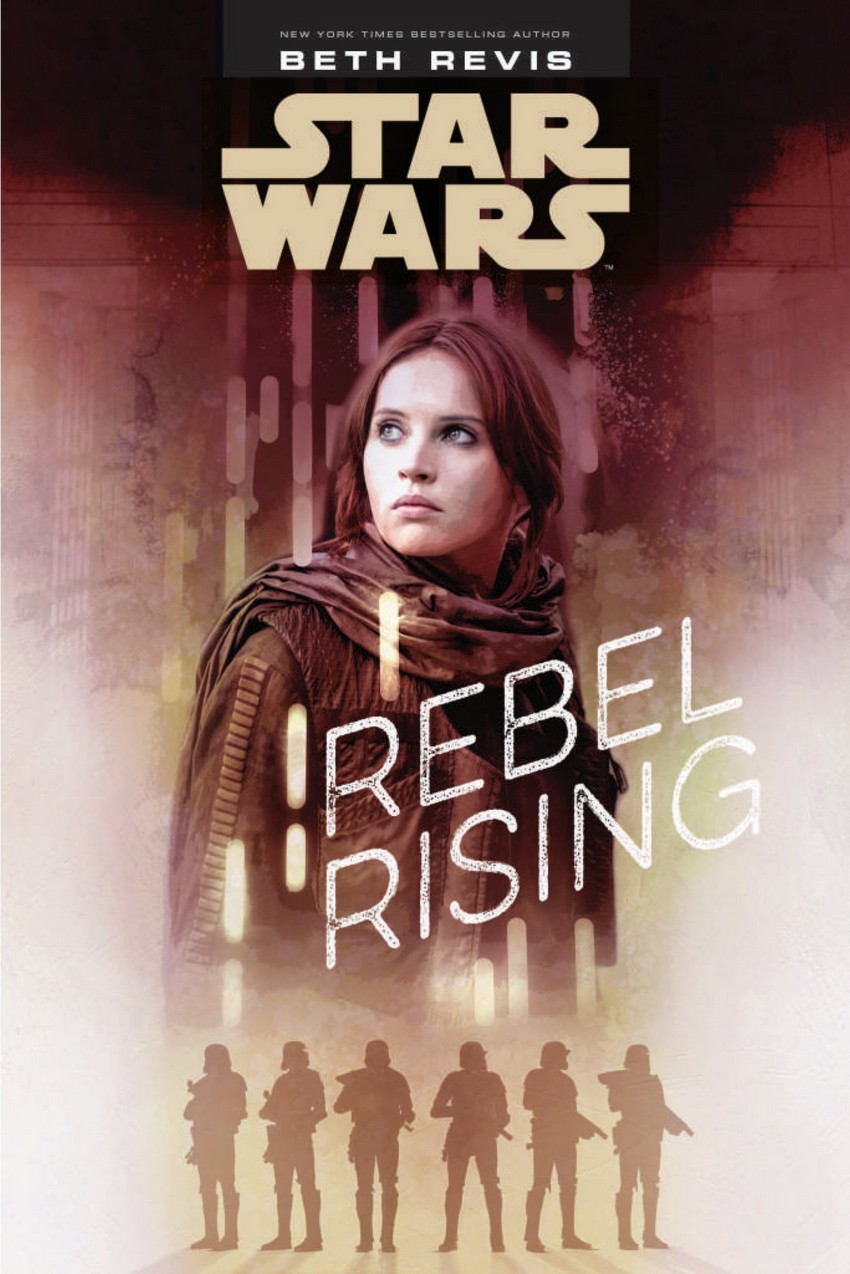 "When Jyn Erso was five years old, her mother was murdered and her father taken from her to serve the Empire. But despite the loss of her parents she is not completely alone—Saw Gerrera, a man willing to go to any extremes necessary in order to resist Imperial tyranny, takes her in as his own, and gives her not only a home but all the abilities and resources she needs to become a rebel herself.

Jyn dedicates herself to the cause—and the man. But fighting alongside Saw and his people brings with it danger and the question of just how far Jyn is willing to go as one of Saw's soldiers. When she faces an unthinkable betrayal that shatters her world, Jyn will have to pull the pieces of herself back together and figure out what she truly believes in…and who she can really trust."
Guardians of the Whills and Rebel Rising will both be released on 2 May, 2017 (though you can read an excerpt from the first two chapters of Rebel Rising HERE so long).
Last Updated: January 30, 2017