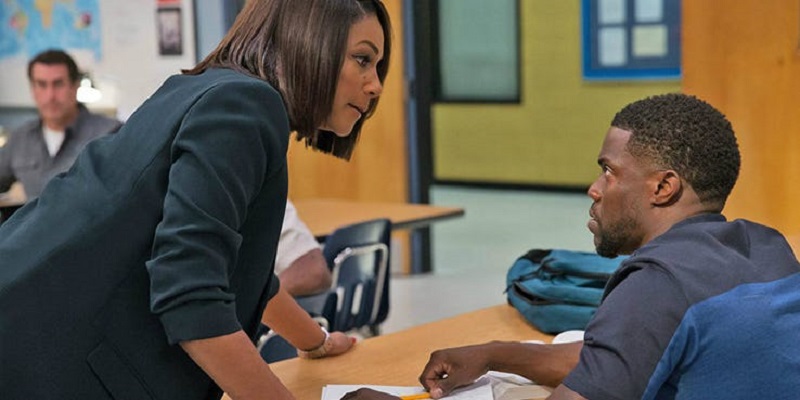 Some might argue that Kevin Hart should go back to school in real life and not just in the movies. Comedy school that is! Just kidding, I actually think the guy is quite funny when he isn't trying too hard to be loud-mouthed and obnoxious, which is why I always approach his movies with a sense of trepidation as you never know which Kevin Hart is going to turn out.
And based on the evidence in this new trailer for Night School, it's probably a little bit of both as it shows off both the endearingly funny parts of Hart and the loud and annoying parts of his acting persona at the same time. Thankfully, Tiffany Haddish is there to save the day as she steals the show:
Night School sees Kevin Hart's character, Teddy Walker attend a night school with a bunch of fellow adult no-hopers played by Rob Riggle, Romany Malco, Magealyn  Echikunwoke and Ben Schwartz in the hope of finally getting their high-school diplomas and give them an opportunity to finally better themselves. Sheer learning is not the only challenge coming their way though as Haddish shows up as the teacher who is willing to do whatever it takes to ensure her pupils learn what they need to pass the test. If they can stay alive that is.
Night School looks like a movie that starts out as an innocent comedy, but then goes completely over the top with big explosions and slapstick humour thrown into the mix. Needless to say it appears to be a comedy that is as infantile as the characters in this school seem.
Night School comes out on September 21st and hopefully ends up being better than what is on display here.
Last Updated: August 21, 2018