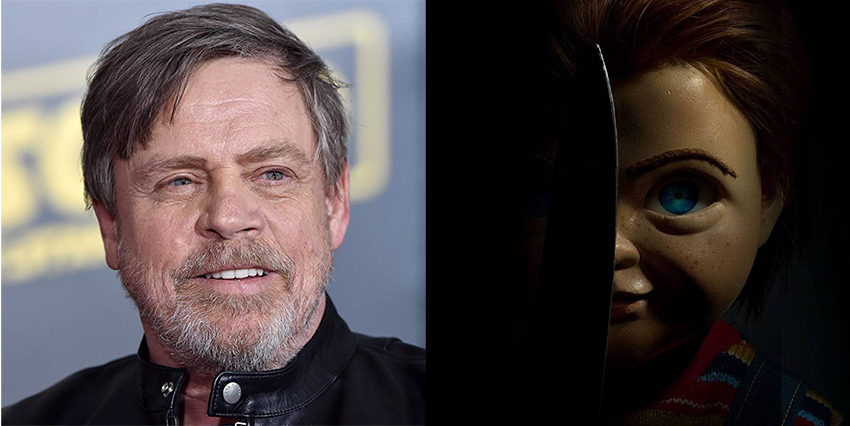 Thanks to his iconic role as Jedi knight Luke Skywalker in Star Wars, Mark Hamill will always be a hero to an entire generation of fans. However, equally iconic is the villainous side of the veteran actor's career as his has been the most recognized voice of the Joker in many of DC Comics baddie's animated appearances since his debut in Batman: The Animated Series in 1992. Now Hamill is returning to his iconic villain voice acting ways as it's been revealed that he will be playing the role of Chucky in the upcoming Child's Play reboot.
The reveal came from the actor himself who surprised fans in attendance at the panel presentation for production studio Orion Pictures at Wondercon in Anaheim, California, this weekend past. Hamill appeared on-screen with a recorded message, much to screaming delight of the audience of the convention, to reveal that he would be taking on the role of the murderous doll.
If you're wondering who's going to play Chucky in the new Child's Play, you're looking at him. I can't wait to bring such an iconic character to life, and present him in a way you've never seen him before.
Hamill has been a hugely prolific voice actor since he was first introduced to the world in 1977. He's voiced characters in everything from the aforementioned Batman: The Animated Series to Transformers Prime, Avengers Assemble, Phantom 2040, Dragons: Riders of Berk, Metalocalypse, Avatar: The Last Airbender and much, much more. For Child's Play though, it will seemingly be the first time he's voicing a character in a live-action feature film.
The upcoming film is a reboot of the horror franchise that began with the 1988 original. That film told of a vicious serial killer and occultist who is mortally wounded in a shootout with police and manages to transfer his soul into a "Good Guys" children's doll. The doll is unwittingly bought by a widow for her son, but once in his new home, "Chucky" continues his murderous reign of terror in his doll form. After a reasonably well-received original trilogy, the franchise saw numerous direct-to-video sequels up until 2017, with later instalments becoming increasingly comedic and campy.
The first teaser trailer for the new Child's Play was released back in February, and while it reveals basically nothing of the murderous doll, we know this will be a "contemporary re-imagining" of the original. Chucky will now be an "Artificial Intelligence human companion" Buddi doll (the name is a homage to the real world "My Buddy" dolls that inspired the original) which becomes possessed by a sinister entity. Aubrey Plaza will play single mom Karen who buys the toy for her son Andy (Gabriel Bateman), unaware of its evil intentions until the bodies start stacking up.
With this reboot, director Lars Klevberg (Polaroid) and writer Tyler Burton Smith will reportedly be taking the franchise back to its pure horror roots, so expect lots of scares and blood when it releases on 21 June 2019.
Last Updated: April 1, 2019