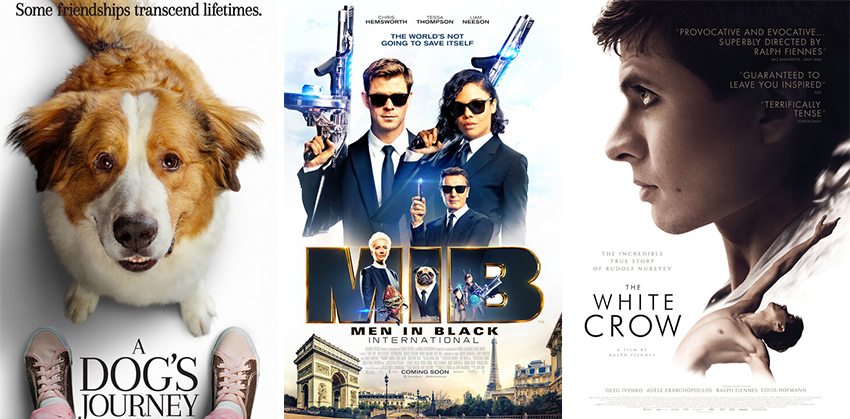 There's nothing particularly great coming to cinemas this week, and sadly, that includes Men in Black International.
---
Men in Black: International
Age Restriction: 10-12 PG H L V
The Men in Black have expanded to cover the globe, but so have the scum of the universe. And to keep us safe, decorated Agent H (Chris Hemsworth) and determined rookie M (Tessa Thompson) are partnered – an unlikely pairing that just might work. As they face a new alien threat that can take the form of anyone, including MIB agents, they must join forces on a globetrotting adventure to save the agency and ultimately the world.
Men in Black International is agreeable enough to get by, but for the most part it's entirely forgettable. Despite the substantial chemistry between Hemsworth and Thompson, this is a franchise that's running out of reasons to continue.
Rotten Tomatoes: 25% (Rotten)
Metacritic: 39 (Generally Unfavourable Reviews)
---
A Dog's Journey
Age Restriction: 7-9 PG V
A dog finds the meaning of his own existence through the lives of the humans he meets.
As overly sweet and sentimental as you'd expect, A Dog's Journey will still tug the heart-strings of even the most cynical viewers.
Rotten Tomatoes: 49% (Rotten)
Metacritic: 43 (Mixed or Average Reviews)
---
The White Crow
Age Restriction: 13 D L S
Ralph Fiennes' THE WHITE CROW was inspired by the book Rudolf Nureyev: The Life by Julie Kavanaugh. The drama charts the iconic dancer's famed defection from the Soviet Union to the West in 1961, despite KGB efforts to stop him.
Thanks to its limited appeal and narrow focus, The White Crow lacks the grace of its subject, but as a reasonably diverting primer on a pivotal period in the life of a brilliant artist, it just about sticks the landing.
Rotten Tomatoes: 67% (Fresh)
Metacritic: 61 (Generally Favourable Reviews)
---
For more information about the age restrictions, click here.
Last Updated: June 14, 2019