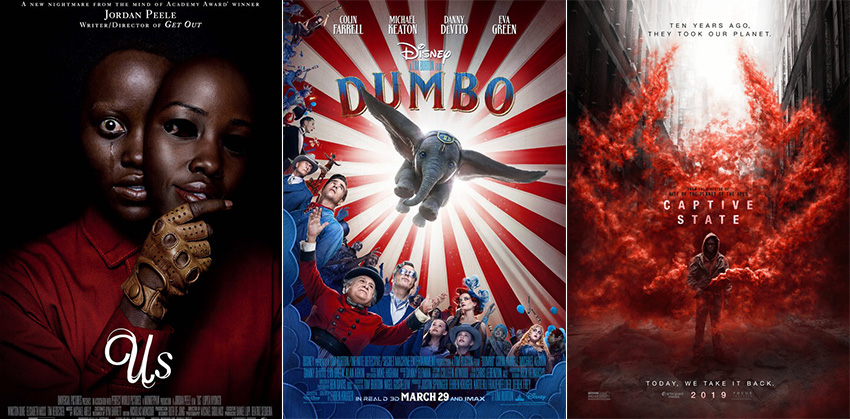 Jordan Peele's highly anticipated sophomore effort, Us, lands in cinemas today, alongside a disappointing Disney film and some sci-fi alien action.
---
Us
Age Restriction: 16 H L V
A mother (Lupita Nyong'o) and a father (Winston Duke) take their kids (Shahadi Wright Joseph, Evan Alex) for an idyllic summer getaway. Haunted by an unexplainable and unresolved trauma from her past and compounded by a string of eerie coincidences, Adelaide feels her paranoia elevate to high-alert as she grows increasingly certain that something bad is going to befall her family. After spending a tense beach day with their friends, the Tylers (Elisabeth Moss, Tim Heidecker, Cali Sheldon, Noelle Sheldon), Adelaide and her family return to their vacation home. When darkness falls, the Wilsons discover the silhouette of four figures holding hands as they stand in the driveway. Us pits an endearing American family against a terrifying and uncanny opponent: doppelgängers of themselves.
After surprising the world with his directorial debut Get Out, Jordan Peele's second outing is another deep, dark film. More on the horror side than thriller this time, but thematically just as rich, Us is a must-see film.
Critical Hit: 8.5/10
Rotten Tomatoes: 95% (Certified Fresh)
Metacritic: 81 (Universal Acclaim | Metacritic Must See)
---
Dumbo
Age Restriction:
Circus owner Max Medici (Danny DeVito) enlists former star Holt Farrier (Colin Farrell) and his children Milly (Nico Parker) and Joe (Finley Hobbins) to care for a newborn elephant whose oversized ears make him a laughingstock in an already struggling circus. But when they discover that Dumbo can fly, the circus makes an incredible comeback, attracting persuasive entrepreneur V.A. Vandevere (Michael Keaton), who recruits the peculiar pachyderm for his newest, larger-than-life entertainment venture, Dreamland. Dumbo soars to new heights alongside a charming and spectacular aerial artist, Colette Marchant (Eva Green), until Holt learns that beneath its shiny veneer, Dreamland is full of dark secrets.
What looked good on paper hasn't worked in practice with Dumbo. No amount of Tim Burton visual flair and robust performances from the cast can save this live-action remake from being anything more than average.
Critical Hit: 6.0/10
Rotten Tomatoes: 55% (Rotten)
Metacritic: 55 (Mixed or Average Reviews)
---
The Front Runner
Age Restriction: 13 D L
The Front Runner follows the rise and fall of Senator Gary Hart (Hugh Jackman), who captured the imagination of young voters and was considered the overwhelming front runner for the 1988 Democratic presidential nomination when his campaign was sidelined by the story of an extramarital relationship with Donna Rice. As tabloid journalism and political journalism merged for the first time, Senator Hart was forced to drop out of the race – events that left a profound and lasting impact on American politics and the world stage.
The Front Runner takes an interesting story about the birth of tabloid journalism and the impact it had on politics, and dilutes it to the point of muddy confusion with a lack of focus. Director Jason Reitman never really gets around to analysing the issues that Gary Hart's story raised, but still manages to tell it with some sharp wit and good acting.
Rotten Tomatoes: 59% (Rotten)
Metacritic: 66 (Generally Favourable Reviews)
---
Captive State
Age Restriction: 13 D L V
Set in a Chicago neighborhood nearly a decade after an occupation by an extra-terrestrial force, Captive State explores the lives on both sides of the conflict – the collaborators and dissidents.
Captive State is the kind of random sci-fi film you might be watching on a rainy afternoon on Netflix when you can't find anything else you feel like diving into. It might be derivative and unrealistic, as sci-fi films often are, but Captive State has enough alien-invasion action and political thriller undertones to keep you distracted.
Rotten Tomatoes: 44% (Rotten)
Metacritic: 53 (Mixed or Average Reviews)
---
Hotel Mumbai
Age Restriction: 16 L V P
A gripping true story of humanity and heroism, Hotel Mumbai vividly recounts the 2008 siege of the famed Taj Hotel by a group of terrorists in Mumbai, India. Among the dedicated hotel staff is the renowned chef Hemant Oberoi (Anupam Kher) and a waiter (Dev Patel) who choose to risk their lives to protect their guests. As the world watches on, a desperate couple (Armie Hammer and Nazanin Boniadi) is forced to make unthinkable sacrifices to protect their newborn child.
Haunting and incredibly hard to watch, Hotel Mumbai is a well-made dramatisation of terrible, true life events. As bloody and grueling as the real siege on the Hotel Mumbai, director Anthony Maras does not skimp on the brutality.
Rotten Tomatoes: 71% (Fresh)
Metacritic: 62 (Generally Favourable Reviews)
---
For more information about the age restrictions, click here.
Last Updated: March 29, 2019