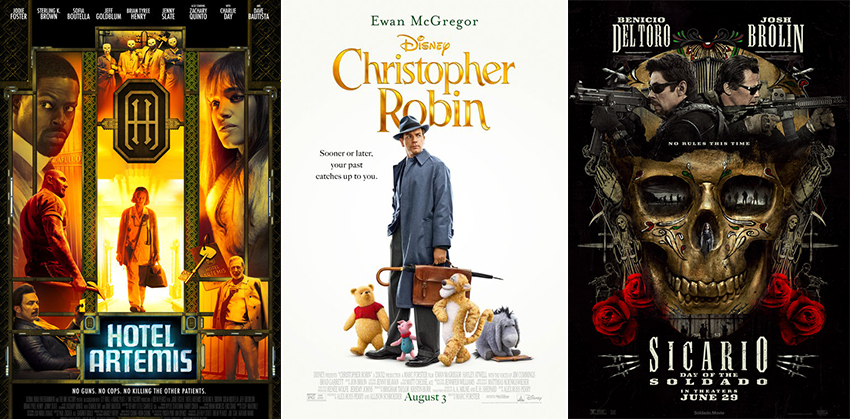 There's something for everyone opening in cinemas today, from childlike whimsey and dystopian teen drama to violence and brutality. There's even a historical drama for those of you that are interested in that.
Christopher Robin
Age Restriction: PG V
Working-class family man Christopher Robin (Ewan McGregor) encounters his childhood friend Winnie-the-Pooh, who helps him to rediscover the joys of life.
Whimsical, charming and delightful, Christopher Robin is another feather in Disney's cap. It's full of heart, purpose and wonderful visual effects, all of which will leave you falling in love with A.A. Milne's cherished characters all over again.
Critical Hit: 9/10
Rotten Tomatoes: 62% (Fresh)
Metacritic: 59 (Mixed or Average Reviews)
Hotel Artemis
Age Restriction: 16 L V D
Set in riot-torn, near-future Los Angeles, Hotel Artemis follows the Nurse (Jodie Foster), who runs a secret, members-only hospital for criminals
Brazen and visually captivating, Hotel Artemis unfortunately misses the payoff that it spends most of the movie building towards. Though, for the lovers of character depth, world-building, and a decent amount of mindless violence, there is something worthwhile to be found in The Artemis.
Critical Hit: 6/10
Rotten Tomatoes: 59% (Rotten)
Metacritic: 58 (Mixed or Average Reviews)
Sicario: Day of the Soldado
Age Restriction: 16 L V
In the drug war, there are no rules – and as the cartels have begun trafficking terrorists across the US border, federal agent Matt Graver (Josh Brolin) calls on the mysterious Alejandro (Benicio Del Toro), whose family was murdered by a cartel kingpin, to escalate the war in nefarious ways. Alejandro kidnaps the kingpin's daughter to inflame the conflict – but when the girl is seen as collateral damage, her fate will come between the two men as they question everything they are fighting for.
Gritty and grim, though not as strong as its predecessor, Sicario: Day of the Soldado is still a solid film full of uncomfortable talking points and set pieces that will leave you on the edge of your seat.
Rotten Tomatoes: 64% (Fresh)
Metacritic: 61 (Generally Favourable Reviews)
Mary Shelley
Age Restriction: 16 D S
She will forever be remembered as the writer who gave the world Frankenstein. But the real life story of Mary Shelley—and the creation of her immortal monster—is nearly as fantastical as her fiction. Raised by a renowned philosopher father (Stephen Dillane) in 18th-century London, Mary Wollstonecraft Godwin (Elle Fanning) is a teenage dreamer determined to make her mark on the world when she meets the dashing and brilliant poet Percy Shelley (Douglas Booth). So begins a torrid, bohemian love affair marked by both passion and personal tragedy that will transform Mary and fuel the writing of her Gothic masterwork.
Despite the fine period detail and Elle Fanning's masterful performance, Mary Shelley reduces the accomplishments and creative spark of its titular character to little more than a footnote. How the film manages to make the fascinating life of Frankenstein's author utterly boring is a feat in and of itself, though certainly not a good reason to watch the film.
Rotten Tomatoes: 39% (Rotten)
Metacritic: 49 (Mixed or Average Reviews)
The Darkest Minds
Age Restriction: 13 L V P
When teens mysteriously develop powerful new abilities, they are declared a threat by the government and detained. Sixteen-year-old Ruby, one of the most powerful young people anyone has encountered, escapes her camp and joins a group of runaway teens seeking safe haven. Soon this newfound family realizes that, in a world in which the adults in power have betrayed them, running is not enough and they must wage a resistance, using their collective power to take back control of their future.
In a field of samey Young Adult adaptations, The Darkest Minds does little to differentiate itself. Instead, it's like a haphazard amalgamation of all the YA adaptations that have come before it. Dystopian has never been this boring.
Rotten Tomatoes: 15% (Rotten)
Metacritic: 39 (Generally Unfavourable Reviews)
For more information about the age restrictions, click here.
Last Updated: August 3, 2018