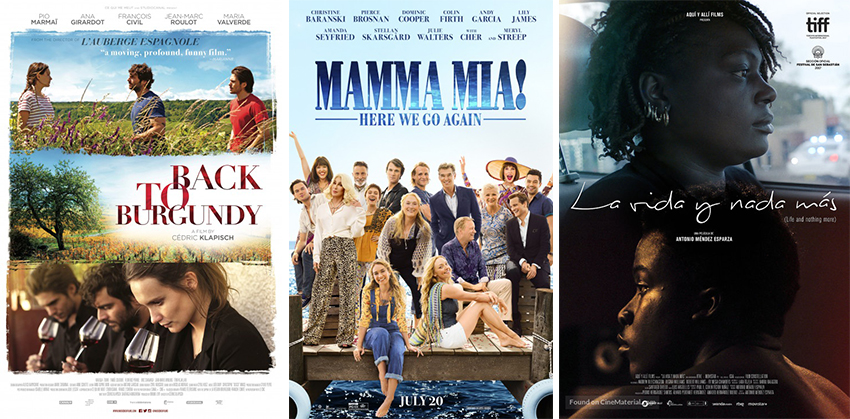 Sadly, Craig used up all the ABBA related puns in his review of Mamma Mia: Here We Go Again, so I have nothing left for this intro 🙁
Mamma Mia: Here We Go Again
Age Restriction: 10-12 PG D
Ten years later on the Greek island of Kalokairi, Sophie is pregnant and runs her mother's villa. Concerned that she can't do it all by herself, with Tanya and Rosie's guidance, Sophie will find out more about Donna's past and how she ran the hotel, met each one of Sophie's dads and raised a baby, all on her own – with an unexpected visit of someone she had never met before: her grandmother
Craig seems to be the outlier when it comes to Mamma Mia: Here We Go Again, the sequel to 2008's smash hit. Most critics have warmed up to the ABBA-themed musical, but while Craig found the music and story charming, though cheesy, the execution was ultimately a let-down. Though, if you're a fan of the music, or musicals in general, you'll still get a kick out of the foot-tapping dance sequences.
Critical Hit: 4/10
Rotten Tomatoes: 81% (Certified Fresh)
Metacritic: 61 (Generally Favourable Reviews)
Life & Nothing More
Age Restriction: 16 L
Standing on the edge of adulthood, Andrew yearns to find his purpose as a young African-American in today's America. With his mother longing to find more to her life then parenting, Andrew is forced to take on the mounting pressure of family responsibility. His search for connection with an absent father, leads him to a dangerous crossroads.
Rich and engaging, Life & Nothing More is director Antonio Méndez Esparza's second feature and first English language film. Critics are praising the compelling, down-to-earth characters, specifically played by amateur actors for the extra edge of authenticity.
Rotten Tomatoes: 82% (Certified Fresh/Fresh/Rotten)
Back to Burgundy
Age Restriction: 13 D L S
Jean (Pio Marmai) left his native Burgundy and the family wine business a decade ago to travel around the world. The black sheep of the family, he unexpectedly returns home to reconnect with his ailing father. When Jean's father dies, his sister Juliette (Ana Girardot) takes over the reins of the "domaine" together with their younger brother, Jérémie (François Civil), who has recently married into one of the region's more prestigious wine families. As the business is transferred to the children, a prohibitive inheritance tax must be dealt with. As four seasons and two harvests unfold, emotional and work-related conflicts erupt which will force the siblings to reinvent their relationships and their own life choices if they are to survive as a family and a business
Warm, pleasurable and bursting with flavour, Back to Burgundy is much like a fine glass of red. If you're a fan of deep, multi-layered human dramas, you'll savour this film.
Rotten Tomatoes: 70% (Certified Fresh/Fresh/Rotten)
Metacritic: 58 (Mixed or Average Reviews)
For more information about the age restrictions, click here.
Last Updated: July 20, 2018