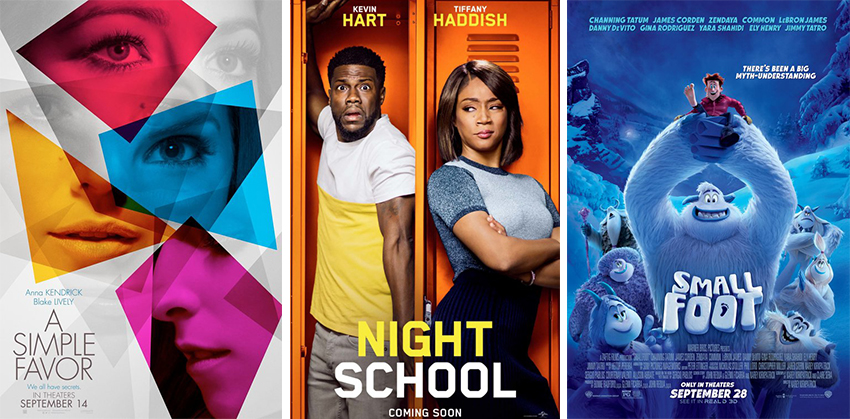 New movies coming to cinemas this week include low-brow comedy, high-brow modern thrillers and not one, but two South African releases.
Night School
Age Restriction: 16 L V P
Star Kevin Hart and producer Will Packer, who partnered for the hit Ride Along and Think Like a Man series, bring their signature style to Night School. The comedy from director Malcolm D. Lee (Girls Trip) follows a group of misfits who are forced to attend adult classes in the longshot chance they'll pass the GED exam.
Much like your own high school experience, Night School is painfully awkward and immature, and your experience with this film will largely depend on how much you enjoy Kevin Hart films in general. Might School is exactly what you'd expect from Hart and, if you've found his other films funny, you will probably enjoy this.
Critical Hit: 4/10
Rotten Tomatoes: 28% (Rotten)
Metacritic: 41 (Generally Unfavourable Reviews)
A Simple Favour
Age Restriction: 16 L V N S D
Stephanie (Anna Kendrick) is a mommy vlogger who seeks to uncover the truth behind her best friend Emily's (Blake Lively) sudden disappearance from their small town. Stephanie is joined by Emily's husband Sean (Henry Golding) in this stylish thriller filled with twists and betrayals, secrets and revelations, love and loyalty, murder and revenge.
Stylish, twisty and twisted, A Simple Favour (screw you, American Spelling) is a thrilling post-modern film noir, bolstered by outstanding performances by the two lead actresses. While some story parts may not mesh well and director Paul Feig leans sometimes too far into silliness territory, the fast pacing will keep you hooked until the very end.
Rotten Tomatoes: 84% (Certified Fresh)
Metacritic: 67 (Generally Favourable Reviews)
Smallfoot
Age Restriction: PG
Smallfoot turns the Bigfoot legend upside down when a bright young Yeti finds something he thought didn't exist—a human. News of this "smallfoot" throws the simple Yeti community into an uproar over what else might be out there in the big world beyond their snowy village, in an all new story about friendship, courage and the joy of discovery
The morals of this story might be trite, but Smallfoot manages to avoid being too preachy, instead striking a good balance of fun animation, good humour and upbeat music. Kids will be entertained and adults shouldn't suffer too much.
Rotten Tomatoes: 75% (Fresh)
Metacritic: 58 (Mixed or Average Reviews)
Table Manners
Age Restriction: 16 D L
Megan loses everything when her husband, Lloyd, gets arrested for tax fraud. She has to rebuild herself by rediscovering her love for cooking and the flavours of life. Down on her luck and facing jail time, Megan has to discover who she really is. With the help of her best friend, Lindiwe, she learns that the path back home begins with realising that she's enough and that all she needs is her family, food, and love—life's three courses made easy.
Written and produced by SAFTA award-winning writer and actress Nkuli Sibeko, Table Manners is all about love, loss and finding one's passion. For lovers of sumptuous food and chicken soup for the soul type films, Table Manners will fill you up.
The Recce
Age Restriction: 16
1981 – RECCE, Henk Viljoen, is wrongfully declared KIA behind enemy lines. Abandoned by his superiors; it's a race for survival in which his mental and physical abilities are pushed to their limits, as he navigates his way through the treacherous Angolan war zone in an effort to make his way home to his loved ones.
An ambitious and atmospheric drama, The Recce finds itself lost in the aforementioned atmosphere and mislead by its ambition. If you're looking for a local version of The Revenant, you won't find it here, as The Recce skimps on the gritty survival story in favour of a strong artistic vision, which may be impactful, but lacks any thrilling cinematic entertainment.
For more information about the age restrictions, click here.
Last Updated: September 28, 2018