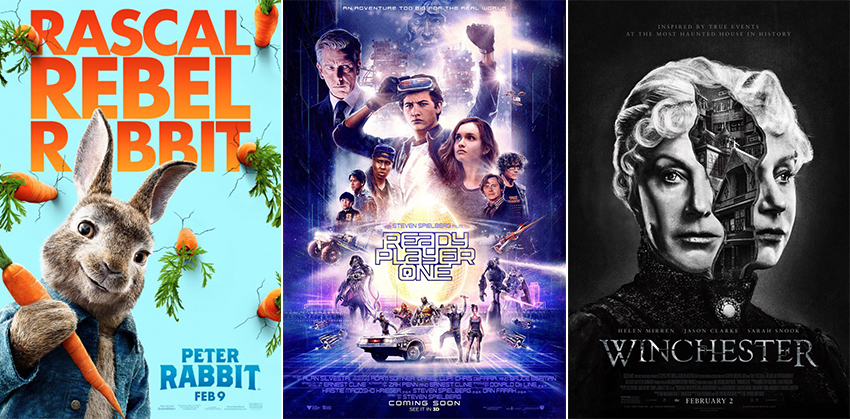 The Easter long weekend is upon us, so that means an abundance of Easter eggs courtesy of Ready Player One, some Easter bunnies thanks to Peter Rabbit, and dealing with family from pretty much all the other new releases today, in one form or another.
Ready Player One
Age Restriction: 13 L V PPS
In 2045, the world is on the brink of chaos and collapse. But the people have found salvation in the OASIS, an expansive virtual reality universe created by the brilliant and eccentric James Halliday (Mark Rylance). When Halliday dies, he leaves his immense fortune to the first person to find a digital Easter egg he has hidden somewhere in the OASIS, sparking a contest that grips the entire world. When an unlikely young hero named Wade Watts (Tye Sheridan) decides to join the contest, he is hurled into a breakneck, reality-bending treasure hunt through a fantastical universe of mystery, discovery and danger.
Stephen Spielberg adaptation of the beloved Ernest Cline novel has managed to hit the right high notes, even if it does go to pieces in other areas. Fast-paced and filled with nostalgia, it's an enjoyable diversion despite some obvious flaws.
Critical Hit: 6.5/10
Rotten Tomatoes: 79% (Certified Fresh)
Metacritic: 64 (Generally Favourable Reviews)
Peter Rabbit
Age Restriction: PG V
Peter Rabbit, the mischievous and adventurous hero who has captivated generations of readers, now takes on the starring role of his own irreverent, contemporary comedy with attitude. In the film, Peter's feud with Mr. McGregor (Domhnall Gleeson) escalates to greater heights than ever before as they rival for the affections of the warm-hearted animal lover who lives next door (Rose Byrne).
Young children will no doubt be enthralled by Peter Rabbit, with all its laugh-a-minute gags and whirlwind energy, while parents will no doubt be disappointed with how little of Beatrix Potter's gentle charm and genuine heart carried across into the film. Ah well, at least the blend of live action and animation is seamless and incredibly captivating.
Rotten Tomatoes: 61% (Fresh)
Metacritic: 52 (Mixed or Average Reviews)
Winchester
Age Restriction: 16 H V
On an isolated stretch of land 50 miles outside of San Francisco sits the most haunted house in the world. Built by Sarah Winchester, (Helen Mirren) heiress to the Winchester fortune, it is a house that knows no end. Constructed in an incessant twenty-four hour a day, seven day a week mania for decades, it stands seven stories tall and contains hundreds of rooms. To the outsider it looks like a monstrous monument to a disturbed woman's madness. But Sarah is not building for herself, for her niece (Sarah Snook) or for the brilliant Doctor Eric Price (Jason Clarke) whom she has summoned to the house. She is building a prison, an asylum for hundreds of vengeful ghosts, and the most terrifying among them have a score to settle with the Winchesters.
By all accounts, the only ghosts in Winchester are the shades of the movie it could have been. Which is a pity, as this big screen imagining should have been excellent considering the spooky true story and atmospheric setting, not to mention Dame Helen Mirren.
Rotten Tomatoes: 14% (Rotten)
Metacritic: 28 (Generally Unfavourable Reviews)
Tyler Perry's Acrimony
Age Restriction: 16 D L S V
A faithful wife (Taraji P. Henson) tired of standing by her devious husband (Lyriq Bent) is enraged when it becomes clear she has been betrayed
At the time of writing, there are no reviews out for the latest offering from Tyler Perry. I would expect it to be, well, not good. This is based purely on supposition, but it's never a good sign when no critics have been allowed to see your film.
Rotten Tomatoes: Tomatometer not available
Metacritic: No score yet
The Leisure Seeker
Age Restriction: 16 L V
A runaway couple (Helen Mirren and Donald Sutherland) go on an unforgettable journey in the faithful old RV they call The Leisure Seeker, traveling from Boston to The Ernest Hemingway Home in Key West. They recapture their passion for life and their love for each other on a road trip that provides revelation and surprise right up to the very end.
While both Helen Mirren and Donald Sutherland give their usual top-notch performances, both really deserved a better vehicle than this. Sadly for The Leisure Seeker, what sounded good in theory did not end up translating well onto the big screen as it ends its journey as tritely sentimental but not memorable in the least.
Rotten Tomatoes: 32% (Rotten)
Metacritic: 45 (Mixed or Average Reviews)
Susters
Age Restriction: 7-9 PG D
Susters is about three adopted sisters who, over time, have become estranged, and are reunited after the death of their mother. Her last wishes include sending them on a road trip down memory lane, filled with interesting characters, beautiful places and plenty of laughs along the way.
Ummmm… yeah. So, Susters doesn't exactly look like my kind of movie. Or anyone's, really. Luckily you've got a lot of choices this weekend!
For more information about the age restrictions, click here.
Last Updated: March 29, 2018