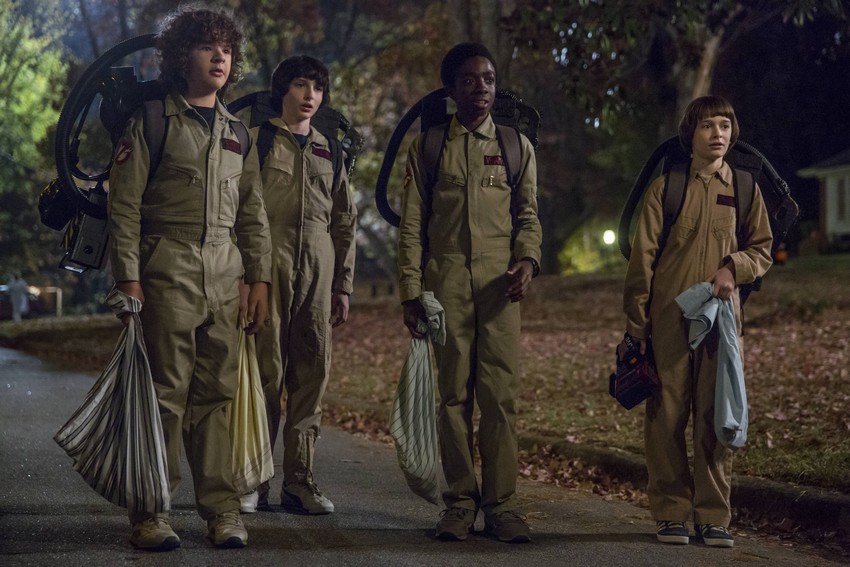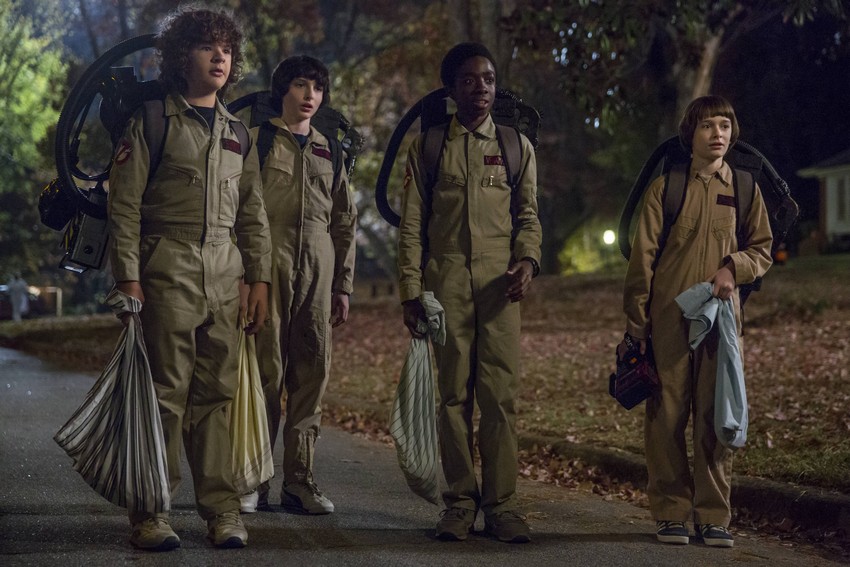 There's a really long list of US television networks that more than likely literally kicked themselves last year. They may even have thrown in some punches and/or an elbow drop or two. The reason for said self-whooping? Over a number of years they had all turned away two brothers with this idea for a TV series that combined their love of 1980s Amblin kids movies, Lovecraftian horror and Stephen King chills. The brothers were Matt and Ross Duffer and the series was Stranger Things, which was released by media streaming giant Netflix last year and promptly blew the minds of everybody who saw it.
Since becoming one of the biggest breakout TV series smash hits in years, and launching the careers of its young cast – particularly lead Millie Bobby Brown who played superpowered young girl Eleven – into the stratosphere, fans have been on tenterhooks waiting for any news of the show's second season. We've already had one teaser trailer thus far, which definitely got us salivating as it revealed that the follow-up would be debuting appropriately on Halloween (that's 31 October).
However, Netflix must have heard our salivating all the way from wherever their bunker of awesomeness is, as they've now revealed that Stranger Things season 2 will actually be premiering earlier than expected on 27 October instead. The announcement was made with the release of the first official poster, which sees Eleven's compatriots investigating the strange goings-on in the small town in Hawkins, Indiana, facing down all kinds of otherworldy nasties in a blood red portentous sky.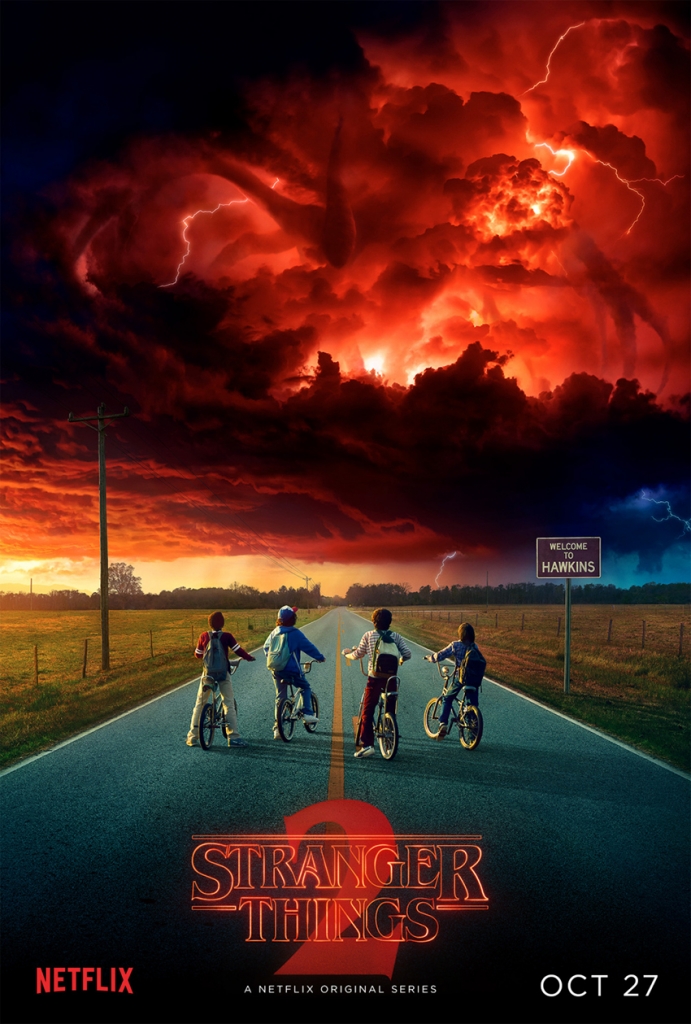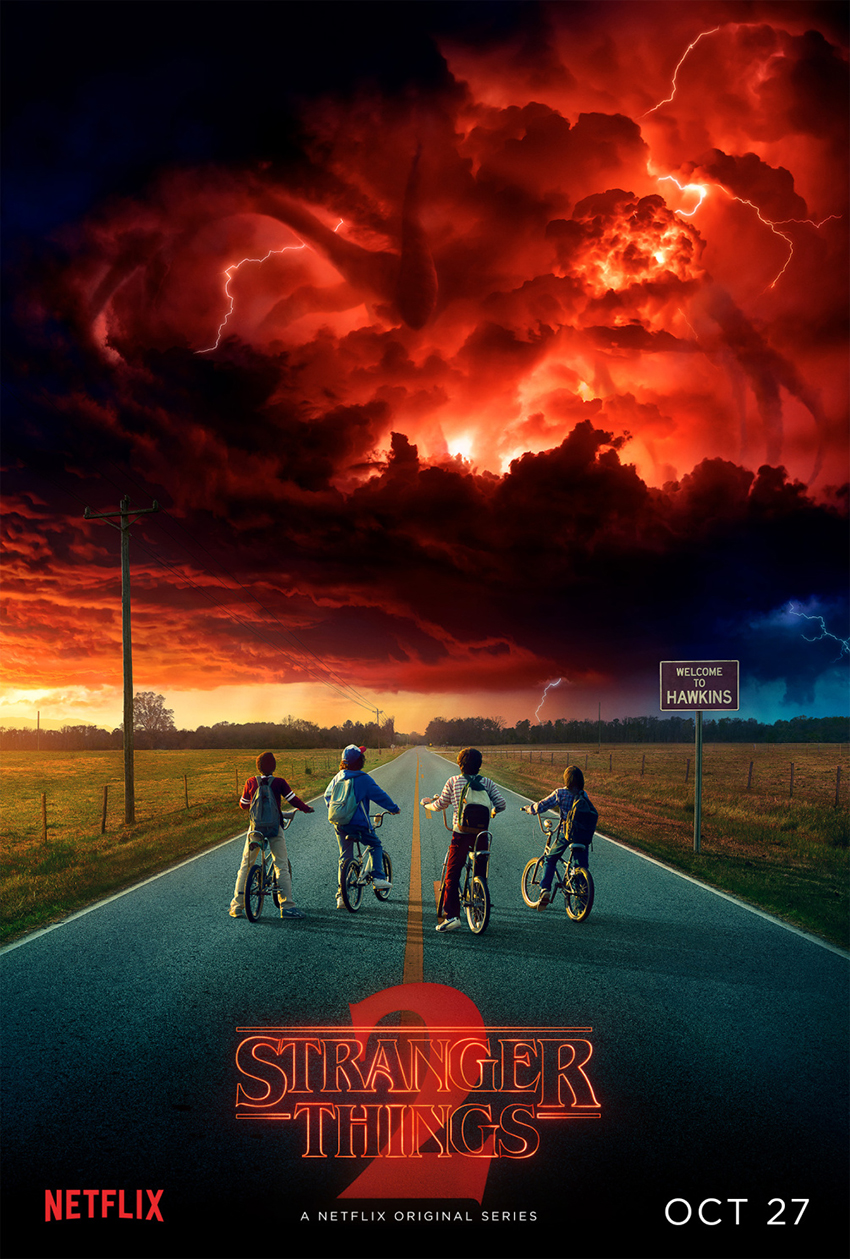 Seen above, from left to right are Lucas (Caleb McLaughlin), Dustin (Gaten Matarazzo), Mike (Finn Wolfhard) and Will (Noah Schnapp), the latter of which went missing when he was dragged into the "Upside Down" by the monstrous demagorgon, kicking off his friends' quest to save him. You'll notice the lack of Brown's Eleven as [SPOILER ALERT] the end of season 1 saw her use her powers to transport the monster into another dimension to save her new friends. It is assumed that season 2 – which will apparently be "darker and scarier" – will see her return. Then there's of course the small matter of the creepy crawly monster that was seemingly inside Will after he returned! Ooh!
Stranger Things season 2 will also see the return of Winona Ryder as Will's mom Joyce and David Harbour as Sheriff Hopper. Joining the cast will be Sean Astin as Bob Newby, an ex-classmate and love interest of Joyce; Paul Reiser as Owens, a government man trying to cover up the events of the first season; Linnea Berthelsen as Roman, a woman whose troubled childhood somehow ties into the events in Hawkins; Brett Gelman as Murray Bauman, a disgraced journalist turned conspiracy theorist following looking into Hawkins; and Will Chase as Neil Mayfield, a family man who recently moved to the small, not-so-sleepy town from California.
Here's the official synopsis for season 2: "It's 1984 and the citizens of Hawkins, Indiana are still reeling from the horrors of the demagorgon and the secrets of Hawkins Lab. Will Byers has been rescued from the Upside Down but a bigger, sinister entity still threatens those who survived."
UPDATE: An animated version of this poster was also shared on Twitter by star Caleb McLaughlin. It's got the same visuals, but now with the extra added coolness of that incredible synth-heavy theme song.
Be ready…#SomeDoorsCantBeClosed #StrangerThingsSeason2 #October27 #StrangerThingsSQUAD pic.twitter.com/Apz0CwOoHY

— Caleb McLaughlin (@calebrmclaughl1) July 12, 2017
Last Updated: July 12, 2017