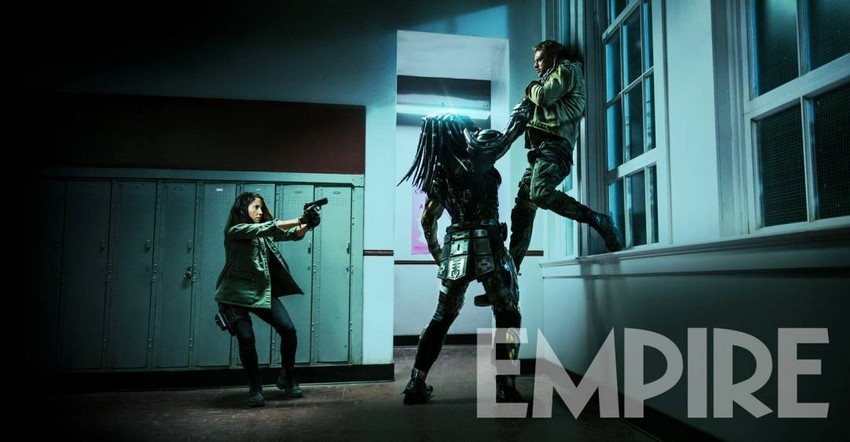 I will admit it, the first trailer for Shane Black's The Predator was not a great one. In the immortal words of Geoff, it was totally fine. That doesn't mean I didn't get hyped up though. The source of my excitement mainly had to do with the action filmmaking pedigree of Black – who actually acted in and ghost-wrote some of John McTiernan's original Predator film before going on to help create such classics as Lethal Weapon, The Last Boy Scout, Kiss Kiss Bang Bang, Iron Man 3 and The Nice Guys – as well the crazy talented and cool cast he had assembled for this sequel.
And now we have a second trailer for The Predator and this time it's the sole source of all the hype as this preview ups the story/character beats and also shows off way more of everybody's favourite dreadlocked alien hunter. Maybe a bit too much actually. There's a moment at the 0:47 mark of this trailer that is undoubtedly a big wow moment and which has now seriously flipped my expectations of this movie to the point where I need to know what the hell is going on. However, it's a moment that some may want to preserve for seeing on the big screen for the first time. If that is the case, then watch until 0:47, and stop the video just to play it safe.
From the outer reaches of space to the small-town streets of suburbia, the hunt comes home in Shane Black's explosive reinvention of the Predator series. Now, the universe's most lethal hunters are stronger, smarter and deadlier than ever before, having genetically upgraded themselves with DNA from other species. When a young boy accidentally triggers their return to Earth, only a ragtag crew of ex-soldiers and a disgruntled science teacher can prevent the end of the human race.
Set between the events of Predator 2 and Predators, The Predator stars Boyd Holbrook (Narcos, Logan), Thomas Jane (The Punisher), Olivia Munn (X-Men: Apocalypse), Trevante Rhodes (Moonlight), Jacob Tremblay (Room), Yvonne Strahovski (Dexter), Alfie Allen (Game of Thrones), Sterling K. Brown (This is Us), Keegan-Michael Key (Key & Peele), and Edward James Olmos (Battlestar Galactica). It is scheduled for release on 14 September 2018.
Last Updated: June 13, 2018