I'm not even going to try to sugar coat it. This first teaser trailer for Marvel's The Defenders may not be what you expect. If you just want to finally see Matt Murdock aka Daredevil (Charlie Cox), Jessica Jones (Kristen Ritter), Luke Cage (Mike Colter), and Danny Rand aka Iron Fist (Finn Jones) on screen together, then this definitely ticks that box. If you want to see them actually doing anything though, then you're going to have to wait a little longer.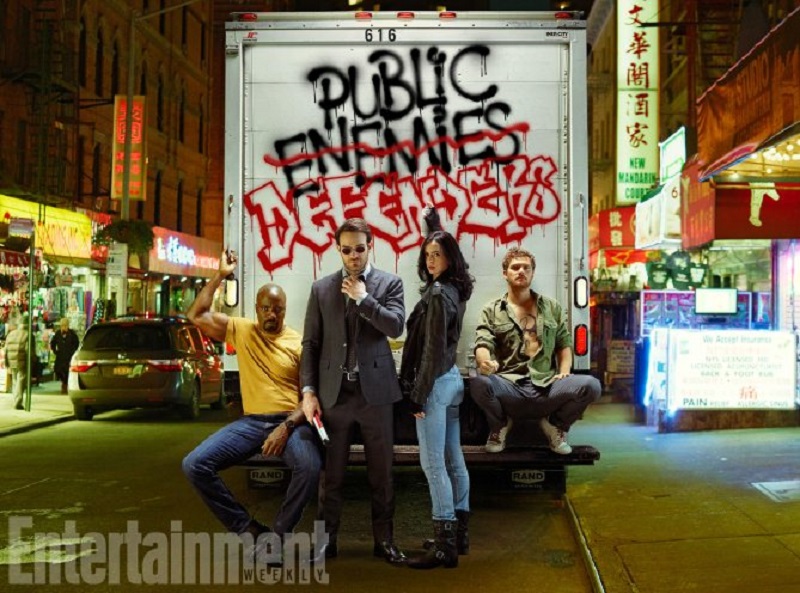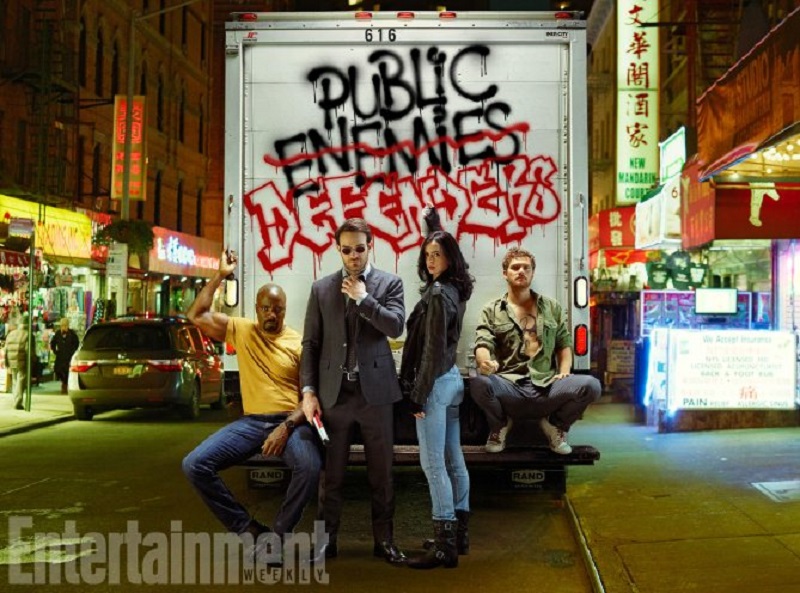 This 16-second teaser is basically just security footage of the four titular stars of Marvel's previous Netflix series taking an elevator ride. Said elevator appears to be in a building for Midland Circle. If that name rings a bell, it's because it was the shady company at the heart of Daredevil season two's biggest plot hole. I'm talking about a literal hole here that was part of the plot, which apparently was as deep as a 40-story building is tall and which the Hand ninja clan was digging because…. well, actually we don't know the reason, as it was promptly never mentioned again in the show. That's an actual, more traditional plot hole.
It seems this barbershop quartet of heroes are finally going to find out just why the Hand were doing a bad impersonation of an old Bugs Bunny and Daffy Duck cartoon, as it has been revealed by showrunner Marco Ramirez (who also headed Daredevil) to EW that its their individual investigations of Midland Circle that actually brings them together.
"Every one of them is following their own trail of bread crumbs, trying to unpack a mystery in New York. We wanted them all caught off guard. Once they're in that room together, it's kind of like, 'Oh, s—, who are you?'"
Just when that happens is also revealed in the clip. Note when Jessica Jones spots the camera that she destroys it exactly at the 08:18:20:17. Get it?
No, you still don't get it? Well then check out the web IP address in the top left corner of the video. Go to http://23.253.120.81 on your browser and it actually takes you to a web page for the New York Bulletin, the newspaper that Daredevil's Karen Page (Deborah Ann Woll) writes for. You can find all kinds of "news stories" on that page related to characters and events in the Marvel Netflix shows, but almost hidden write at the bottom is the message "Watch "Marvel's The Defenders" All Episodes Streaming Only on Netflix August 18". So there you go.
EW also has a video showing off the Defenders as they did a cover shoot, which gives us a couple more looks at the characters and hear the actors' takes on them.
PS: I've intentionally not addressed how goofy Daredevil looks in that hastily tied bandana mask because I really, really like the character and would prefer not to laugh at him.
Last Updated: April 5, 2017