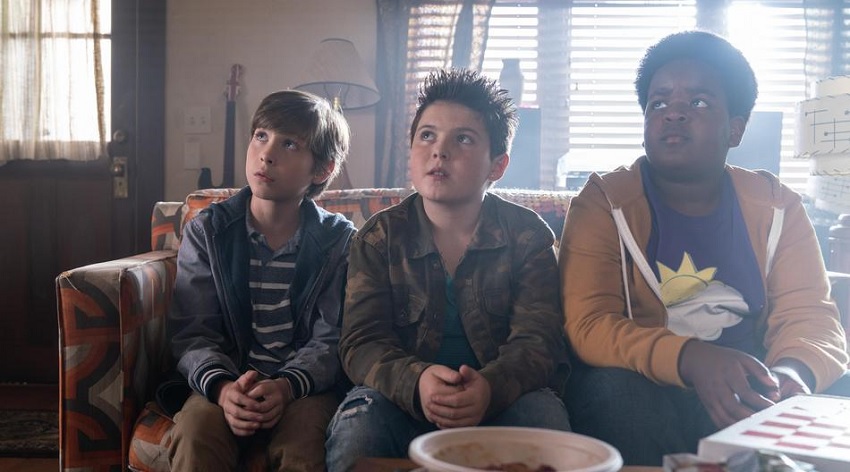 Good Boys is the upcoming R-rated comedy about that most wondrous time in every young person's life, puberty – when your body starts changing and all kinds of things start growing out of it, hormones rage, and you're permanently confused about what's going on. It's the most amazing…ly terrible thing and I wouldn't wish it on anyone. I'd rather get married, twice.
It's the feature debut from director Gene Stupnitsky and his co-writer Lee Eisenberg, who've previously worked together on shows like The Office and Hello Ladies.
The lengthy official plot synopsis is as follows:
After being invited to his first kissing party, 12-year-old Max (Room's Jacob Tremblay) is panicking because he doesn't know how to kiss. Eager for some pointers, Max and his best friends Thor (Brady Noon, HBO's Boardwalk Empire) and Lucas (Keith L. Williams, Fox's The Last Man On Earth) decide to use Max's dad's drone – which Max is forbidden to touch – to spy (they think) on a teenage couple making out next door.

But when things go ridiculously wrong, the drone is destroyed. Desperate to replace it before Max's dad (Will Forte, The Last Man on Earth) gets home, the boys skip school and set off on an odyssey of epically bad decisions involving some accidentally stolen drugs, frat-house paintball, and running from both the cops and terrifying teenage girls (Life of the Party's Molly Gordon and Ocean's Eight's Midori Francis).
Because this is E3 week, and in honour of the late (or is she?), great Nina Struthers, let's check a look:
I have a handy rule of thumb that says when an upcoming movie boasts about the movies the producers (in this case Seth Rogan and Evan Goldberg) have previously made rather than its directors, writers, or actors, it's probably going to be on the iffy side – and I think I've been proven right once again.
This seems like a very uneven comedy to me because for every chuckle I gave there was an equal and opposite eye roll when a joke just didn't land. There's just something about it that feels off to me, through no fault of the actors or direction which all seem good, and I can't quite put my finger on why that is. I think it's the adults-as-kids combined with what we're supposed to see as idealised childlike innocence and naivety – and the two don't really work together.
What do you think?
Good Boys is due for release in the US on 16 August.
Last Updated: June 11, 2019