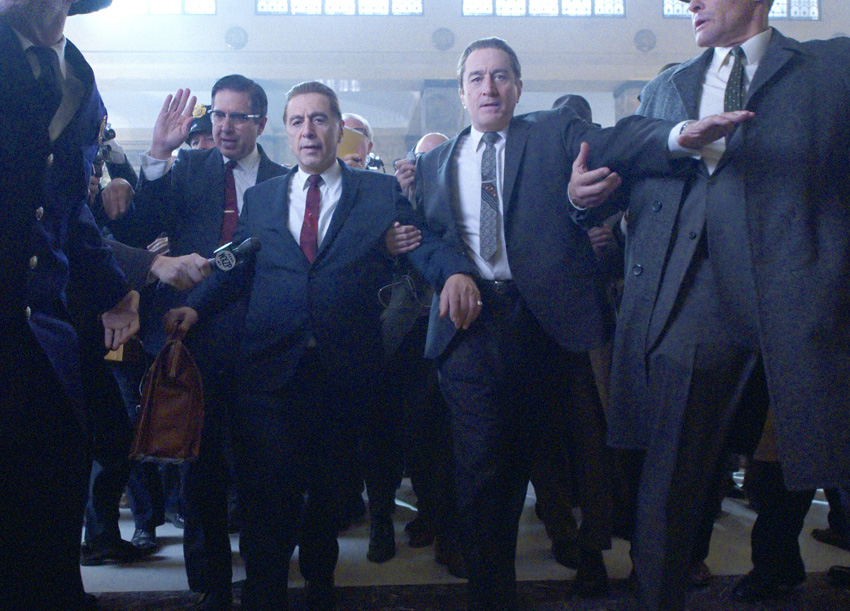 There was a time when the names of Robert De Niro, Al Pacino, and Joe Pesci were an instant guarantee of a quality film, especially if that film had to do with the mob. In the last decade and a half though, those names have come to signify tired old men just calling in performances for another paycheck to add to their nest egg. These multiple award-winners need something or someone to inspire them back to their former glory, and who better than the master of the mob drama, Martin Scorsese!
While the Oscar-winning master filmmaker has kept busy with top tier projects throughout the years, you would have to go back all the way to 2006's The Departed to find the last time he tackled a mob movie. He's turning back the clock though with the upcoming Netflix production The Irishman, and in the case of his stars, he's doing it literally. Or rather, digitally, as The Irishman won't just feature the powerhouse old-school meetup of De Niro, Pacino, and Pesci, but the film also employs the same digital de-ageing technology that Marvel Studios has popularised to have the actors play young versions of themselves.
Well, following on from some officially released images earlier this week, the first trailer for The Irishman got released by Netflix last night, so now we can finally have a look at how this has been pulled off. Check it out below.
Robert De Niro, Al Pacino and Joe Pesci star in Martin Scorsese's THE IRISHMAN, an epic saga of organized crime in post-war America told through the eyes of World War II veteran Frank Sheeran, a hustler and hitman who worked alongside some of the most notorious figures of the 20th Century. Spanning decades, the film chronicles one of the greatest unsolved mysteries in American history, the disappearance of legendary union boss Jimmy Hoffa, and offers a monumental journey through the hidden corridors of organized crime: its inner workings, rivalries and connections to mainstream politics.
Personally, I feel the verdict is still out on whether the de-ageing wizardry has been pulled off wholly successfully. However, as for the rest of The Irishman, it looks phenomenal! This is vintage Scorsese, and his three leads – who between them can lay claim to such mob masterpieces as The Godfather trilogy, Goodfellas, Casino, Once Upon a Time in America, The Untouchables, and more – appear to be in peak thespian form. I'm so stoked for this!
Oh and in case what you've seen and read above isn't enough to get you excited, The Irishman was penned by Steven Zaillian, the Oscar-winning writer of Schindler's List, Gangs of New York, and Moneyball. The upcoming mob drama also stars Harvey Keitel, Anna Paquin, Bobby Cannavale, and Ray Romano, and is scheduled to debut on Netflix sometime later this year.
Last Updated: August 1, 2019