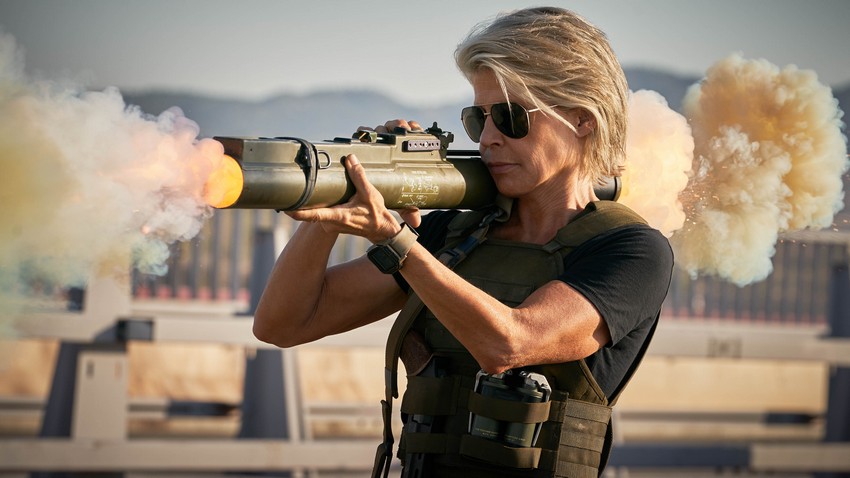 While the Terminator: Dark Fate panel dropped a major bomb right off the bat as it was revealed that Edward Furlong would be reprising his role as John Connor in the upcoming sequel, the tail end of the presentation was a bit disappointing. Not because nothing was shown, but rather because some apparently awesome stuff was indeed shown but those of us not physically sitting in Comic-Con Hall H weren't allowed to see it! Those in attendance got to see some uncut footage showing off two scenes from the film, and while I had hoped that this would be released online afterwards, that was not the case.
However, we didn't need to worry. Paramount Pictures was not about to do us like that. While the studio may not have dropped anything at the end of the panel (probably to save the spotlight for their Top Gun: Maverick trailer surprise), in the early hours of this morning they posted a new behind-the-scenes featurette for Terminator: Dark Fate that has a bunch of new action-packed footage. The featurette also includes producer/franchise creator James Cameron claiming that this new movie will be a "grim, gritty, fast and intense" return to the feeling of his original two movies, as well as new director Tim Miller geeking out about getting to work on this iconic franchise. Most importantly though, this footage has Linda Hamilton's badass Sarah Connor saying the words "Metal motherf–ker!" so yeah, my day is made. Check it out below.
Terminator: Dark Fate stars Arnold Schwarzenegger, Mackenzie Davis, Diego Boneta, Natalia Reyes, and Gabriel Luna. It is scheduled for release on 1 November.
Last Updated: July 19, 2019