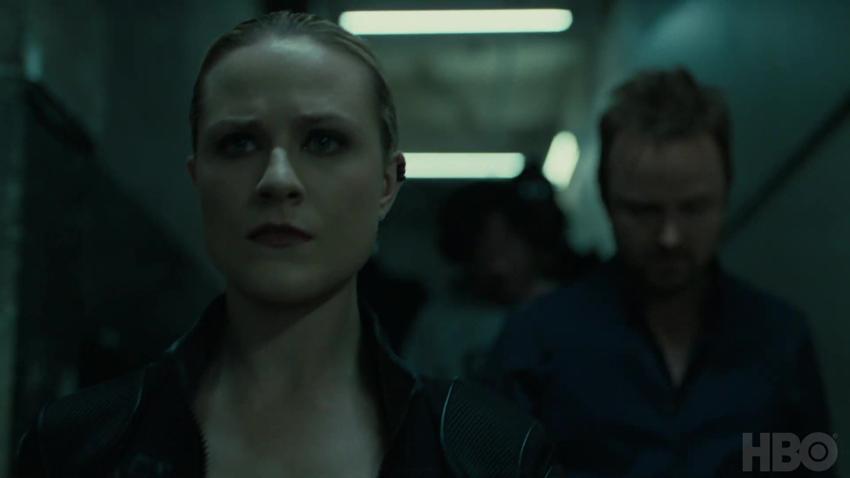 Who cares about how the west was won, there's a whole new world to takeover. That appears to be the mindset of Evan Rachel Wood's Dolores in the upcoming third season of Westworld. We've already had one teaser for the HBO sci-fi drama focusing on newcomer Aaron Paul's human character, during the Westworld panel at Comic-Con, showrunners Jonathan Nolan and Lisa Joy showed off a brand new trailer and it's a doozie.
I won't spoil some of the big moments of this trailer until you've watched it, but there are some surprising returning faces and other characters showing up in situations we totally didn't expect. What I will say is that it all looks freaking amazing. The showrunners revealed during the panel that much like how seasons 1 and 2 were respectively subtitled "The Maze" and "The Door", season 3 will go by the title of "The New World". Well, after this trailer, I want this new world in my eyeballs right damn now!
Check it out for yourself below!
It appears you just can't keep a Man in Black down, can you? Ed Harris' fan-favourite morally-dubious character won't be the big bad of this coming season though. That duty falls to French actor Vince Cassell who can be briefly glimpsed in this trailer. We know next to nothing about his character at this point, but Nolan has indicated that "We're incredibly excited to work with Vincent Cassel. We've been longtime fans of his and are thrilled for him to join the Westworld team."
Westworld season 3 doesn't have an official release date yet, but it will be hitting our screens sometime in 2020.
Last Updated: July 20, 2019