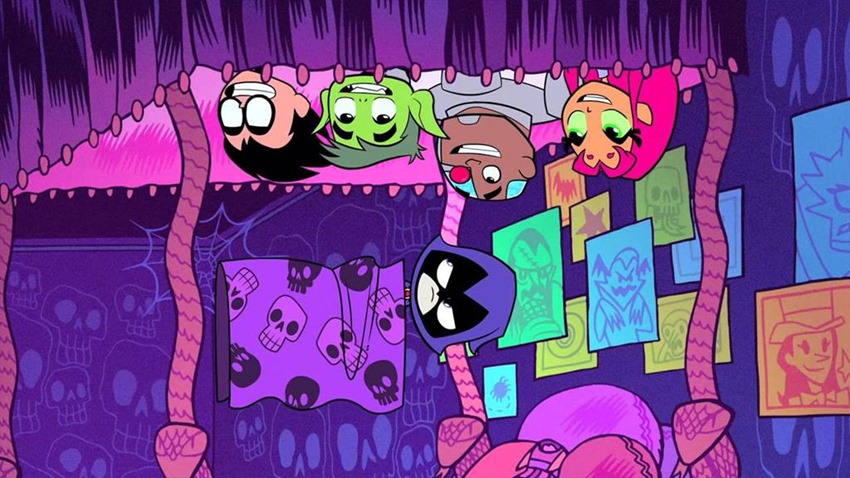 I don't care what anyone says, Teen Titans Go is one of the very best shows on TV today. Sure, it's nothing like the original show that combined a lighter touch with DC's talent for animated TV properties, but that's the whole point! Teen Titans Go s keenly aware of just how ludicrous it is, and with a big feature film adaptation on the way it's going to take that silliness to the next level.
You could argue then, that every episode of Teen Titans Go is silly. Which is 100% true, but there's silly and there is silly, if that makes sense. It probably doesn't so here's a quick look then at what we'd call the most absurd episodes of the lot that was culled from over 200 adventures broadcast so far.
La Larva de Amor
Sure, the Titans may be the star of their own titular series, but what about series mascot Silkie? What does a disgusting larval creature like Starfire's beloved Silkie do when its unsupervised? Why, it goes off on an accidentally epic quest that involves Mexican cartels, violence and forbidden love within the span of a single ten minute episode, that's what Silkie does.
Wacky hijinks ensue.
Meatball Party
On it's own, Meatball Party is a typical Teen Titans Go episode. An idea is dialled up to eleven, the gang pursues it with youthful exuberance and Raven thinks of mass murder and milk as she tries to avoid the stress of transforming into the demonic spawn of one of the nastiest creatures in the underworld. Meatball party gets extra points for efforts for taking this idea, and including at least one segment of animated horror as Raven's trip to the dentist inevitably results in a segment of terror that would make Sam Raimi proud.
Wacky hijinks ensue.
Legs
What's really under Raven's cloak? Legs that can save the planet, that's what. Between several pickle-tickling sight gags, Raven reinventing herself as Lady legasus and unleashing the power of pure calf chaos to halt a massive threat to Jump City, Teen Titans Go excels at taking a simple idea and squeezing every single drop of silliness out of it, as Legs easily demonstrates in a…standout episode.
Wacky hijinks ensue.
Birds
Alfred Hitchcock was right: Birds are the very worst. When Robin's attempts to get rid of a pair of Mockingbirds results in the feathery dup mutating into super-powered anthropomorphic avian anarchy agents, only peace and understanding can save the day. Oh, and a bo staff as well, as the Mockingbirds seek to rule the roost of Titans Tower.
Wacky hijinks ensue.
Mr Butt
Starfire, a beacon of innocence, hope and poor grammar. Aspects of her personality that her sister Blackfire doesn't share, as she frames her sister and manages to get the sweetest Titan jailed in the most maximum prison in all the cosmos. Determined to rehabilitate Blackfire, the Titans work around the clock to teach Starfire's sister how to be a better sibling. It's just a pity then, that Blackfire's betrayal results in some role reversal that transforms Starfire into the exact inverse of her usual good-natured self, with deadly consequences…
Wacky hijinks ensue.
Baby hands
With the team defeated after an encounter with Brother Blood that also saw their memories erased, Robin finally gets the second chance that he yearned for as he reforges the Teen Titans with plenty of lies to stroke his own ego. Of course, the team is utterly powerless in a rematch against Brother Blood and only one truth can save them: Robin's dark secret about his embarrassingly tiny hands.
Wacky hijinks ensue.
Let's Get Serious!
Wish that Teen Titans Go was more like the original series, or even better yet, Young Justice? Well be careful what you wish for, as a chance encounter with Aqualad results in the team getting really really serious. Seriously wacky hijinks ensue.
Two Parter
Hellbent on breaking into Justice League headquarters so that they can cool off in the Hall of Justice swimming pool, the Titans instead find themselves facing security, a Weird Al Yankovic-voiced Darkseid and the dilemma of rewinding time as they attempt to stop themselves from repeatedly murdering Earth's greatest heroes.
Wacky hijinks ensue.
Pyramid Scheme
Beast Boy manages to rope most of the Titans into an actual pyramid scheme, which spirals massively out of control when the Egyptian undead demand a return on their mummy money Ponzi scam.
Wacky hijinks and sound fiscal caution ensue.
The Day the Night Stopped Beginning to Shine and Became Dark Even Though It Was the Day
In a gigantic three-part special, the Titans must race to reunite one of the greatest bands of all time to save Cyborg from an alternate reality demon that wants to harness the power of…hang on, this is starting to get extremely silly, even for me. Something about harnessing the power of The Night Begins to Shine…And then Fallout Boy appeared and transformed into giant robots…dragon was voiced by the best Megatron, David Kaye…Song is catchy at least…uuuuhhhhh….WACKY HIJINKS ENSUE I SAW YOU THERE DANCING IN THE LIGHT!
Bonus entry! Arms Race with Legs
When one set of incredibly well-defined legs aren't enough, it's time to call in The League of Legs! Lady legasus! Captain Cankle! Thunder Thighs! Incredible Quad! The Calf! Absolute power corrupts absolutely however, and soon Lady Legasus finds that she'll have to dig deep into calf muscles to summon the strength to help defeat a team that she herself trained, or risk seeing the world broken when the League of Legs runs rogue!
Last Updated: July 9, 2018