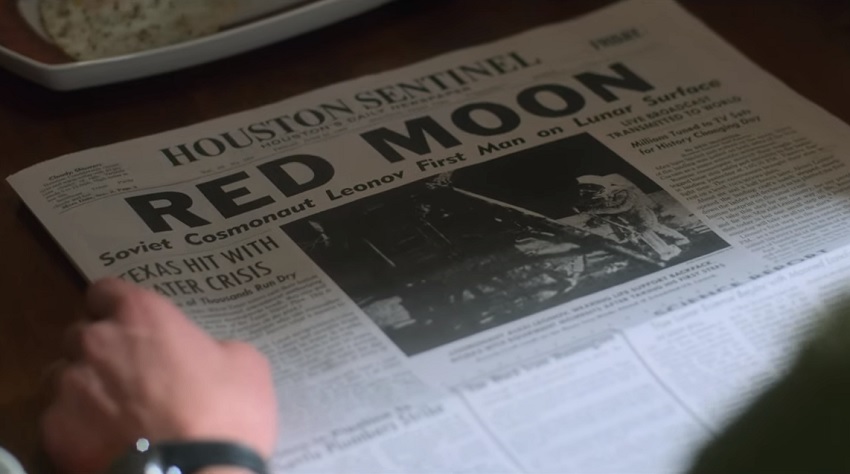 Tech giant Apple's streaming service, Apple TV+, will go live in a month, and one of the original series it'll be coming with is the alt-history space race tale from Battlestar Galactica's Ronald D. Moore and the Fargo duo of Matt Wolpert and Ben Nedivi.
For All Mankind is set in a world where the Soviet Union shocked the world by landing the first man on the moon, presumably because they nabbed the Nazi rocket scientists and put them to work before the US did (Yes, really – Operation Paperclip, look it up). It's a world where the space race hasn't ended, and the US is determined to keep on fighting.
It stars Joel Kinnaman, Sarah Jones, Shantel Van Santen, Wrenn Schmidt, Michael Dorman, and Jodi Balfour.
The show's official plot synopsis is as follows:
Imagine a world where the global space race never ended. This "what if" take on history from Ronald D. Moore (Outlander, Battlestar Galactica) spotlights the lives of NASA astronauts – the heroes and rock stars of their time – and their families.
Let's take a look:
Aerosmith, really? I wasn't particularly impressed by the teaser trailer, mostly because the cheese factor was through the roof thanks to the old tired US jingoism on display and earnest people talking earnestly about never giving up and other inspirational guff. Nothing's really changed on that front, but they've added a new dimension – empowerment.
For me the space race was about demonstrating national and cultural superiority through technological achievement. So while I know this is a fictional alt-history tale, I have a hard time believing that the US' answer to the Soviets putting the first man on the moon would be, "Oh yeah, Boris? Well not only are we going to build a better rocket, but let's see you put the first woman on the moon, pal!"
I so much want to like this – I like the premise, the people behind it have superb résumés, the cast is good, and I want to see a world improved through constant scientific research looks like. But I just don't. What do you think?
For All Mankind will premiere on Apple TV+ on 1 November, but you'll need a device compatible with the Apple TV app to watch it.
Last Updated: September 30, 2019