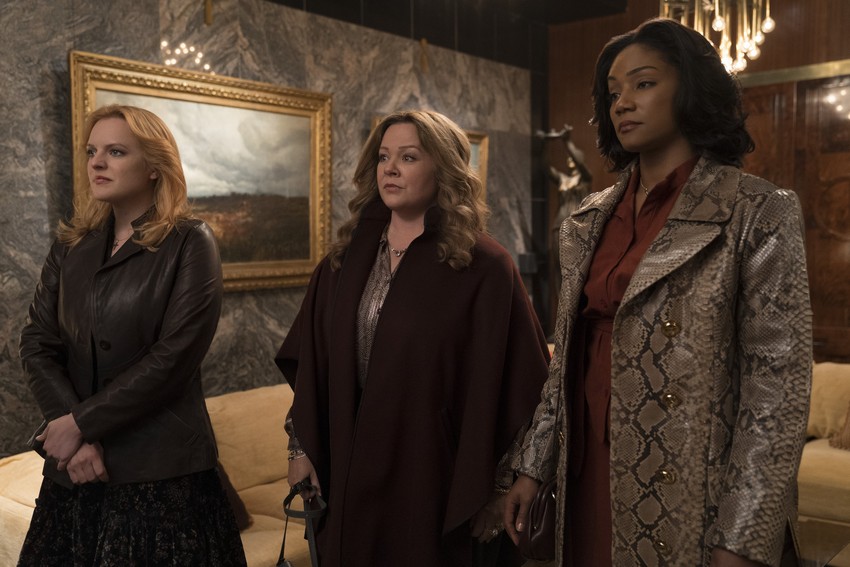 Some businesses are best left in the family. That's what a trio of women played by Tiffany Haddish, Melissa McCarthy, and Elisabeth Moss realize when their Irish mafia husbands are imprisoned by the FBI in upcoming mob drama The Kitchen. For these ladies, the best way to move on with their lives is not to turn away from the family business, but rather keep it going and grow it further.
The gritty new mob drama from Warner Bros is actually based on a DC Comics series of the same name by Ollie Masters and Ming Doyle. Unlike the other comic heroes who parade around with fancy technology and strange superpowers, all these women have is desperation, determination and one another to help them prove that they can survive in a male-dominated world and claim New York's infamous Hell's Kitchen as their own territory. All of which is on display in this newly released trailer.
Apart from sharing a certain popular Fleetwood Mac song that was used in Guardians of the Galaxy Vol. 2, you'd never tell that this is a comic book movie. I love how the movie is focusing on being realistic and faithfully representing its time period of 1970's New York City. It also seems to offer a lot of great depth with screenwriter Andrea Berloff (Straight Outta Compton, Blood Father) making her directorial debut here and giving the film some hefty drama to go along with its visceral action.
The three leads are also all putting their best game faces on and look like a great match for each other with their different personalities. The Kitchen might be one of the smaller movies coming out later this year from a potential box office perspective but could be a surprise hit if it can live up to what we have seen so far.  
The Kitchen also stars Domhnall Gleeson, James Badge Dale, and Common. It is scheduled for release on 9 August 2019
Last Updated: July 17, 2019