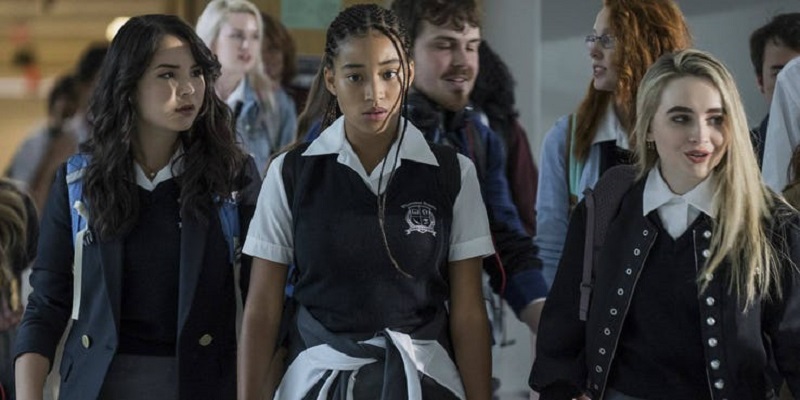 Sadly we live in a world where the colour of a person's skin continues to differentiate and marginalise people. And I'm not just talking about South Africa, but more specifically the land of Stars and Stripes which over the past few years has been sidelined by things like police brutality against black people or the recent refugee crises around Mexicans. It's a highly emotional topic for many people and something which this upcoming film The Hate U Give exposes fully.
Focusing on those issues is this intense new drama based on the 2017 novel by Angie Thomas. It's loosely based on the 2009 shooting of Oscar Grant, which spawned nationwide protests in the US and started off the Black Lives Matter movement. A film which is sure to resonate with African American audiences and once again put the focus of police racism firmly on everyone's minds.
The Hate U give stars Amandla Stenberg (The Hunger Games; Everything, Everything) as Starr Carter, a teenager who lives in the poor and predominantly black neighbourhood of Garden Heights, but goes to school at the largely white and affluent Williamson Prep. Everything changes one night when Starr and her best friend, Khalil (Algee Smith), are pulled over by a cop and Khalil is shot and killed. Facing immense pressure from both sides of her community, Starr struggles to find the courage to take a stand and speak her truth about what really happened that night.
Written for the screen by Audrey Wells and directed by George Tillman Jr. (Notorious, Faster), the film seems to cleverly portray both sides of the story its lead character finds herself in the middle of trying to understand it all, which certainly should make for a riveting and thought-provoking movie.
It should be no surprise that a movie such as this gets some star talent with K.J. Apa, Anthony Mackie, Regina Hall, Common, Issa Rae, Sabrina Carpenter and Russell Hornsby all rounding out the cast in this controversial drama.
The film does not have a local release date yet but is expected to release in the US this October.
Last Updated: June 26, 2018