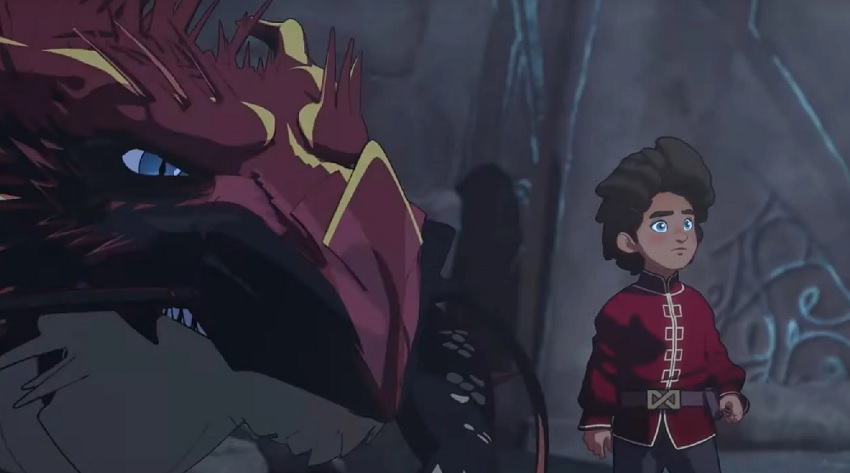 Netflix's animated fantasy series The Dragon Prince had a bit of a rocky start thanks chiefly to some animation that made it look akin to a Powerpoint presentation, but it more than made up for that thanks to some superb storytelling full of moral complexity, compelling characters, and snappy dialogue. You'd expect nothing less when it's created by Aaron Ehasz (in partnership with Justin Richmond), who worked extensively as a writer on one of the best animated shows in recent memory, Avatar: The Last Airbender.
Season three sees the young Prince Ezran (Sasha Rojen) returning home to lead the kingdom of Katolis in the absence of his father, King Harrow (Luc Roderique), and put under immense pressure to lead the human kingdoms to war against the elves – no thanks to the machinations of his father's trusted former advisor Lord Viren (Jason Simpson). Meanwhile Rayla (Paula Burrows) and Callum (Jack De Sena) continue on their journey to Xadia where they hope to reunite the Dragon Prince Zym with his mother, and in doing so forestall the upcoming war.
The official synopsis for season three is as follows:
The saga continues! Callum and Rayla finally enter the magical land of Xadia and begin the last, most dangerous leg of their journey to reunite Zym with his mother, The Dragon Queen. Ezran returns to the kingdom of Katolis to take his place on the throne, only to be immediately pressured to go to war with Xadia. Meanwhile, Lord Viren, imprisoned and desperate, begins to realize the power of his new ally – the mysterious Startouch elf, Aaravos.
Let's take a look:
The stakes are definitely being raised in the upcoming season as the conflict between humans and elves moves beyond simple skirmishes and onto full-blown war. It's difficult to see how this won't end very badly for both sides thanks to their generations' worth of death and distrust – and it's not helped by the fact that you have people on both sides fueling the conflict for their own ends.
The nine-episode-long third season of The Dragon Prince will premiere on Netflix on 22 November.
Last Updated: November 5, 2019