WWE Monday Night RAW took place from the Mohegan Sun Arena at Casey Plaza in Wilkes-Barre, Pennsylvania. Here's all the action that went down the night after Extreme Rules.
Roman Reigns def. Bray Wyatt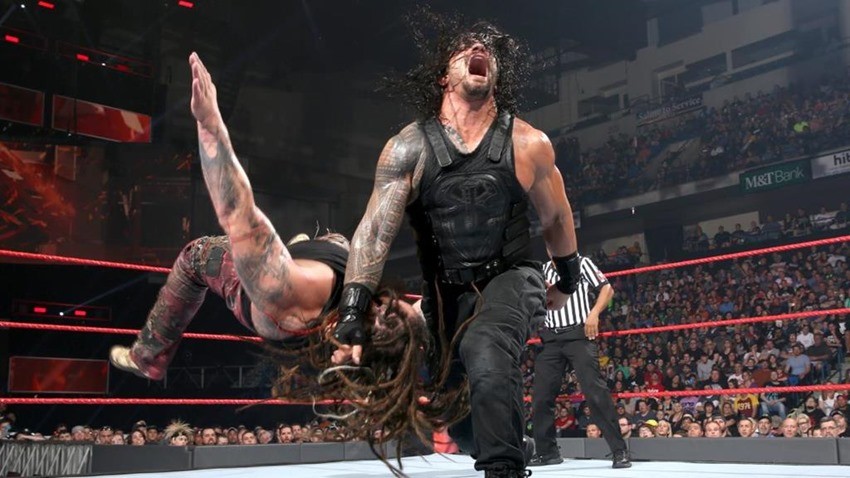 There might have been a slight setback to Bray Wyatt's dream of claiming the WWE Universal title, as Samoa Joe bulldozed his way through Wyatt and the rest of the contenders at Extreme Rules to become the prime challenger for Brock Lesnar's belt. Blaming Roman Reigns for killing his dream, the two clashed in the opening match of RAW, with the big dog proving to be too much for the Reaper of Souls as he eventually downed him with a Superman Punch and Spear combo to pick up the win.
Dean Ambrose attacked Elias Samson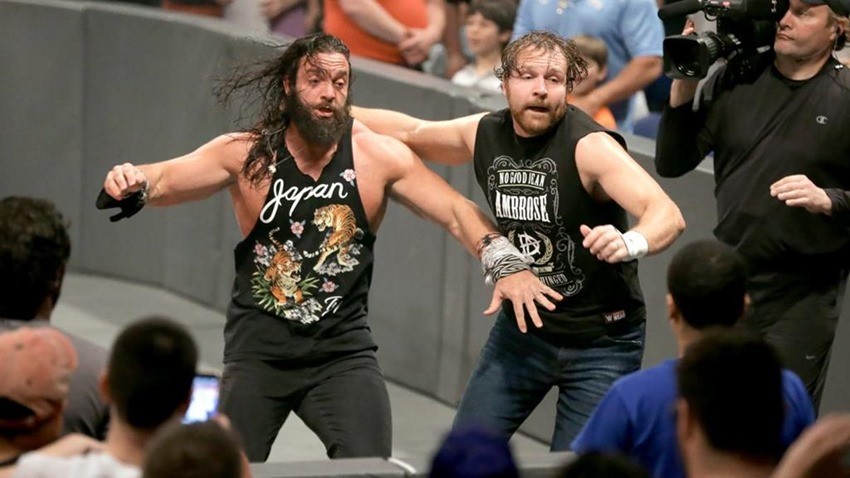 With his Intercontinental championship around the waist of the Miz for the seventh time now, Dean Ambrose was feeling a bit testy last night on RAW and really really not in the mood for Elias Samson's brand of musical insults. Having tossed out Samson, Ambrose hit the ring to make his intentions for the night clear: A rematch with the Miz right then and there.
Declining to face him right away, the A-Lister appeared with an entourage of security as he declared that he would kick off his "Intercontinental Championship Comeback Tour" with celebrations in the ring instead of fisticuffs with a madman. Sufficiently distracted, Ambrose fell victim to a revived Samson, resulting in general manager Kurt Angle sending the lunatic fringe home for the night.
Paul Heyman confronted Samoa Joe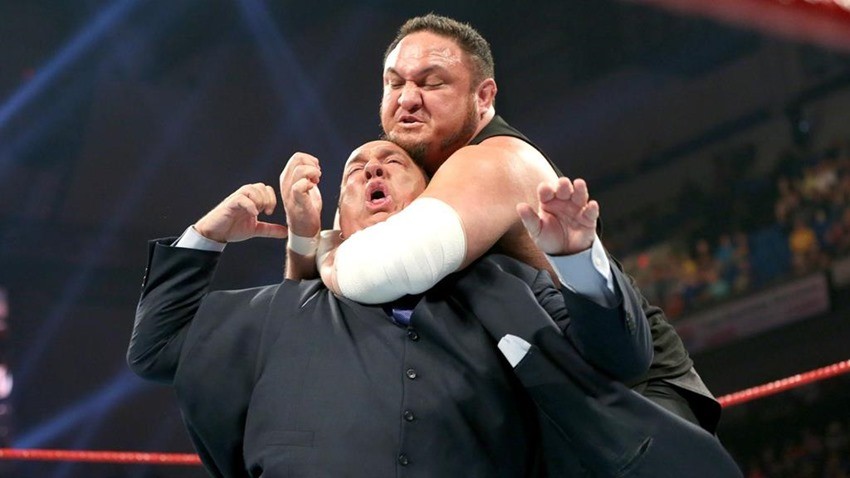 At WWE Great Balls of Fire (No really), Brock Lesnar will finally defend his WWE Universal Title against Samoa Joe. Goodness gracious. Looking to send Lesnar a message, Joe's response to Paul Heyman's badgering in the ring was a handshake…that comboed itself into a Coquina Clutch that put Heyman to sleep. Should be interesting to see Lesnar's response next week.
Raw Tag Team Champions Cesaro and Sheamus def. Heath Slater and Rhyno
Having finally succeeded in earning the tag team gold by defeating the Hardy Boyz at Extreme Rules, Cesaro and Sheamus made short work of former Smackdown tag team champs Heath Slater and Rhyno, keeping the bigger man at ringside while the one-man band received a Brogue Kick that laid him out cold.
TJP def. Mustafa Ali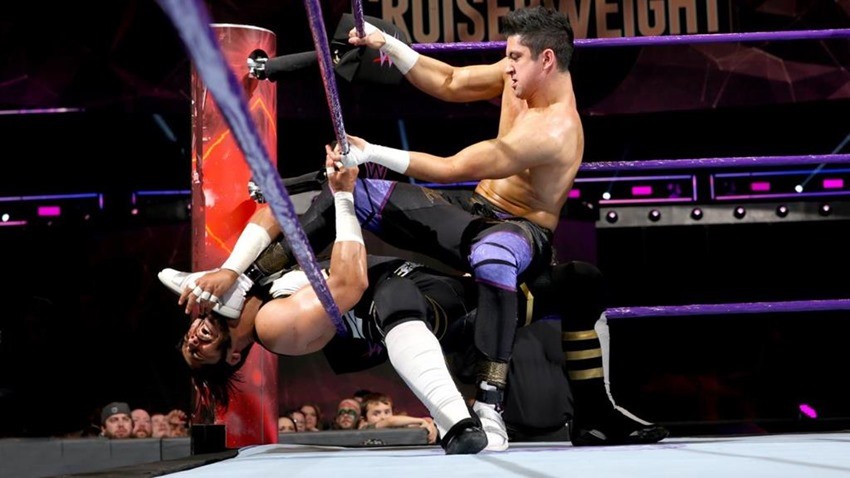 In RAW Cruiserweight action next, TJ Perkins found himself once again doing the dirty work for the so-called king of that division, Neville. With Mustafa Ali defeated, Neville hit the ring to grab TJP so that the two could petition Kurt Angle to sanction a title match between them, which is exactly what Neville wanted TJP to believe as he struck him from behind. Battered and bruised, there was some good news for TJP at least: He'd finally get his chance at the title on 205 Live on Tuesday.
Kalisto def. Titus O'Neil
Blah blah Titus Brand crap, Kalisto win. Nobody cares about this storyline.
Dean Ambrose crashed The Miz's Intercontinental Championship Comeback Tour Kickoff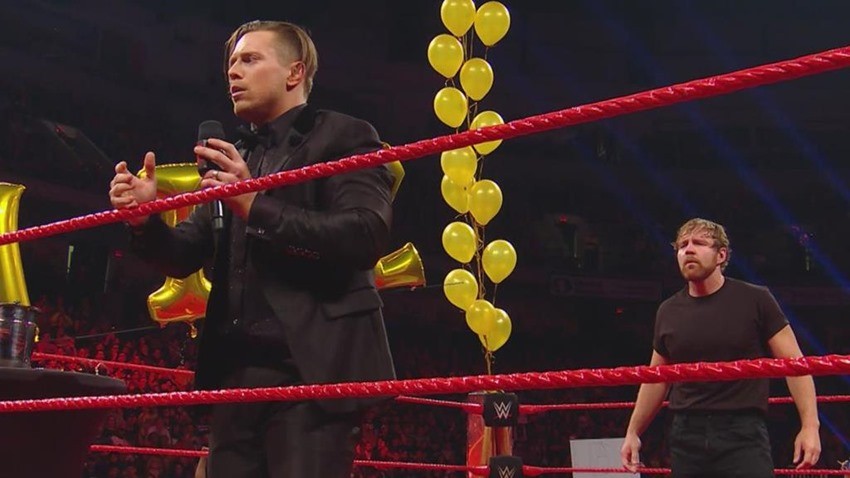 What, you didn't see this coming? The Miz's comeback tour was quickly derailed by Dean Ambrose, as the A-Lister spent most of the segment attacking anyone who he thought might be Ambrose in disguise. A dancing bear mascot, a massive gift box and a grandfather clock from Maryse all felt the wrath of The Miz as he sought to uncover where Ambrose was hiding.
Which was right in front of The Miz, as Ambrose had been the cameraman the whole time. What happened next? Take a wild guess. Here's a hint: It rhymes with Flirty Beads.
Enzo Amore and Big Show def. Luke Gallows and Karl Anderson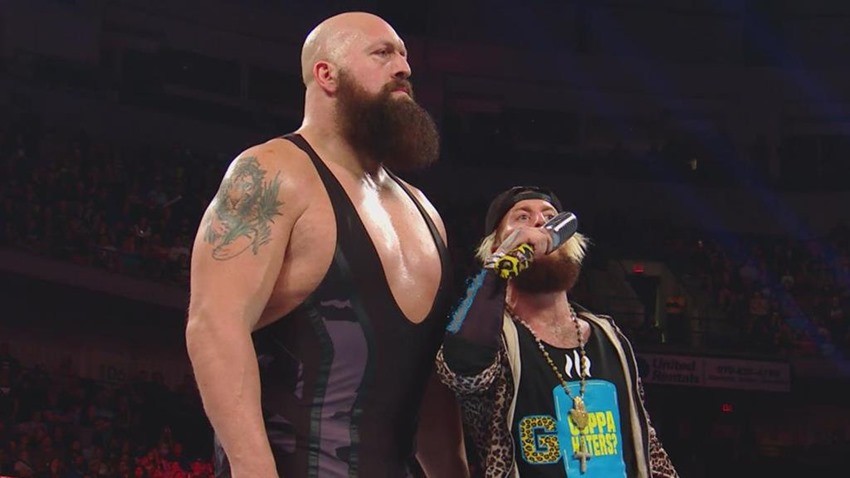 Last week Enzo Amore found himself on the receiving end of an attack from a mystery assailant. This week? It was Big Cass himself who was laid out, leaving the loudmouth in need of a partner for his match against Luke Gallows and Karl Anderson. Good thing that Enzo Amore had another giant on standby, as the Big Show joined him for a quick bout that saw the good borthers defeated.
Nia Jax def. Raw Women's Champion Alexa Bliss via Disqualification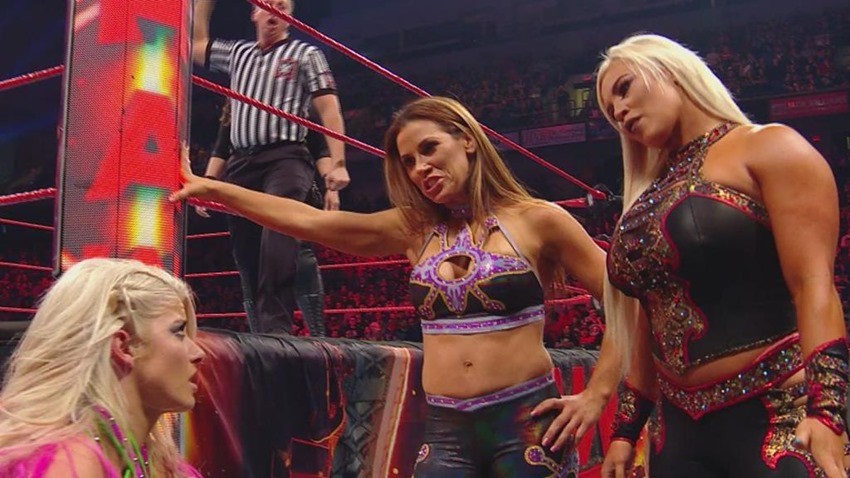 Women's champ Alexa Bliss doesn't exactly have any allies in the RAW locker room, and with Nia Jax no longer in her corner the wicked witch of the WWE was desperate for any help in her upcoming match against the challenger. The entire division declined to sit in her corner and instead allowed themselves to enjoy a session of Jax dominating against Bliss.
Outgunned but still crafty, Bliss used her skills to start a brawl with Dana Brooke and Mickie James at ringside, which conveniently got her disqualified and kept the belt around her waist. A move that had Jax fuming as she proceeded to wreck anyone within arm's reach of her.
Samoa Joe def. Seth Rollins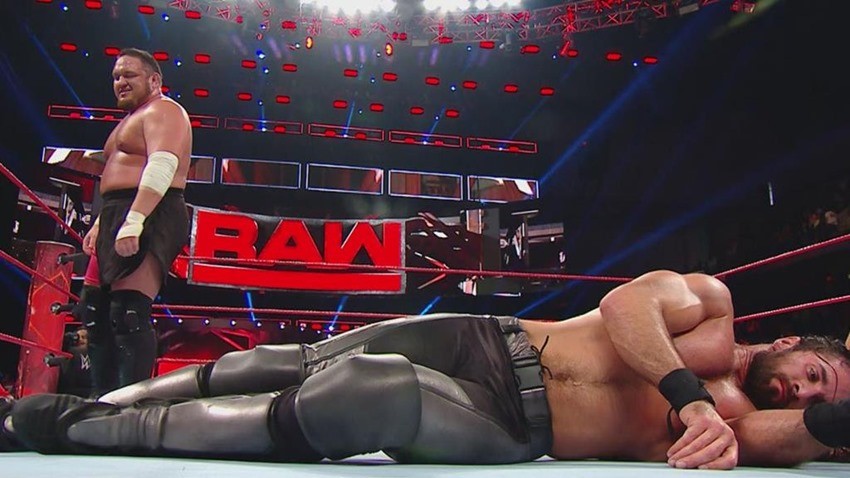 When you're in a fatal fiveway, your odds of success are pretty much only a mere 20%. But one on one? Now that's the kind of even-sided action that Seth Rollins was up for as he clashed with Samoa Joe in a bout that saw him battle furiously against the submission machine. Samoa Joe took plenty of damage, but he gave better than he received as he brought down the architect with the Coquina Clutch, thanks to a timely distraction from Bray Wyatt on the Titantron.
With a win in the tank, Samoa Joe will need to be firing on all cylinders as RAW sees the return of Brock Lesnar next week.
Last Updated: June 6, 2017