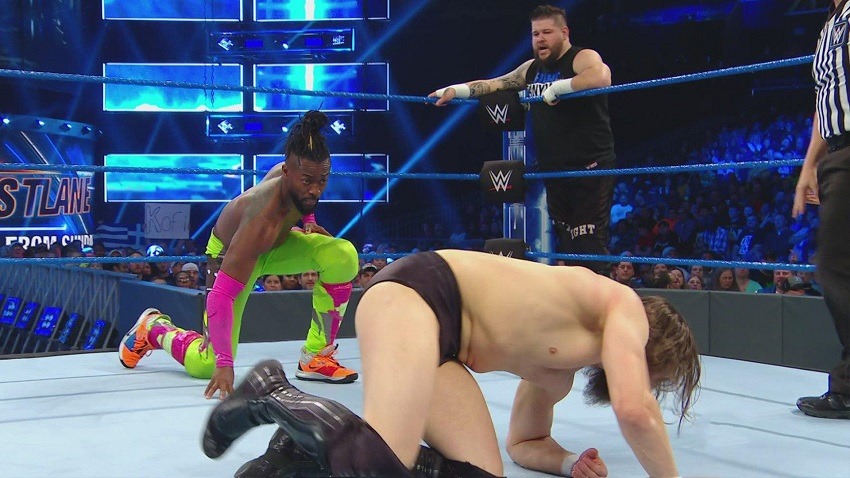 WWE Smackdown Live was held from the Spectrum Center in Charlotte, North Carolina. Here's all the action that went down this week ahead of the Fastlane event.
Mr. McMahon replaced Kofi Kingston with Kevin Owens in the WWE Title Match at WWE Fastlane
Talk about a kick in the teeth. After 11 years in the WWE, Kofi Kingston is finally being treated like a main event player, as he arrived on Smackdown LINE to put the finishing touches on the contract for his match against WWE Champion Daniel Bryan. Only problem? Mr McMahon, who arrived on the scene to tell Kingston that he was being replaced with a more bankable superstar: The prizefighter Kevin Owens, who was finally back from injury and ready to pick up where he had left off.
The Hardy Boyz def. The Bar
Two Twists of Fate and a Swanton Bomb later, and a rare reunion between Jeff and Matt Hardy resulted in a victory for the WWE's original extreme team, the Hardy Boyz.
United States Champion R-Truth def. Andrade and Rey Mysterio in a Triple Threat Match
Deciding to defend his title as United States champion with an open challenge, R-Truth didn't just get one contender for his belt, but a pair of them in the form of Rey Mysterio and Andrade. Deciding to look back on his mantra of WWJCD (what would John Cena do), Trtuh took on both men in a triple-threat, eventually triumphing when he dodged a 619 from Mysterio and caught him with a quick roll-up pin.
Charlotte Flair had hostile words for Ronda Rousey and Becky Lynch
Like totally harsh words yo.
Aleister Black and Ricochet def. Shinsuke Nakamura and Rusev
Just like they'd done on RAW the night before, the team of Ricochet and Aleister Black decided to put on a showcase of strength and skill as they took on two of Smackdown LIVE's biggest bruisers. A high-flying match with plenty of bumps, there was only one way this bout would end: With Black Mass being delivered to Nakamura, and a one-two-three for the NXT graduates.
Kevin Owens and Kofi Kingston def. "The New" Daniel Bryan and Rowan
In a hard-hitting match to show that there were no signs of ring rust on his chassis, Kevin Owens was as lean and mean as ever. The Prizefighter found himself spending the majority of the match outside the ropes as Rowan and Bryan kept Kingston isolated, but when he finally got tagged in? Owens was ready to drop a few pop-up powerbombs.
Eventually hitting a stunner on Bryan, Owens managed to get the pin on the WWE Champion and send a huge message ahead of Fastlane, even with Kingston clearly hurting over his exclusion from a main event he had fought so hard to be a part of.
Last Updated: February 27, 2019