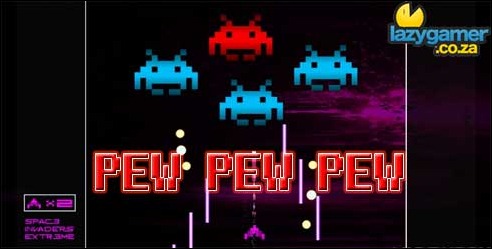 This week sees not one or two – but three gaming morsels delivered to your nearest live-connected Xbox 360. This weeks hors d'Å"uvre is Arkanoid Live – a remake of the classic arcade ball, blocks and paddle staple. The game will feature shiny new HD graphics as well as a co-op mode.
Your main course this week is Space Invaders Extreme which unlike Arkanoid isn't just a remake; it's a re-invention. Featuring new graphics, effects and 4 player versus and co-op modes (as well as a soundtrack you can dance to) Space Invaders Extreme is the tastiest and most satisfying of this week's offerings. I've played the incredibly addictive DS version to heck – but I think I may just be up for a second helping.
If those classic game remakes didn't fill you and you're still hungry there's always dessert. What's on the menu? Brains! Zombie Wrangler is a casual co-operative action title where the aim (as if it wasn't obvious enough) is to wrangle zombies. The cartoonish take on zombie horror features only the mildest cartoon violence, and should keep the young gamers happy.
The gratis after-dinner mint is that all three are available today on Xbox Live for a paltry 800 MS points.
Last Updated: May 6, 2009