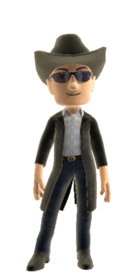 Microsoft has been surveying users in the States in regards to a whole bunch of new ideas that they have with one of them being whether or not we as users think that it's a good idea to be able to win customised avatar clothing through achievements.
Honestly I think it's a no brainer personally, who wouldn't want to be able to win customised goods to show off your avatar?
Hopefully this comes through as I am dying to get a real cowboy hat like Dizzy's.
Or possibly one of those awesome bikini's from Dead or Alive?
Source: Kotaku
Last Updated: April 28, 2009