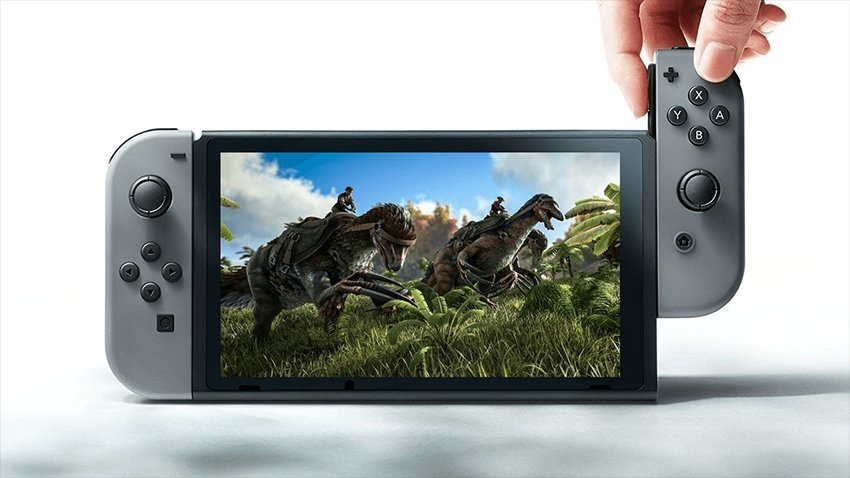 Nintendo's Switch is quickly becoming a home to games ported from other systems. Naturally, because of the disparity in processing and graphical power between the hybrid handheld and the current consoles and Pc, they're usually less graphically intensive games and ports.
That's what makes the announcement of Ark: Survival Evolved for the system so surprising. The dinosaur-hunting survival game barely runs at a decent frame rate even on higher end PCs, and chugs along on the current consoles. It was shown off running at Epic's State of Unreal presentation at the annual Game Developers Conference, and is actually running pretty well already. It will be the complete game, featuring "the complete contents and features of the original game; from the massive and mysterious ARK island, to the more than 100 prehistoric- and fantasy-inspired creatures such as the T-Rex, Giganotosaurus, Rock Drake and Reaper."
"The Switch's handheld mode provides a fantastic new capability for survivors who want to fully immerse themselves in the vast worlds of ARK," said Studio Wildcard's Jeremy Stieglitz, in the press release.

"With this new version, Switch players can go directly from hunting and taming while sitting on the couch, to forming online tribes and searching out new conquests when on the bus, waiting in line, or wherever they happen to be."
The game is being ported by Abstraction games, whose CEO Ralph Egas says that the power disparity isn't all that bad.
"Switch is not as powerful as a PS4 or Xbox One. Everyone knows that," Egas says. "Having said that, the difference isn't as big as the general perception would have you believe.

"In some locations you need to downsize a bit on the distance you're able to view. But not as much as you'd think compared with Xbox One and PS4. Obviously, in terms of Xbox One X and PS4 Pro, that's a different story. But compared with the base platforms, Switch is not that bad."
Ark: Survival Evolved is coming to the Switch this year.
Last Updated: March 22, 2018