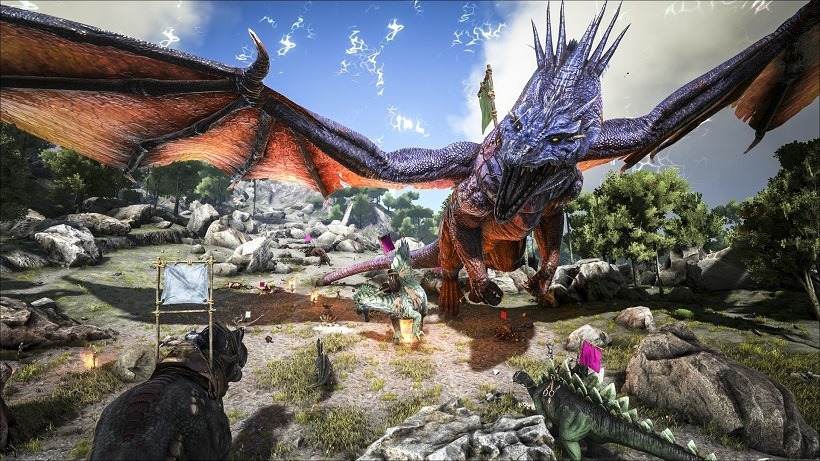 ARK: Survival Evolved isn't technically finished yet, but falls into the sparsely populated ranks of an incredibly successful early access title. The dinosaur packed shooter is still captivating thousands of players today, with millions of copies already being sold across both Xbox One and PC. A free, watered down version of Ark boosted these significantly too, but developers Studio Wildcard aren't keeping it up for much longer.
ARK's free version, known separately as Survival of the Fittest, gave players a sample of ARK within a multiplayer mod, and is still exclusive to PC. It did well to push fence sitters over the edge into the evolving main product, which has helped its community grow over the past few months. But Wildcard co-founder Jeremy Stieglitz (according to MCV) believes that it's the correct time to claw it back in and make it a key component of the ARK.
"As we look to the future of SotF, we came to a decision: Survival of the Fittest will be brought back internally as part of the Ark: Survival Evolved package. For technical functionality it will still exist as its own application, and everyone who has thus-far played the game will continue to be able to play it without having to own Ark: Survival Evolved, but going forward it will be considered part of the Ark: Survival Evolved product group."
Which makes sense, as Wildcard continue working on both Survival of the Fittest and Survival Evolved. Stieglitz revealed that the game has already sold over 5.5 million copies, with PC taking the lion's share with 4 million alone. The game is out on Xbox One through their own early access program, and is still slated for launch on PS4.
This support has just enabled Studio Wildcard to expand on their vision for Survival Evolved, with many new features being added very soon.
"We have especially blown the doors open on what we had originally planned in terms of number of creatures, features, and technical complexity. When we launched we didn't even plan on having modding support, which has become a huge aspect of the game's appeal and life cycle on PC."
Last Updated: August 8, 2016