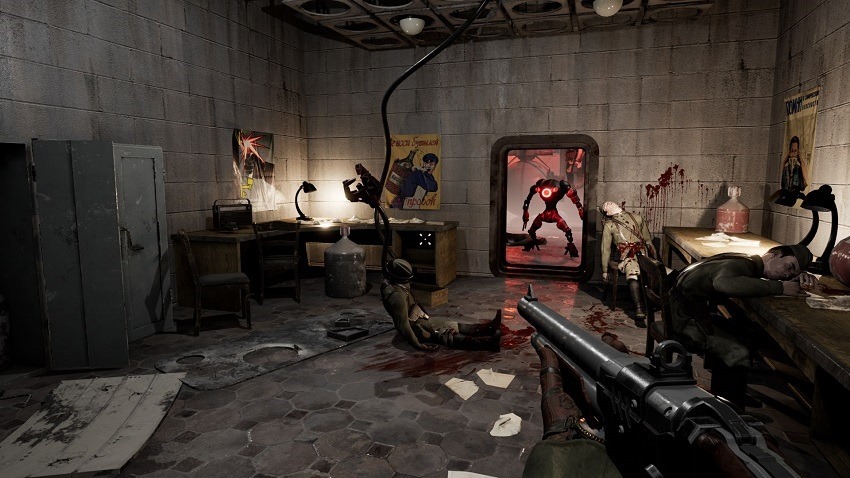 Or perhaps, that's entirely what I'm projecting onto it. BioShock stands still as one of my favourite gaming experiences ever, a seminal title that was not really surpassed by the really good sequel and incredibly underwhelming Infinite. But each of the three games stems from the ideals of Americans. Visions of grandeur that stem from the confines of capitalism and religious nepotism. None of them have taken a look at what might have happened if such an event took place in Russia, at the height of the USSR. Atomic Heart might not be that either, but it looks darn close.
Maybe the reason speculation is the flavour of the day is because there's not really that much to go on. Moscow-based developers Mundfish aren't revealing much about their new immersive first-person shooter aside from the striking trailer below, which certainly got my head spinning with ideas of possibilities. The aesthetic screams BioShock, what with grotesque gore and some really strange looking enemies. There's also a hint of Fallout in the midst, but that might be a product of the time-period than anything else.
Check it out below:
Atomic Heart is expected to launch on PS4 and "other major consoles", but there's no hint of a release window just yet. Surmising from the trailer above, there's also no real way to tell how far progress might be. It's a mix of clearly scripted in-engine cutscenes splice up with hints of gameplay, all of which feature bloody wrenches and slapped together weapons. It's got a really eerie vibe to it all that just sucks me in, and I'm really excited now to see a lot more of this surprise project that seemingly appeared out of nowhere.
Of course, first impressions are important, but I'm hoping to see a lot more of Atomic Heart as this year goes on. Perhaps even at E3?
Last Updated: May 9, 2018