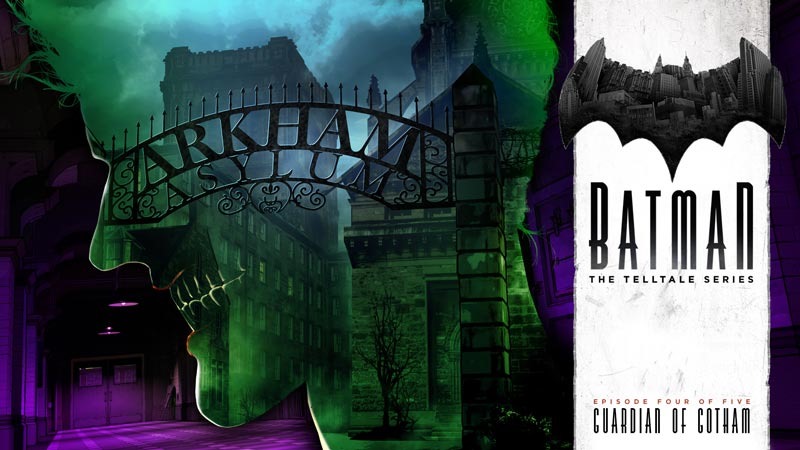 Bat-buckle up bat-buckaroos, because the ride is about to get a little…wild. How do you put a fresh spin on the dark knight in a world that is utterly saturated in caped crusader antics these days? By blazing a new trailer and flipping the status quo on its head, that's how. Telltale's approach to Batman has been refreshing to say the least, using their usual episodic structure to paint a more human and vulnerable version of the iconic comic book character.
And yet, it has also been brutal and dangerous stuff as Bruce Wayne finds himself under attack from all sides at all times. Episode 3: New World Order ended on a cliffhanger of a twist a few weeks back, and Episode 4: Guardian of Gotham looks to take things a step further as Bruce wakes up in the madhouse known as Arkham Asylum. Here's the reveal trailer and synopsis for the next episode which launches on November 22, which will probably put a smile on your face:
In Episode 4, Penguin has taken control of Wayne Enterprises, and the Elizabeth Arkham Asylum for the Criminally Insane has a new guest–you–Bruce Wayne. With the Batman removed from the streets of Gotham City, Harvey Dent's forces and the Children of Arkham are at war, with innocent citizens caught in the crossfire.

To escape the 'comforts' of your padded cell, you must choose allies to aid in your escape, even if they aren't the sort to put a smile on your face. How far are you willing to go for justice? For vengeance? What now, Dark Knight?
Now that sounds interesting. So far, playing as Bruce Wayne instead of Batman has actually been strangely fulfilling, so I'm keen to see the spin that the penultimate episode puts on the fragile Wayne when he finds himself stuck in a very literal lion's den. My nipples are harder than Val Kilmer's faux rubber ones for this next instalment.
And in case you missed it, here's a few of the reviews that we've done so far:
Last Updated: November 18, 2016