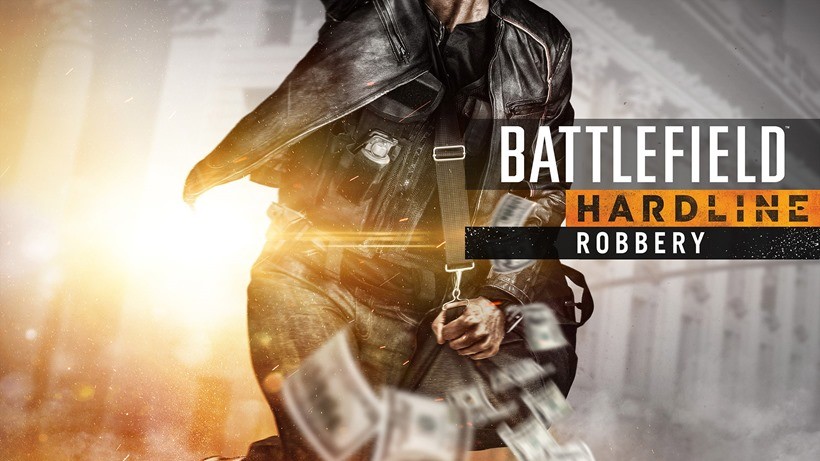 Find your Battlefield Hardline enjoyment levels are dwindling somewhat? Fear not, for EA have a lengthy list of extra content planned to combat such fatigue! This week will see the release of Robbery, the second DLC for the game. Interested? It's yours to enjoy from September the 16th – only if you're a Battlefield Premium member however. If you're not, well, you'll just have to cough up some money to gain that early access if you really want it. That, or you could wait patiently for it to be made available to the regular peasants, which will be at a later stage (still for a fee of course).
The Premise
Regardless of your choice, here's what you can look forward to in the Robbery DLC (via Gamespot):
The top gangs are drawing up plans, stockpiling gear, and risking it all to pull off the boldest, craziest heists ever in Battlefield Hardline: Robbery, the second expansion pack for Battlefield Hardline. The theme of this pack is the Big Score: how to steal it, or how to stop it. The new maps and game mode in Battlefield Hardline: Robbery are designed to let criminal teams plan and execute the perfect heist; or, for law enforcement, to get the crooks in cuffs before they can pull it off.
So… more cops and robbers shenanigans? I'm gobsmacked to say the least! Still, it sounds like fun if you're a Hardline fan.
The Maps
As is the case with pretty much every single Battlefield DLC, there will be four new maps to play on. Here's what you can expect from the new ones coming with the Robbery DLC…
Precinct 7
Precinct 7 is the first snow map forBattlefield Hardline, and the first snowy map set at night in the history of theBattlefield franchise. It has a little bit of everything, from warehouses perfect for sniping, to blocks of road to burn rubber on in Hotwire mode.
The Docks
The Docks is a night map that offers a generous mix of open outdoor space and claustrophobic interiors. Scale to great heights and snipe from atop a crane, or hijack a scout helicopter and rain down justice from above. Makeshift towers of cargo crates give infantry plenty of places to hide, but beware – they can be toppled and reduced to a twisted mess of metal and debris with one carefully placed bullet.
Museum
Museum is the first 100% indoors map for Battlefield Hardline. The various wings and floors of the Turing Natural History Museum make this setting a perfect infantry map. Among the exhibits are a collection of Egyptian relics and the requisite ensemble of Tyrannosaurus, Brontosaurus, and Utah Raptor skeletons.
Break Pointe
Break Pointe is a driver's paradise. Situated on a stretch of highway along the scenic California coast, this enormous daytime map features a ton of terrain to drive on, over, under, and through. In addition to the pristine roads, there are rivers, gulleys, and canyons for a little off-road exploration.
I quite like the sound of Museum. As much as I enjoy the vehicle warfare of Battlefield in general, sometimes it is nice to have a map focused solely on gunplay.
Robbery is out this Wednesday for Battlefield Premium members. Are you one of them? Are you excited to get your hands on this DLC?
Last Updated: September 14, 2015