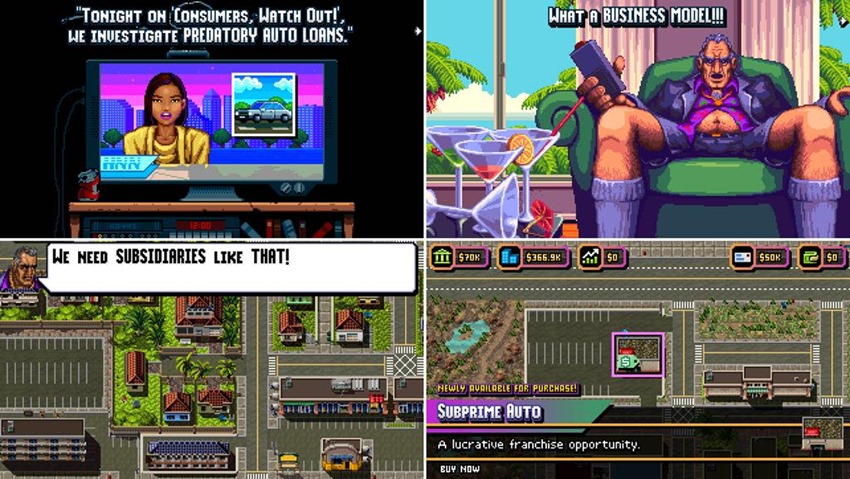 Imagine being the guy who thought that people would only want physical prints of their photos and that digital was a passing fad. Hell, imagine being the guy who can't figure out why the public doesn't want a ride in his puke-encrusted taxi that charges an exorbitant fee as the masses prefer to share their ride instead.
Business is constantly in flux, evolving and adapting to suit the needs of the people who don't yet realise what they want. How do your survive in such a turbulent environment? You could do research, learn the market trends or imitate your competition. Or you could shove a loaded pistol in their face and just scarper away with their business. That's the idea behind Shakedown: Hawaii, which stars you as an aging CEO in pastel shorts who decides to modernise his business empire.One bullet at a time of course. Here's the gameplay trailer to feast your retro-eyes on:
White collar crime: If you can't convict them, then join them! Shakedown: Hawaii will be more than just a hostile takeover of the most lethal nature, as you expand your influence across the 50th state and start raking in profits off of a monopoly of avocado toast snacks and a resurgence of VHS rental shops. You'll need to rampage in disguise as well to get ahead, as you extort smaller shops for funds that you can use to boost your corporate profits further.
Looks fun, and as always I'm a complete sucker for anything with retro visuals and cinematics. Also, short shorts. Nothing says big business like formal shorts that allow you to feel the soft caress of the wind on your calves. There's no release date yet for Shakedown: Hawaii, but it'll be hitting the console boardrooms of the Nintendo Switch, Nintendo 3DS, PS4, PS Vita and PC soon enough.
Last Updated: July 12, 2017