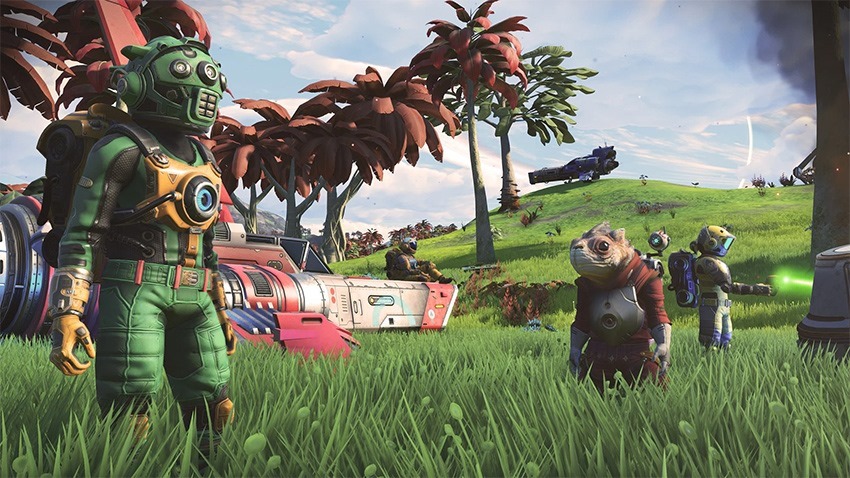 The much-anticipated No Man's Sky NEXT Update is out, finally bringing the game's many promised features to the ambitious space sim. There's an awful lot that's been added to the game; so much so that it could almost be considered a full-blown sequel. One of the features that has most people excited to dip back in is the addition of multiplayer. And it works! Unless you bought the game from GOG.
While the GOG version of the game has received the great content update, its missing the multiplayer bits completely. GOG released a statement saying as much, but only did so 13 hours ago.
"From launch, the DRM-free edition of No Man's Sky will include all single-player content introduced by NEXT: third-person mode, upgraded visuals, better base building, player customisation, and more.

However the multiplayer component will not be ready at launch; we expect it to be released later this year as full multiplayer parity remains in the pipeline.

For a small, independent studio, developing the feature across multiple platforms is a hugely ambitious and technical challenge which resulted in this delayed release. Hello Games is however joining forces with GOG.COM to introduce full multiplayer via the GOG Galaxy platform.

We appreciate your immense support and patience."
There's no real word on when players can expect the multiplayer, but it should be along later this year. Customers are rightly incensed, as they should have been informed of this ages ago.
It may have something to do with GOG being steadfastly against DRM, and the game probably requiring some sort of authentication for its multiplayer. On steam, it just uses Steamworks to facilitate matchmaking. It's not available to third parties, and GOG has no comparable framework.
I can't imagine that'd be trivial to solve. Either way, the Steam, PS4 and now Xbox One versions all have the multiplayer bits.
GOG does have a habit of getting patches for games later than Steam, which makes it not quite the best place to buy newer games. The Gog Galaxy client is also lacking a bit. It's a lovely place to buy older games that have been retooled to work on modern machines, but I'd probably steer away from the service for newer games.
Last Updated: July 25, 2018