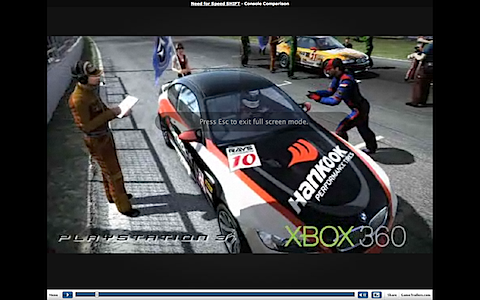 On and on it goes; Back and forth, To and fro – With no end in sight. Gamers and fanboys are always ready to back their console of choice and slander the other into shameless bits.
As far as I'm concerned the truth is that the PS3 by all means is far more powerful however often if a game is released on both platforms, we've seen better rendering on the Xbox 360. What this means is at the end of the day (exclusives aside) what we should be arguing with comparative videos like these is:
If you're lucky enough to own both consoles when a title is released for both, then which console should you get the game for?
Well from the video below its hard to say. Firstly the 360 does typically look darker but that's nothing a simple gamma adjust won't remedy. Although on the other hand the same 'setting' question couldn't arise from the damage engine, which clearly looks more realistic on the 360.
Oh well as always and in good cheer we leave it to gamers to battle it out through the online comments section… have at it boys and girls.
Source: n4g
Last Updated: September 16, 2009