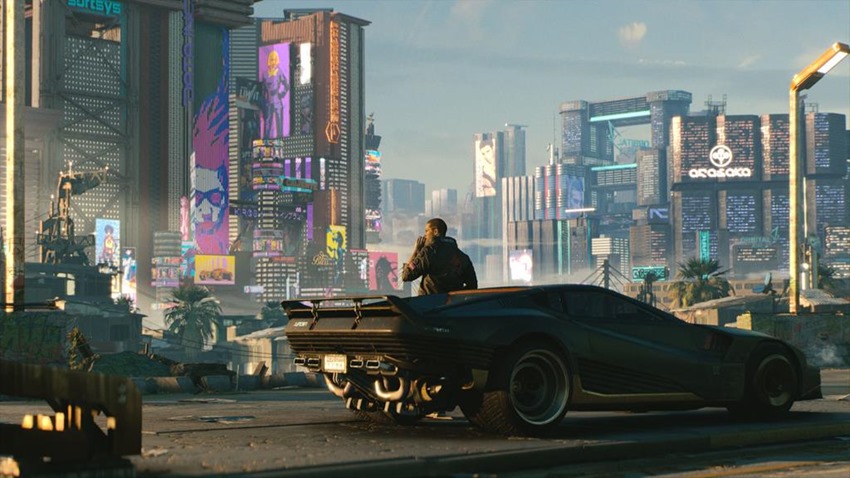 Don't buy into the hype.
Don't buy into the hype.
Don't buy into the hype.
Don't fly into the stripe.
And yet, Cyberpunk 2077 may be the exception to the rule. It's not just the fact that this upcoming post-human game looks phenomenal in action, chunky and happens to have Keanu Reeves inside of it, but the fact that it has a lineage that most developers would kill for. A pedigree of excellence based on a handful of excellent games from a single developer who rose up as a scrappy underdog and have become a brand that is synonymous with quality.
CD Projekt Red has so much goodwill that they could livestream a day at the shooting range where they could use Labrador puppies as targets and they'd still be adored by their legions of fans even when they're up to their knees in chunks of adorable blood. With several years of development, hype and a commitment to creating good games as opposed to glorified adverts for microtransactions, there's an expectation that Cyberpunk 2077 is going to do stupidly well when it arrives next year.
According to one analyst, that game is going to sell at least 20 million units in its launch year.
That's the word from Bloomberg analyst Matthew Kanterman, who reckons that CD Projekt Red can crack that figure thanks to its history of game releases and a decent bit of marketing for the sandbox cyber-shenanigans game. Cyberpunk 2077 also benefits from the fact that it has first-person shooter mechanics, a genre of gaming that already has a massive userbase as opposed to The Witcher 3's RPG market which was more niche in nature. With a Keanu Reeves endorsement on top of that, CD Projekt Red is going to have a hell of a year keeping up with demand for their product.
For comparison's sake, it took the beloved Witcher 3 four years to crack the 20 million sales mark. Which is still a hell of an achievement. Twenty million sales in one year? I've got a feeling that Cyberpunk 2077 can crack that number and surpass it in a year, seeing as how just about everyone is talking about the game right now. Whether it can beat top of the chart titans such as Grand Theft Auto V (110 million lifetime sales), should make for an interesting fight in the years to come.
Last Updated: October 24, 2019