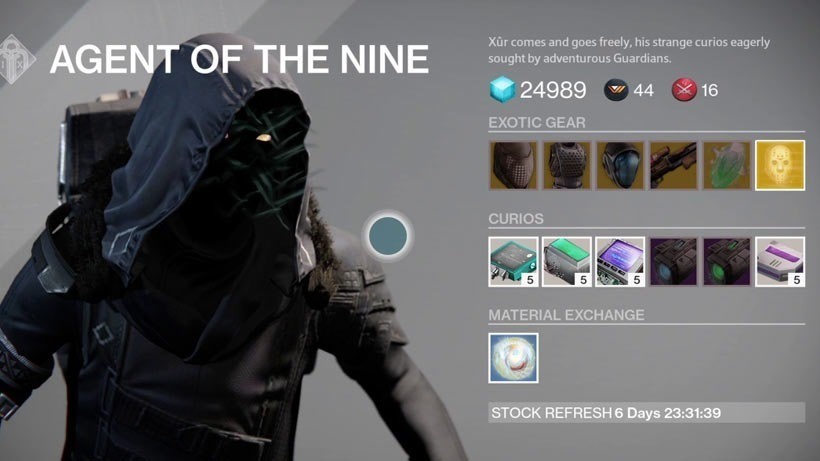 Xurie's got a gun! Xurie's got a gun! His whole world has come undone, from lookin' straight at Jupiter's Sun! What did his daddy do? What did he put Xurie through? They said Xurie was arrested, they found him underneath a space train. But man, he had it comin' now that Xurie's got a gun! He ain't never gonna be the same!
Aerosmith tracks from the black archive of Jupiter aside, you know what time it is. It's Friday! Time for Xur to pop on down and spread some Exotic love, a statement which got my dodgy cousin arrested in Bangkok. Anyway, the Agent of the Nine is back this week, ready to take your Strange Coins and hand over some goods.
This week, you can find Xur hanging around the Tower, in the corner as you make your way to the hangar.
Here's what he has for sale this weekend:
Crest of Alpha Lupi: Titan chest armour – 13 Strange Coins
Young Ahamkara's Spine: Hunter gauntlets – 13 Strange Coins
Obsidian Mind: Warlock helmet –  19 Strange CoinsExotic Engram: Gauntlets
Legacy Engram: Body Armour – 29 Strange Coins
Three of Coins – 7 Strange Coins
You've got until 9AM GMT on Sunday morning to earn some Strange Coins. Remember, Strange Coins are much easier to get your hands on lately. Just do a few daily bounties, encode a few engrams and you'll have more than enough for when Xur arrives on Friday. Have fun shopping!
Last Updated: November 13, 2015