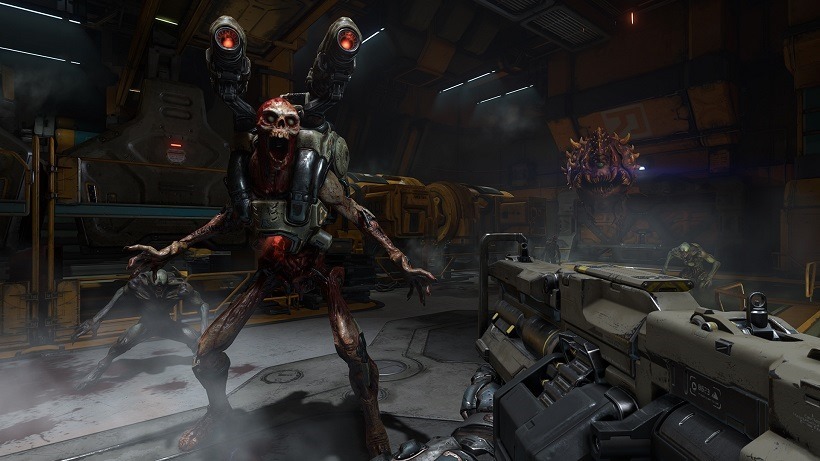 DOOM, against all the odds stacked against it for so many years, is weeks away from launch. It's still a good number of weeks, but as May edges closer and closer so too my anticipation for the return of the ultra violent, fast-paced shooter rises. And it's not so much the single-player that has my interest in a vice grip. No, instead it's the game's blindingly fast multiplayer, which is bringing back the arena shooter.
And finally too.
If you don't believe me, just take a look for yourself. Bethesda and iD Software have release a brand new trailer filled with brutal multi-kills, demonic transformations and all sorts of weapons to drool over, delivered at a pace you'd expect from a DOOM (or Quake or Unreal Tournament) title.
It easy to see just how much of the arena-styled shooter is making a return, with tight corridors in claustrophobic maps litter with all manners of pickups and power-ups. The weapon variety on show is great too, with the standard rocket launchers and shotguns making room for a kinetically-charged sniper, and equally satisfying energy based rifle.
And if those just don't just it for you there's also Demonic Runes – which temporarily let you channel your inner demon and go on extended rampages as a slave from hell of your choice. Neat.
DOOM's multiplayer is finally getting that closed beta iD has been promising for so long, taking place on March 31st to April 4th. If you purchased Wolfenstien: The New Order you'll probably have already redeemed the beta key that was included, booking you a front row seat to the action come the end of the month.
If not, well there's not much waiting between then and release anyway. DOOM is out on PC, Xbox One and PS4 on May 13th.
Last Updated: March 10, 2016