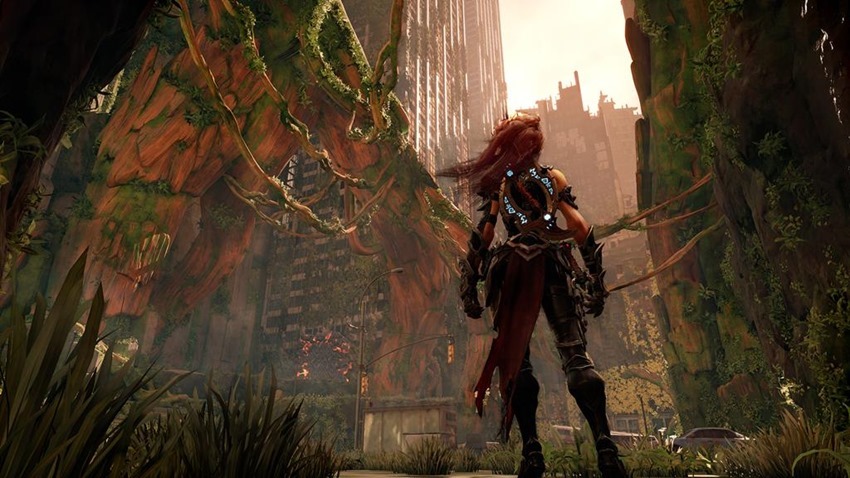 If you've ever played the original Darksiders games, you know exactly what that series has lifted from other games and given it's own unique spin on. The best feature that Darksiders incorporated into its open-world design of hack 'n slash exploration? Easily the puzzles that wouldn't be out of place in any Legend of Zelda game.
Puzzles were brilliant head-scratchers, moments where players could breathe and rest their thumbs while they let their grey matter do the heavy lifting, or in my case, scream at an inanimate object in sheer frustration. Anyway, Darksiders 3 will continue that tradition later this year, as Fury has to not only whip it good but also find her way across a world where getting from point A to point B requires throwing explosive nightmare fuel ticks at impassable barriers of webbing.
It's just one of many new puzzles that players will have to navigate through, as developer Gunfire Games explained to IGN:
"Anyone who has played Darksiders 1 or 2, should be quite familiar with the bomb-throwing mechanic. This is kind of the next evolution of that, making it a creature in the world, making it have a little more context," design director John Pearl said to IGN. "What we're trying to do is ease the player into the concept of webbing and fire and propagation, and how that works," lead level designer Richard Vorodi added.
We've done things a little differently this time around, instead of just having bombs sitting in the environment. We actually have creatures that will immolate. Once we've taught the player that the bug will explode after it eats food, then we take away the food and try to add in an additional step but still keeping it very familiar to the player.

One of the hardest things to do in puzzle design, is try to explain the rules without putting up a giant text box on the screen. Generally, our approach is just to take baby steps along the way and just try to insinuate what you're supposed to do, just to nudge them until they get it. One of the things that makes the bomb bug puzzles fun, is that we have two different kinds of webs.

We have a white web is just a basic white magical spider web, it burns up but it doesn't heal itself. Red webbing does heal itself, so what that does is open up possibilities like you see in this room here where you can basically use it as a fuse. So if you imagine a fuse, wherever you light the fuse is the start of how much time you until it reaches its end point.

So what we do, is we set up a room where learning the proper place to light the fuse becomes a necessity to solving it.
It's an interesting insight to how such a feature is designed for Darksiders 3, a piece of the puzzle that helps create a wider picture. Also, I'm probably going to be heckin' bamboozled by several of these stage riddles, just as I was in the first two games. Man, sometimes I wish I hadn't been dropped on my head when I was a baby. Repeatedly.
Darksiders 3 hits PC and console on November 27, collectors edition revealedDarksiders 3 will be out on November 27 for PS4, PC and Xbox One.
Last Updated: August 1, 2018