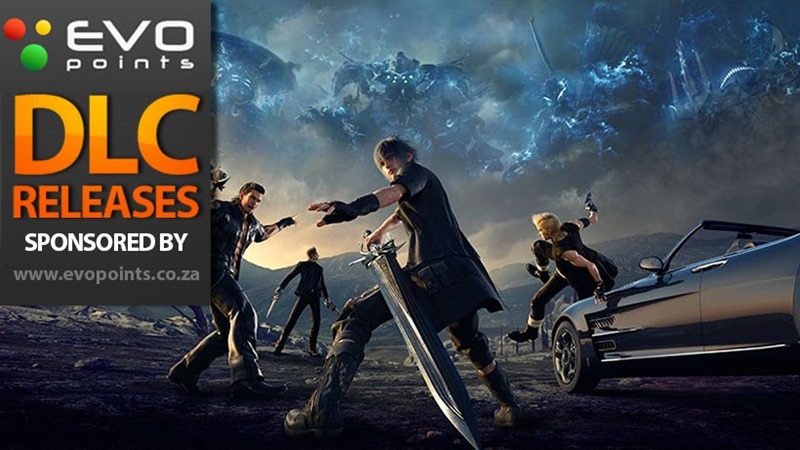 Welcome to our weekly post of featured downloadable content available for different gaming platforms sponsored by www.evopoints.co.za. Here's this week's list of fresh downloadable games and content.
Downloadable content has become a pretty big thing. More and more people are opting to get their games and add-ons through digital distribution. instead of the traditional Brick-and-mortar method. Some games and software; like XBLA games, PSN shorts and iOS games are available through the internet only – something that can be daunting for a lot of folk. Confused about what new games are available for your platform of choice? Don't fret – we've got you covered.
Links to content are supplied where available. If you would like to purchase vouchers, you can click the category headers to go straight to the appropriate page on evopoints.co.za
PlayStation Plus
PlayStation — [ PSN Vouchers & Subs Available ]
PS4
Final Fantasy XV Digital Premium Edition
Final Fantasy XV Digital Edition
Tom Clancy's Rainbow Six Siege Year 2 Gold Edition
The Crew Ultimate Edition
Clockwork Tales: Of Glass and Ink
Crystal Rift
Hue
Rock'N Racing Off Road DX
HoloBall
How We Soar
Industry Giant 2
Red Faction
Destroy All Humans! 2
Aqua Moto Racing Utopia
Pinball FX2 VR
Plants vs. Zombies Garden Warfare 2 – Festive Edition
Plants vs. Zombies Garden Warfare 2 – Festive Deluxe Edition
The Dwarves
We Sing
Tom Clancy's Rainbow Six Siege Complete Edition
Need for Speed Deluxe Bundle
Steep – Gold Edition
Steep
N.E.R.O.: Nothing Ever Remains Obscure – Deluxe Edition
Battalion Commander
The Keeper of 4 Elements
The Crew – Calling All Units DLC
Assetto Corsa – Porsche Pack 1 DLC
PS Vita
Hue
Neon Chrome
The Keeper of 4 Elements
Battalion Commander
To see all of the latest PlayStation content posts this week, click here for EU and US or check out the Online Sony Store.
PC Gaming — [Steam Vouchers Available]
Maize
EARP
Cities: Skylines – Natural Disasters
Watch_Dogs 2
Darksiders Warmastered Edition
Weekend/Daily Sales and Promos:
Free Weekend – Battlerite
Free Weekend – Line of Sight
Xbox — [ Xbox Live Vouchers & Subs Available ]
Games for Gold
Xbox One
Steep
Stern Pinball Arcade
The Dwarves
Plants vs. Zombies Garden Warfare 2 – Festive Edition
The Crew Ultimate Edition
Final Fantasy XV
Xbox Live Deals With Gold – Check it out here
Xbox One – Farming Sim 17, Duke Nukem 3D 20th Anniv, Breach & Clear: Deadline & More
Xbox 360 – Worms, Worms, Worms and more Worms!
iTunes App Store
World of Warcraft
For all your codes, vouchers and subscription needs head on over to www.evopoints.co.za to get whatever you need.
Last Updated: December 2, 2016